American Express (NYSE:AXP) struck a more confident tone at the 3Q earnings call. This was based on a picture of more encouraging growth in adjusted billings, loans and revenue than the company had spoken of earlier this year. While EPS was 3% down YoY, it beat expectations and excluding a $34m cost restructuring charge in the quarter, was essentially flat on an underlying basis.
This is the first sign of buoyancy for a while at American Express, which even Long term holders Warren Buffett and Charlie Munger seemed to concede can no longer aspire to greatness at the last Berkshire Hathaway annual meeting.
Yesterday, the company increased its EPS guidance range from $5.4-$5.7 (underlying basis) to $5.9-$6 for 2016 and confirmed $5.6 for 2017, suggesting AXP trading on 11x EPS for 2017. AXP's ROE and capital capacity mean buybacks will continue, which can provide a basic source of EPS support in the face of ongoing uncertainty around discount fees in the current acutely competitive environment.
To an extent, the marginal EPS debate here seems to me slightly abstract for two reasons. First, the stock has fallen from $96 in July 2014 to $62.3 currently having hit $53 in February this year. Much EPS pressure has been priced in from the days when AXP traded close to 20x EPS. Second, despite the competitive conditions AXP undoubtedly faces, its revenue and cost trends have been pretty stable over this period of pressure on the stock price. See the chart below: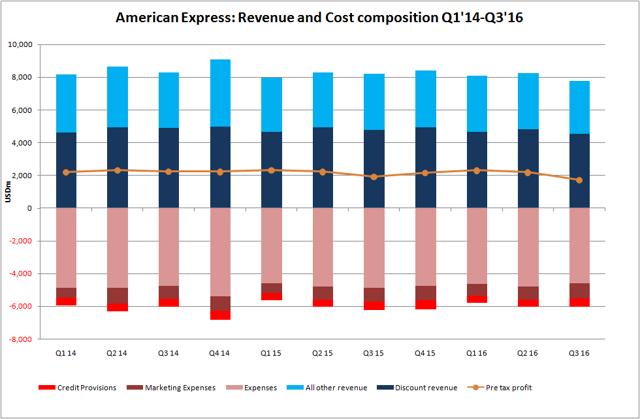 Source: Company data
The drop in revenue and pre tax profit this quarter is because the Costco portfolio has dropped out but the dent to pre tax profit - depicted in the orange line - is obviously priced in. There is some concern that marketing costs will be elevated going forward, but the graphic above shows marketing costs aren't that big a deal in the overall cost structure - and Amex has impressively reduced personnel expenses over this time and sees further cost reductions ahead.
Its own discussion of its prospects is growth oriented: the CFO, Jeff Campbell, yesterday expressed the key considerations as new card acquisitions, expanding merchant coverage and lending growth - supported by some cost restructuring and share buybacks. I'm aware that the bears see this as "denial" as competitors attack the high end card segment and AXP's key Platinum brand in particular. However, the company's own forecast for EPS for 2017 assumes a reduction of 6.6% from this year's upgraded forecast, and this offers some comfort that management is accommodating pressure.
AXP made a 27% ROE in 3Q - it was these kinds of returns that Warren Buffet acknowledged competitors would be "stupid" not to attack back in April. While I prefer to value financials off PE, it makes sense to play with a Gordon Growth formula to consider return and growth parameters here. If you give Amex a cost of equity of 10%, and assume ROE of 25%, its current 2.8x BVS implies less than a 2% sustainable underlying growth. (25-2)/10-2)=2.9. In practical terms this would mean that marketing expenses, discount pricing and rewards pressures virtually nullify the growth efforts that Mr Campbell discussed are underway, but returns remained in the mid 20s range. Amex in such a scenario runs hard to almost stand still (that is, capital generative but losing share and returning capital). Alternatively, ROE could drop to 20%, and growth could run at 5% with the same valuation result (~3x BV). A drop to 20% return would involve a 20% fall in attributable profit on stable equity employed. A lot then is in the price here.
Conclusion
An upgrade to guidance is not going to flush many bears out. However, I would argue that for the first time in a while, we've got a game. 11-12x EPS for a strong buyback name is a reasonable entry point. And Buffett's not selling.
Disclosure: I/we have no positions in any stocks mentioned, and no plans to initiate any positions within the next 72 hours.
I wrote this article myself, and it expresses my own opinions. I am not receiving compensation for it (other than from Seeking Alpha). I have no business relationship with any company whose stock is mentioned in this article.