Source: Brookfield Renewable Energy Partners Website
In a recent post about parent company Brookfield Asset Management (NYSE:BAM), I highlighted that the company was an attractive investment opportunity based on considerable geographic diversification, a world-class management team, and favorable industry dynamics, among other things.
Lately I've been intrigued by the prospects of Brookfield Renewable Energy Partners (NYSE:BEP), an independent listed entity that is partially owned by BAM. Here I will share my investment thesis for this smaller yet equally as attractive investment opportunity.
Note: Throughout the rest of this analysis I may use the terms "shares" and "units" interchangeably, though BEP securities are units not shares. Similarly I may use the terms "distribution" and "dividend" interchangeably, though the proper term is distribution.
Business Overview
BEP markets themselves as one of the largest pure-play renewable energy businesses in the world. The Brookfield family of companies (both BEP and BAM before the spinoff of this listed entity) have over 100 years of experience managing renewable energy assets.
BEP owns renewable energy assets worldwide, primarily in North America, Colombia, Brazil, and Europe. They own $28 billion of power-generating assets, of which 88% is hydroelectric in nature. Further, these assets allow them to provide 10,700 megawatts of energy in 15 markets across 7 countries.
Ownership Structure
The ownership structure of the Brookfield family of companies is detailed in the following diagram.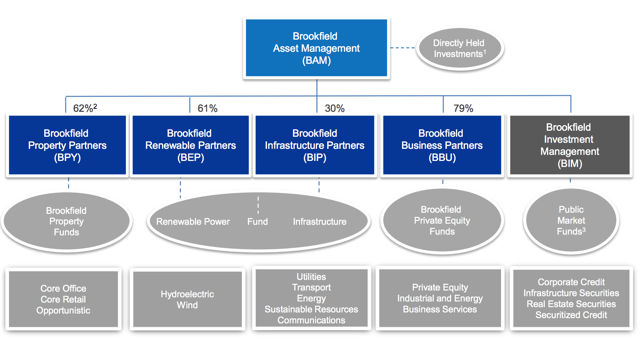 Source: Brookfield Investor Presentation
Brookfield Asset Management owns a portion (between 30% and 79%) of each listed entity directly, with the remaining ownership traded publicly on Canadian and American stock exchanges.
Management Team
Sachin Shah is the CEO of Brookfield Renewable Energy Partners and a Senior Managing Partner of Brookfield Asset Management. After initially joining the Brookfield group in 2002, Mr. Shah moved through various financial positions until most recently becoming the CFO of BEP in 2011. He assumed his role of CEO in 2015.
An accountant by training (a theme consistent through the Brookfield group of companies, including BAM CEO Bruce Flatt), Mr. Shah was educated with a BComm at the University of Toronto. The rest of BEP's management team is rounded out by the following senior executives:
Colin Clark - Chief Technical Officer
Brian Cook - Chief Risk Officer
Nicholas Goodman - Chief Financial Officer
By being partially owned by parent Brookfield Asset Management, BEP is also partially controlled by the management at BAM. This is a positive point for this security, as I view the management team at Brookfield Asset Management to be incredibly strong.
BAM's CEO Bruce Flatt has been called the "Warren Buffett of Canada" for years, dueling with Prem Watsa of Fairfax Financial Holdings Ltd. (OTCPK:FRFHF) for the title. A devoted value investor, Flatt has driven incredible returns for the shareholders of Brookfield and his shadow over BEP is a positive point for investors.
In my humble opinion, the management of Brookfield Renewable Energy Partners does two things very well. The first is focusing on downside protection. In investor documents, there is an emphasis placed on the contractual structure of BEP's cash flows, and the creditworthiness (primarily investment-grade) of BEP's contractual counterparties. This strong risk management culture begins with BAM and has been a large reason why the Brookfield companies have been such solid performers over the long run.
The second strong point of BEP's management is their ability to operate globally. While I have an entire section of this analysis devoted to that attribute (see the section on Considerable Geographic Diversification"), I want to emphasize that this is only possible because of the global reach of BEP's management team.
Performance History
"Our objective is to deliver long-term total returns of 12-15% to shareholders annually." - Brookfield Renewable Partners September 2016 Investor Presentation
BEP certainly has high performance goals in a world where the 10-year US government bond yield sits below 2%, and dipped as low as 1.35% earlier this year. Fortunately for their shareholders, they have delivered on these lofty performance objectives. Take a look at the following table.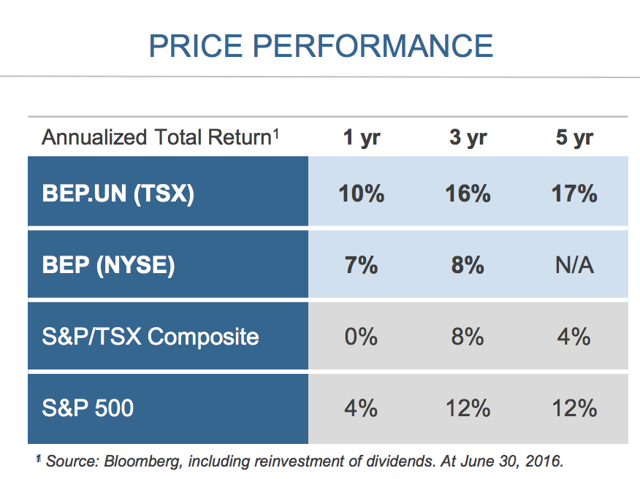 Source: Brookfield Reneweable Energy Partners Investor Presentation
It is difficult to judge BEP's performance with a long-term lens, since this listed entity was only spun-off from their BAM parent in 2010. Over the long-run, the Brookfield companies have delivered returns much above the overall Canadian and American stock markets (as measured by the S&P/TSX Composite Index and the S&P 500 Index, respectively). We may gain some insights on BEP's long-term performance record by examining the return of Brookfield Asset Management. Consider the following:
Since Bruce Flatt become the CEO of Brookfield Asset Management in 2002, investors have enjoyed total returns of 1,000%+.
Obviously this crushes the total return of either major stock benchmark. While the old adage "past performance is no guarantee of future results" must be recognized, the performance outlook for Brookfield Renewable Energy Partners is positive.
Considerable Geographical Diversification
I think that most investors would agree that there are three fundamental types of portfolio diversification, and any other purported source of diversification can be classified under one of the following categories.
Diversification between sectors
Diversification between geographies
Diversification between asset classes
There is no denying the importance of at least a moderate amount of diversification. However, as individual investors, we do not have the same levels of capital of large institutional investors like mutual funds or exchange-traded funds do. This means that it can be difficult to achieve adequate diversification without accruing unreasonable transaction fees. There are three solutions to this problem.
Operate a focused (AKA non-diversified) portfolio
Invest in funds, where you gain diversification in exchange for
Invest in businesses that offer diversification due to the nature of their business model
I believe that Brookfield Renewable Energy Partners is an investment that satisfies the third condition, and this is a large positive for potential investors.
Since BEP operates solely in the renewable energy industry, they do not have the same type of operational diversity that their parent company Brookfield Asset Management does. What they do have is a considerable amount of geographic diversification. Take a look at the following diagram to see a summary of BEP's global footprint: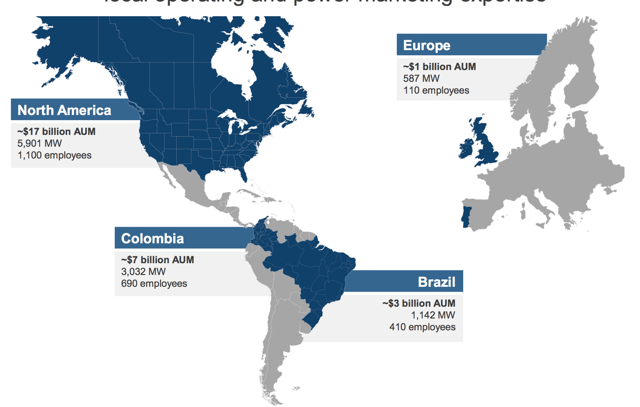 Source: Brookfield Renewable Energy Partners Investor Presentation
For investors looking for exposure to Europe and the two emerging markets in Colombia and Brazil, I believe BEP is a smart way to do so.
Favorable Industry Dynamics
There are two industry dynamics that I believe will support BEP's growth moving forward.
The first is the overall movement into the real asset space by institutional investors. With the US 10-Year yield at ~1.75%, the 10-year Canadian government bond yield at ~1.2%, and the S&P 500 dividend yield at ~2.07%, it's no surprise that investors with long-duration liabilities (think pension funds, insurance funds, and other institutional asset bases) are searching for new sources of yield.
This is where Brookfield comes into play with their very attractive 5.7% distribution yield (more on that later). For institutional investors, this business is also attractive because of their ability to absorb massive amounts of capital. In a recent interview with Bruce Flatt on Bloomberg Best, Brookfield's iconic CEO noted that the thought of becoming a $500 billion asset manager (from ~$250 billion right now) does not frighten him because the infrastructure and renewable energy businesses are capital-intensive by nature. The search for alternative asset classes by institutional investors combined with the ability for BEP to absorb this new capital is very promising for future growth.
The second driving factor is the paradigm shift we are experiencing in the overall energy industry. With all of the talk of peak oil, carbon taxes, and the end of fossil fuels, the renewable energy industry has nowhere to go but up. There is no denying that fossil fuels will eventually be replaced by renewable energy just like the car replaced the horse a century ago. For companies like Brookfield who have already entered this industry noted for it's high barriers to entry, this is very promising.
I want to make a final point regarding the "uniqueness" factor of BEP. While they are not a huge company by any means (~$9 billion market capitalization according to their most recent investor presentation), they are one of the only companies that I know of to be actively managing assets with a focus in the renewable energy space. This gives them brand recognition, staying power, and a competitive advantage that will help propel their future growth.
Strong (Though Tax-Inefficient) Distributions
One of the highlights of an investment in BEP is their high distribution yield, which is currently nearly 6%. While the dividend is high, BEP's payout ratio (calculated as distributions per share divided by FFO per share) is only ~70%, which is comparable to dividend stalwarts like Telus (NYSE:TU). This indicates dividend safety which is further confirmed when you consider that 90% of BEP's cash flows are contractual in nature.
BEP is also committed to increasing these dividends over time. Distribution growth from $1.30 in 2011 to $1.78 in 2016 represents a CAGR of 6.5%. For retired investors looking for stable and growing income, this well outpaces the rate of inflation, ensuring that their purchasing power does not erode over time.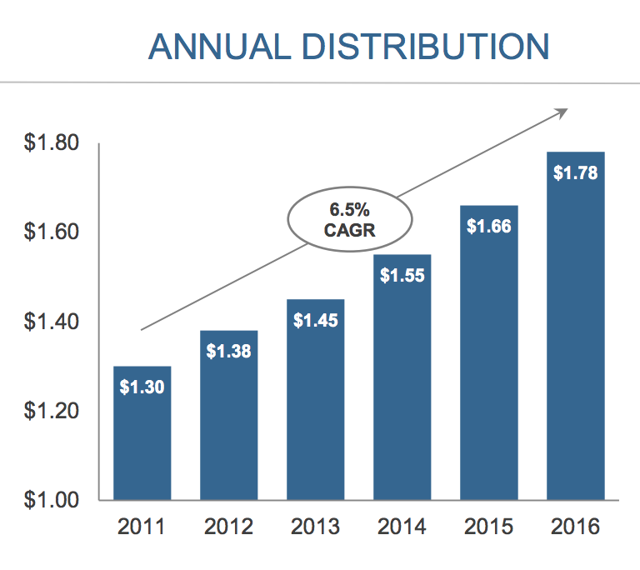 Source: Brookfield Renewable Energy Partners Investor Presentation
Caution should be taken when considering an investment solely for income, however. Brookfield Renewable Partners is a Bermuda-based limited partnership. As such, investors should research potential tax implications on BEP's distributions when considering an investment in this security.
Distributions from BEP include interest, dividend income, and a return of capital. As such, tax accounting can be a nightmare for this security. Luckily for Canadian investors, BEP is an eligible security for both RRSPs and TFSAs, according to BEP's website. It also notes that BEP is eligible for similar US tax-advantaged accounts.
Please note that I am not a tax professional and you should absolutely perform your own due diligence before making any investment decisions.
The Bottom Line
All things considered, I am confident that Brookfield Renewable Energy Partners will produce returns over the next 5 years that outpace those of the Canadian stock market as measured by the S&P/TSX Composite Index.
As such, I'm placing an order to buy BEP in my Tax Free Savings Account to avoid any of the voodoo that comes with investing in these Bermuda-based limited partnerships.
Readers, what are your thoughts on an investment in BEP? Let me know in the comments section.
Disclosure: I am/we are long BAM.
I wrote this article myself, and it expresses my own opinions. I am not receiving compensation for it (other than from Seeking Alpha). I have no business relationship with any company whose stock is mentioned in this article.