Energy investors have more to be optimistic about now than at any point in time over the past two years in light of the news that OPEC and non-OPEC players may cut crude production. As oil & gas prices are and have been on a bullish trajectory, at least for now, upstream firms (particularly those with significant domestic natural gas production) should have positive forecasts to put out. One name to watch is the super-independent itself ConocoPhillips (NYSE:COP), which will release its earnings before the market opens on October 27.
Before ConocoPhillips updates investors, here is some background on the firm's past performance and what to look out for as the upstream name copes with low oil prices and potential OPEC moves.
Cash flow situation
During the second quarter of this volatile year for energy, ConocoPhillips generated $1.26 billion in operating cash flow including working capital effects. That was up three-fold versus its meager $421 million in cash flow generation during Q1, also including working capital effects. Aiding Conoco's rebound from the depths was a sharply higher realized crude price, which pushed the company's total realized price up to $27.79/BOE from $22.94/BOE quarter-over-quarter.
Every $0.25/Mcf increase in Henry Hub, domestic natural gas, pricing yields a $75 - $85 million increase in the firm's annual cash flow generation. ConocoPhillips gets a $10 - $15 million boost for a similar increase in its international gas price (influenced by Brent pricing). Every $1/barrel increase in Conoco's realized natural gas liquids price adds $5 million - $10 million to the company's annual cash flow streams.
During the second quarter of 2016, Henry Hub averaged $1.95/Mcf. As Henry Hub traded around $0.75 - $0.85/Mcf higher in Q3, Conoco's cash flow streams should have gotten around a $60 million boost from its domestic gas operations. Improved realized natural gas liquids prices could also bolster Conoco's cash flow streams around the margin.
In regards to the impact of a $1/barrel increase in ConocoPhillips' West Texas Intermediate (domestic oil), Western Canadian Select (Canadian heavy crude) and Brent/Alaskan North Slope (international, Alaskan, and US West Coast oil) pricing, its annual cash flow generation grows by $35 million - $45 million, $35 million - $45 million, and $100 million - $120 million, respectively.
WTI and Brent averaged $45.48/barrel and $45.57/barrel, respectively, in Q2, roughly on par with where WTI and Brent traded last quarter. The crude front won't offer much upside in Conoco's upcoming earnings release, but commentary on what is possible at slightly higher prices should be monitored.
Crude prices entered Q4 on stronger footing than Q3 at high enough levels for Conoco to breakeven, at least in theory. In a high $40's oil price environment, ConocoPhillips sees itself reaching cash flow neutrality. Considering WTI and Brent are trading around $50 a barrel and Henry Hub firmed up to $3/Mcf, ConocoPhillips should be looking at free cash flow generation going forward if prices hold.
Investors should see what ConcoPhillips' management team has to say about the firm's cash flow generation on the back of domestic natural gas prices shooting up and crude markets trending back up to $50/barrel. $3 billion of Conoco's $5.5 billion 2016 capex program was spent through the end of Q2, leaving roughly $1.25 billion to be spent in 2H. That is on top of $300 million in quarterly dividend payments.
A $5/barrel increase in its realized crude oil price combined with higher NGLs prices and higher realized natural gas prices should lift Conoco back into free cash flow generation territory in Q4.
Divestiture update
A series of divestitures worth around $1 billion a year are helping the firm manage its financial state while it navigates the bottom of the downturn. In September, ConocoPhillips sold off its 40% stake in the South Natuna Sea Block B in Indonesia for an undisclosed price.
In August, ConocoPhillips announced it was going to try and sell the SNE find off the coast of Senegal for $430 million to Woodside Petroleum Ltd (OTCPK:WOPEY). However, that deal hit some snags as Conoco's partner, FAR Limited (OTCPK:FARYY), tries to buy itself time to raise cash to purchase that stake instead of letting Woodside Petroleum do so.
Cash raised from those sales combined with its outspend problem dissipating will help bring down ConocoPhillips' $28.7 billion gross debt load at the end of Q2. Conoco wants to cut its gross debt load down below $25 billion before doing anything else in the event of a sustained upswing in energy prices.
Where does spending go
Back in 2014 before the downturn really took hold, Conoco's capital expenditure program came in at a whooping $17.1 billion. In light of crashing crude prices the firm's capex fell down to $10.1 billion in 2015 and should move down to $5.5 billion this year. Aiding its spending cuts was ConocoPhillips' decision to slash $600 million from its quarterly dividend payments, which was agreed to earlier this year and was the right move to make.
When ConocoPhillips updates investors the firm may provide preliminary guidance on where capex will go next year. Even if the company doesn't, investors can get some clues through where Conoco sees its production moving. If the firm is guiding for growth, then it most likely would have to ramp up capex in order to achieve that goal. If Conoco is fine with its production base staying flat then its capex may only move around marginally.
If Conoco wants to really save cash flow and is willing to let its adjusted production base move lower next year after growing an adjusted (for asset sales) 1% - 3% this year, it might have room to do so. $1.3 billion - $1.4 billion of Conoco's major capex is rolling off next year as the second train at its APLNG facility is completed (first LNG shipment expected in Q4), two oil sands expansions come online (one already has done so) in Alberta, and other developments are finished.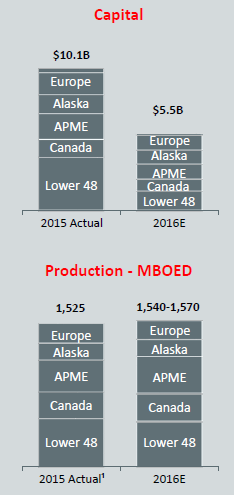 Source: ConocoPhillips August 2016 Presentation
Keep in mind Conoco is currently running only three rigs across its unconventional Lower 48 operations in the United States. ConocoPhillips, in order to maintain its capacity to ramp up production, to retain acreage, and to manage its production decline, may want to push that count up. That would entail spending more year-over-year, with that capital being sourced from reductions in its major development expenditures.
This is just reading into what could be vague statements followed up by members of ConocoPhillips' management teams noting that more information will be put out during the company's annual analyst meeting on November 10. Even so, where Conoco says it sees its production base moving next year and beyond will offer subtle insights into what its capex and thus its cash flow situation will look like going forward.
What is also worth monitoring is if Conoco still sees its operating capital expenditures, the rate of spending required to keep its production base flat, coming in around $5 billion - $6 billion a year going forward (doesn't include its dividend). That guidance was brought up earlier this year and if reinforced would be a strong vote of confidence that a combination of long life low decline projects and short-cycle unconventional programs will keep Conoco's upstream operations chugging along while management pays down debt.
Final thoughts
Most eyes will be on what OPEC decides to do as that will have a bigger impact on oil & gas firms like ConocoPhillips than individual performance. That being said, if ConocoPhillips continues on the trajectory it is on it will be able to handle any situation OPEC throws at the super-independent. Due to ConocoPhillips' improving financial position, relatively low breakeven crude price, and strong operational performance I decided to become a shareholder once again, which interested investors can read about here.
Author's note: Some of the companies mentioned above don't trade on a major US stock exchange, which come with their own set of risks and rewards. Always do your own due diligence before investing.
Disclosure: I am/we are long COP.
I wrote this article myself, and it expresses my own opinions. I am not receiving compensation for it (other than from Seeking Alpha). I have no business relationship with any company whose stock is mentioned in this article.