American Express (NYSE:AXP) has been one of my favorite brands. Their card offerings, when it comes to traveling, concierge, customer service and luxury, are truly unique. Their innovation in technology, global brand awareness and consistency of solid dividend payments made the company a good stock to hold in a diversified portfolio. Heck, I have been a member of theirs since 2002! And it is also a well-known favorite of Warren Buffett's, who has around a $8B stake in Amex.
However, in 2015, American Express took a big punch in the face when it lost its partnership with Costco (NASDAQ:COST) to Citi (NYSE:C) and Visa (NYSE:V). Soon after that, JetBlue (NASDAQ:JBLU) and Fidelity also cut their ties with Amex. Furthermore, in 2015 Amex also lost an antitrust lawsuit on merchant rules that businesses who accept American Express are allowed to encourage their customer to use other cards; but in September 2016, a federal appeal court ruled that Amex did not violate antitrust laws.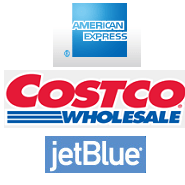 The result of all these negative impacts? AXP is by far the worst performer of the Dow Jones index in the past two years, and when you compare it to the S&P 500 index, the difference is huge. The stock is down by 30% since 2015 and more than 20% in 2016.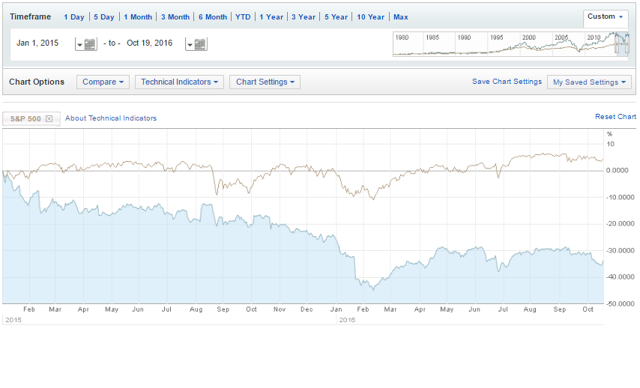 The stock has looked so ugly for the past two years that pretty much nobody on Wall Street wants to touch it. Even Jeff Ubben, the famous activist hedge fund manager who took a $1B position in AXP in the second half of 2015, decided to exit earlier this year.
Just when everyone thought that AXP is done, the company reported its Q3 2016 earning on 10/19, and it blew away the market's expectations. Here are some of the key bullish points:
$1.20EPS (Actual) vs 0.97 EPS (Expected)
Full year adjusted EPS raised to $5.90-$6.00
2017 full year EPS will be at least $5.60
Cost cutting plan is fully on track
ROE at 26% continues to be strong
While the abovementioned results seemed positive (stock was up 5% after-market), I'd like to provide some views on why they might not be so lovely:
This was AXP's lowest Q3 revenue in 5 years
Billed business growth down 3% vs prior year and down 15% in the U.S.
Expense was down in Q3 mainly due to low card member rewards
Its marketing cost continued to hike in order to compete with other issuers
Spending by large corporations remained weak
The company did not mentioned any upcoming new products, so where is the growth coming from?
Finally, some key questions and headwind for 2017:
How will Chase's newly released Sapphire Reserve card, some say the best credit card ever, impact Amex's market share?
Once the Marriott/SPG merger completes in 2017, what will happen to the American Express and Starwood co-brand card, another one of Amex's key product? Marriott currently partners with Chase.
Finally, at current valuation, AXP looks very attractive, and it could very well break $65 this week. But with the lack of growth, I don't think it's a worthy buy if it goes past the high 60's.
Disclosure: I am/we are long V, PYPL.
I wrote this article myself, and it expresses my own opinions. I am not receiving compensation for it (other than from Seeking Alpha). I have no business relationship with any company whose stock is mentioned in this article.