Oasis Petroleum (NYSE:OAS) has had above average success with its core Bakken acreage.
"We now have production data results from numerous Bakken and Three Forks wells across multiple DSUs in Wild Basin, including the White unit wells and additional wells completed in 2016," said Thomas B. Nusz, Oasis' Chairman and Chief Executive Officer. "Production from these wells has exceeded our current type curve for Wild Basin of approximately 1,200 MBoe for Bakken and approximately 1,000 MBoe for Three Forks. Therefore, we are increasing our Wild Basin type curves to approximately 1,550 MBoe for Bakken and to approximately 1,200 MBoe for Three Forks. This type curve is based on our four million pound sand slickwater completion technique. The team continues to test the latest completion technologies. Our confidence is growing that increasing proppant loading and stage counts will continue to improve well performance, as we are seeing production uplift in our own tests as well as tests done by other operators in similar operating areas."
Mr. Nusz added, "We have reduced our current well costs down to $5.2 million from $5.9 million on our four million pound sand slickwater well completion technique. "
The Permian may get a lot more press coverage, but the results cited above will compete with the Permian and other "known" low cost areas such as the Scoop and the Stack. Plus as noted above, management continues to improve performance with the end not yet in sight. So even though the market just loves the Permian right now, specializing in the Bakken may make sense for this producer. Plus investors may get more value investing in a company such as this outside of a favored production area like the Permian if the results are similar.
Source: Oasis Petroleum 2016 Third Quarter And Acquisition Update Slides
The company was able to acquire the acreage at a fraction of the cost of entry into the Permian or other hot areas. The overall price is about $63K per estimated BOED or about $14K an acre. Neither of those figures is close to frivolously high. Plus the acreage appears to be a great match for acreage that the company already drills. So there could be some very decent cost savings or operational efficiencies in purchasing this acreage.
Best of all, for a company with a few billion in debt, the company will sell about 48 million shares (with more available from the overallotment) to net about $518 million. This is about a 26% increase in shares outstanding, though it could go higher to about 30% if the overallotment is exercised. The production increase from the purchased properties is about 24% or so over the latest guidance. So the dilution from the stock offering from a production viewpoint is not material. The company benefits from only having to finance about $300 million or so of the purchase price with debt. So the deal should be very cash flow positive for this company from the start.
Any investor needs to remember that the seller thinks they received a very good price for their leases, and that some actual experience by Oasis needs to be established before one can assume a great purchase price. After all, the seller could have left maintenance slip (for example) and then Oasis has a sizeable maintenance bill to bring these properties up to par. But right now the deal looks very good for shareholders and appears to improve the financial position of Oasis.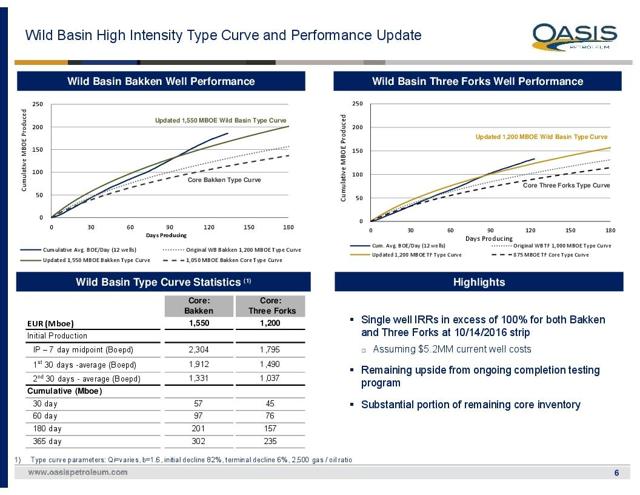 Source: Oasis Petroleum 2016 Third Quarter And Acquisition Update Slides
The market is absolutely enamored with certain geographic areas. But while the Bakken is often cited as a relatively high cost area, any area can have leases that out-perform the average. The IRR shown above is more than satisfactory anywhere. A sustained return as shown above can very quickly build cash flow and improve the company balance sheet. However, should these returns become industry-wide, there could be another oil price downturn. But for the time being this is very good news for this company, management just has to reinvest the cash flow conservatively enough to be ready for the next industry downturn.
Results that duplicate the results of Oasis could indicate that the Bakken may yet reclaim its place in the sun in the future. Those thirty day results are excellent. The largest problem with the Bakken is the differential, but still if the wells continue to improve, the differential problem will not stop future development. Besides pipelines are being constructed to the Bakken as I have noted in other articles so the differential problem is also being addressed. The latest industry downturn is giving the pipeline companies time to catch up and they are doing just that. So the recovery could find the Bakken with far better connections to improved pricing.
Source: Oasis Petroleum 2016 Third Quarter And Acquisition Update Slides
The costs shown above will compete with other low cost areas. They are excellent for the Bakken and will help the company withstand future industry downturns. But to invest in this potential profit maker, the Permian, Scoop, or Stack premium is just not there. The market yawned when the company sold stock with this deal. Compare that to a similar deal and stock sale involving the Permian. It is really a drastically less positive reaction. Yet there is no reason why this company should not be able to profit from this deal as the Permian companies should profit from their deals. In fact the chances are greater for success. because the purchase price appears to be far more reasonable.
Source: Oasis Petroleum 2016 Third Quarter And Acquisition Update Slides
As shown above, the company has a fair amount of debt. The company, however financed this deal very wisely with stock. That is a huge plus. So the cash flow coverage ratios will become better when this deal closes. That fact that this deal is reasonably close to existing infrastructure is icing on the cake. The reaffirmed borrowing base is also a plus and will give the company time to increase production and show the value of the leases acquired. Most likely this company will at some point float some new debt to permanently fix the financing terms and open the bank line for future possibilities. The chances of success are far higher with an acquisition such as this one, as the company is probably very familiar with surrounding leases and wells. So if an investor thinks that the latest Permian acquisitions are great, here is a Permian type acquisition without the Permian premium attached. So expect this stock to more than double over the next five years as the market realizes that this operator has some very profitable leases.
With the current amount of debt, a sustained price decrease could hurt future prospects, but the company can and probably will hedge to avoid that possibility. Also, the differential appears to be decreasing in future years, but that also remains to be seen. This company could easily be earning $2 per share three years from now if oil prices do not drop below $40 per barrel and differentials decrease as projected. However, this low cost producer has several ways to benefit from this purchase and the profit on this investment can be far greater than the market currently projects.
Disclaimer: I am not an investment advisor and this is not a recommendation to buy or sell a security. Investors are recommended to read all of the company's filings and press releases as well as do their own research to determine if the company fits their own investment objectives and risk portfolios.
Disclosure: I/we have no positions in any stocks mentioned, and no plans to initiate any positions within the next 72 hours.
I wrote this article myself, and it expresses my own opinions. I am not receiving compensation for it (other than from Seeking Alpha). I have no business relationship with any company whose stock is mentioned in this article.