Twitter (NYSE:TWTR) closed Wednesday at $17.07 per share, down over 40% over the past year. In total, the stock is down nearly 60% from its opening price of $41.57 on its first day of trading in November of 2013. The odds of recovering anytime soon seem slim given low user growth, a series of failed acquisition discussions, and slow revenue growth. While a buyout could still be possible in the future, investors may still feel uncomfortable with the current trading price, putting pressure on the social media giant to turn around its bottom line, a challenge that will likely be difficult given the circumstances.
Acquisition Discussions Haven't Been Meaningful
Earlier this month, Twitter was trading as high as $24.86 based on rumors of a possible buyout by Salesforce (NYSE:CRM), Alphabet (GOOG, GOOGL) and Disney (NYSE:DIS). One of the reasons a meaningful deal hasn't been put in place is sometimes attributed to CEO's Jack Dorsey juggling positions between heading up social-media giant Twitter as well as Square, a company that makes credit card processing available through your mobile device. Dorsey has faced criticism from both investors and the public over his ability to manage the two organizations simultaneously. Some feel he has been performing poorly for Twitter. Without completely focusing his time on Twitter, the type of internal restructuring necessary to turn the company's bottom line around is restricted and that makes an acquisition harder to negotiate.
Slowing Revenue and User Growth Are Two Big Challenges Management Faces
Year over year, Twitter's registered user count grew only roughly 3% in Q2. The first quarter of last year saw a 3% growth in itself and the same quarter last year saw a 15% growth. Compare that to Facebook's 15% annual growth and the hesitation among business owners to invest in Twitter's promoted tweet advertising can partially be attributed to that lack of active user growth. Repeat business is difficult to retain if the advertising base remains very similar or changes only marginally over the period of an entire year. With competition from Facebook's advertising platform and Alphabet's AdWords arguably being far more successful, the company would need to drastically change its advertising model to attract new advertisers at a noteworthy rate.
While Twitter's year-over-year revenue growth rate was reported to be 20% in the last quarter, revenue growth has been declining and last quarter's 20% has been the lowest reported revenue growth since the stock's IPO in November of 2013. Revenue growth for the fiscal year of 2015 climbed 59% compared to 2016's expected 15% growth, which also happens to be expected to decline further in 2017.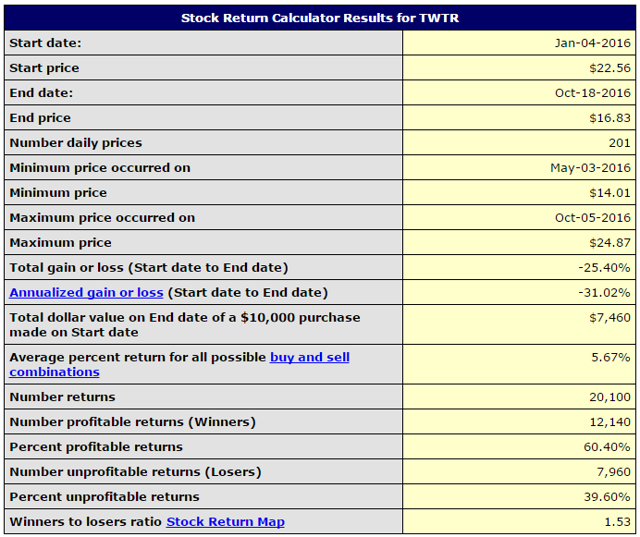 Twitter's Stock-Based Compensation Model Hurts More Than It Helps
At Twitter, stock bonuses are utilized in a far more liberal manner than at competitor, Facebook which spent roughly 13% of its revenue on stock based compensation compared to Twitter's 28%. The use of stocks instead of cash has two negative effects from a valuation perspective. Firstly, such large issuance of new stock dilutes the company's total outstanding shares driving the stock price down from a supply-side perspective. From the demand side, the liberal issuance of stock over cash leads to more sell orders. According to SEC filings, Twitter insiders sold over 67x as much stock as they've bought over the last 6 months, a total net sold of 4.4 million. Seeing those numbers has led some investors to believe sentiments from within the company regarding management's handling of growth are bleak.
What to Look For Next Week
Twitter is set to report its earnings for the 3 rd quarter of 2016 on Thursday, Oct. 27 after the closing bell. After the roller coaster ride the stock has been through in the last few weeks, management will be seeking to restore investor confidence by providing plans to turn around the declining revenue growth rate. Analysts are expecting revenues to come in at the high-end of company guidance while non-GAAP (Generally Accepted Accounting Principles) earnings per share to be roughly $0.09 per share, up $0.01 from the same quarter last year.
Other key numbers to look for include MAU (monthly active users) and guidance. The bulk of Twitter's user growth in Q2 came from international markets. Another uptick in international users would boost investor confidence in growth rates somewhat. A flat or decline in international users further the argument for slowing user and revenue growth in the future. As for guidance, analysts are expecting 4th quarter revenues to be $754 million, up 6.2% year over year
The Bottom Line
A series of unsubstantiated buyout rumors coupled with declines in revenue and active user growth have the stock trading at bargain basement prices. The company is in a marketplace where it can turn around its advertising sales and utilize its recent acquisitions of Vine and Periscope to expand video capabilities as did Facebook and YouTube. Its recently introduced NFL live streams has proven that, with the proper management and content strategy, the company can strengthen its financial position. Solid Q3 performance would do a lot to address waning investor sentiments and Jack Dorsey's performance as Chief Executive and the stock is trading relatively discounted. Twitter is still a very influential social media platform despite not financially performing quite on par with similarly situated competitors. There is a lot of opportunity to be had in the stock if the company's management can focus on producing initiatives that can help investors reimagine the company as the growth vessel it was known to be just a relatively short while ago.
Disclosure: I/we have no positions in any stocks mentioned, and no plans to initiate any positions within the next 72 hours.
I wrote this article myself, and it expresses my own opinions. I am not receiving compensation for it (other than from Seeking Alpha). I have no business relationship with any company whose stock is mentioned in this article.