Introduction
I started watching Rave Restaurant Group (NASDAQ:RAVE) after I ate at one of their restaurants for the first time. I was a big fan of the fast-casual setting and how I could make my own pizza (or choose from the menu) and have my personal pizza ready in 5 minutes. Pie 5 restaurants started popping up around the DFW area and after visiting their investor relations tab I saw they were ambitious in opening many new restaurants nation-wide. I thought Rave was destined for success (this was when the stock was at $14). Today the stock price is under $3. Good thing I did not invest, or I would be down close to 80%.
The Good
Rave Restaurant Group has been growing its fast-casual Pie 5 restaurants at an extraordinary rate. As of September 12, 2016, Rave had 62 franchised units open and had executed multi-year development agreements with 23 franchisees for up to an additional 347 Pie Five Units to be located in the U.S. Opening a large amount of new restaurants in a short amount of time is a very smart strategic strategy in securing market share and is the same strategy Starbucks (NASDAQ:SBUX) took to make sure they secured themselves as the number one brand in the casual coffee house space. This has increased their revenue to $60.8M in 2016 from $42.2M in 2014.
The Bad
They have been losing money. This would be understandable if the costs were associated with opening their new restaurants, but these restaurants are franchised out and pre-opening costs are minimal.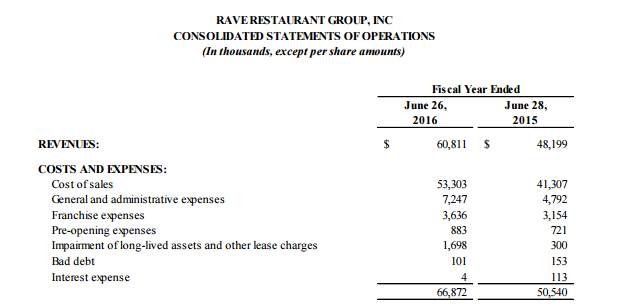 Pre-opening expenses only account for 1.3% of total expenses. The problem here is cost of sales which account for 79.7% of expenses. Just accounting for revenues and cost of sales gives a margin of about 12.3%. Wingstop (NASDAQ:WING) in comparison would has a margin of 72.8% (revenue of 22,723 and cost of sales of 6,184 in thousands). Rave would be able to reach that margin if they reduced their cost of sales to 44,270 (in thousands) or increased their revenue to 69,844 (in thousands). This would take them from a $6M loss to a $3M profit.
The Fix
The problem is simple: they need to make more money. The means are seemingly obvious: through increasing revenue or reducing costs. The solution: a little trickier. Will they able to cut costs? I believe if management made it a priority they can improve their bottom line. I would also give them the benefit of the doubt and say Pie 5 is a new line of business for them and as time goes on they will find ways to be more efficient and cut costs. Time will tell if Rave can get it together and start making money.
Disclosure: I/we have no positions in any stocks mentioned, and no plans to initiate any positions within the next 72 hours.
I wrote this article myself, and it expresses my own opinions. I am not receiving compensation for it (other than from Seeking Alpha). I have no business relationship with any company whose stock is mentioned in this article.
Editor's Note: This article covers one or more stocks trading at less than $1 per share and/or with less than a $100 million market cap. Please be aware of the risks associated with these stocks.