Even the most casual investor knows the name 3D Systems Corporation (NYSE:DDD), as it was one of the hottest stocks of 2012 and 2013, climbing from the high single digits all the way to its peak of nearly $100 per share in early January 2014. You can see on the chart below that DDD was basically a ruler stock for two years.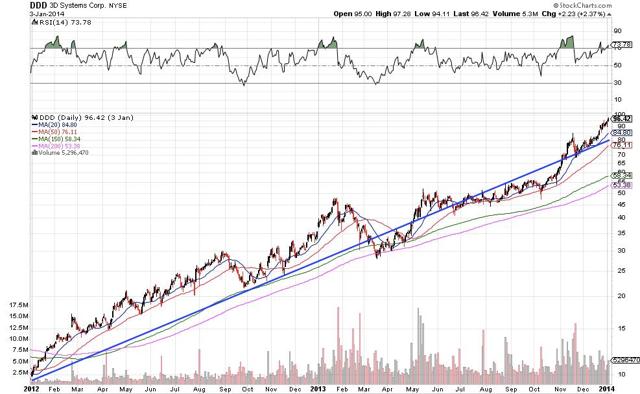 Since then, however, the stock has given back a large majority of those gains, experiencing a disastrous 2014 and 2015. Sentiment, once giddily positive, was unsurprisingly negative over the last couple of years as well.
However, 2016 has proven to be much more productive for the stock. After a rough start, DDD's stock price is up over 80% year-to-date.
The question is: after such a meteoric rise and a painful fall, what's the story the now?
Anatomy of a hype stock
All hype stocks share a fundamental characteristic in common: Their demand is fueled by a powerful and often overly optimistic narrative which is not supported by reality.
As more investors pile in and the price of the shares increase, the divergence between the value of the company (as represented by its trading price) and the value of the company (as represented by its fundamentals) increases. Eventually, such a stock becomes extremely overpriced and there is simply no more buying demand (no more buyers who want a piece of the story).
Selling then overcomes buying and the stock price moves down. As it does, more investors begin to sell and take their profits, eventually snowballing into a torrent of selling.
As the stock price falls apart, so does the accepted narrative. So now a stock that was fueled upwards by optimism untethered by reality gets pushed downwards by pessimism that is equally as untethered.
This is exactly what happened with DDD.
When stocks like DDD become interesting, especially from a technical perspective, is when they emerge on the other side of the inevitable fall.
After the fall
After making some management changes and dropping its consumer products operations and refocusing on where the real growth opportunities are, most recently in state-of-the art healthcare solutions, the company seems to be better positioned than ever before. The basic narrative has not changed: 3d printing technology is still in its nascent phase and likely to become a game-changer in manufacturing and healthcare , with a vast amount of potential applications. The only thing that has changed is that the hype is over. Moreover, besides Stratasys, Ltd. (NASDAQ:SSYS), DDD still has no real competition in this space.
Most importantly, the technical picture continues to improve. Let's look at it and start with a longer-term view. Below is a three-year chart.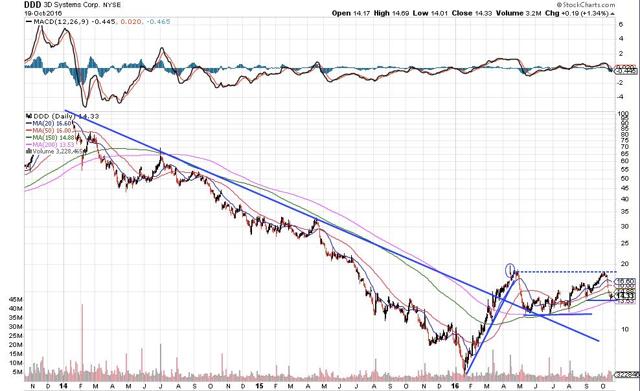 As you can see, after the stock price bottomed out in late January of this year (getting as low as $6 per share), DDD rallied strongly, reaching almost $20 per share. In doing so, it broke the primary downtrend and signaled the start of a reversal. Strong buying pressure pushed the stock up to high teens. It pulled back from those highs, not unsurprisingly, as it was technically quite overbought.
Interestingly enough, this pullback was foreshadowed on April 14 buy a gravestone doji (circled on the chart), the name of the type of candle that was formed on that day, on high volume. Since that pullback, the price action has been very productive and we're seeing a consolidation pattern emerge that looks very positive.
Let's take a closer look at that basing pattern with a one-year chart.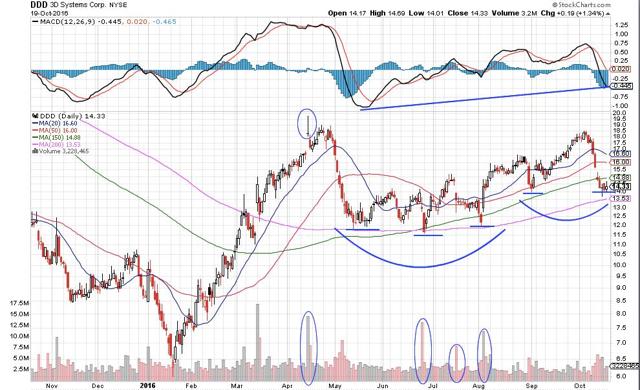 Looking at the price action over the past several months you can see a steady improvement in the base that has developed. The stock established strong support in the $12 range and did so on days with high trading volume. From there, the stock has progressed nicely and momentum has steadily improved, as shown by the uptrend in the MACD.
Of course, most recently we've seen DDD pull back a bit, but in my mind, this is not a negative; It's simply pulling back from a slightly overbought position. As a stock forms a base and begins to make progress to the upside, it will tend to make rallies which become over-extended and fall back from the highs. This is just part of a productive consolidation.
As long as it falls back to increasingly higher support levels, then the base is constructive and the picture is positive. And that is what we've seen happen here. The stock has pulled back to the $14 level and held strong at support which is a very positive sign and validates the argument that we are seeing productive consolidation leading to a breakout.
Breakout potential
Based on the technical picture, I expect DDD to hold the $14 level and move up from there to eventually retest the $18.50 level. From there, the stock presents real breakout potential.
Disclosure: I am/we are long DDD.
I wrote this article myself, and it expresses my own opinions. I am not receiving compensation for it (other than from Seeking Alpha). I have no business relationship with any company whose stock is mentioned in this article.