While reviewing its monetary policy strategies for FY2016-17, the Reserve Bank of India (RBI) reduced the repo rate by 0.25% to 6.50% -- indicating enhanced concerns for domestic consumption and GDP growth over the next six months. The reverse repo rate was increased by 0.25% to 6%, and this indicates commercial banks have been able to borrow money at a cheaper rate from the RBI and lend money at a higher rate.
The rate cut has had a significant impact in different consumer and producer sectors in India. One example here that has been closely watched by the RBI is the rate of retail lending -- especially transactions in home and car loans -- which is now widely expected to see declines. On a positive side, the EMI for home loans amounts to 2.0 million Rupees for 10 years, and this should decline by almost Rs 600 per month (Rs 4800 per year). This goes far to promote home ownership in emerging India and support the broader economy as a whole.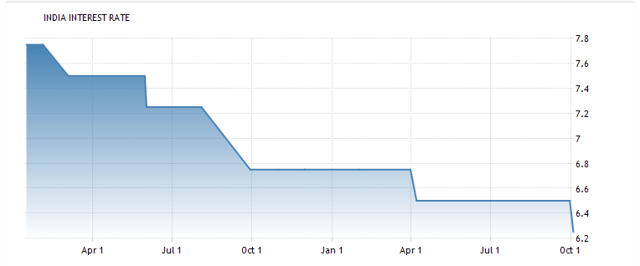 There are risks, however, and the lower lending rate for banks indicates that deposit rates will be brought down to manage spreads at commercial banks. This also suggests decreased purchasing power for consumers in transactions that depends on the bank deposit rate. On the contrary, people who are going to take retail loans from banks will enjoy higher purchasing power as they have to spend less on interest expenses. So the real question for currency investors is which of these factors is going to have the biggest impact on overall growth levels.
One of the best ways of assessing this is to look at things from the consumer level and in the ability of households to build savings. Small savings schemes like India's Senior Citizens Savings Scheme (SCSC) or the Public Provident Fund (PPF) will need to be assessed in terms of their efficacy when trying to make long-term forecast in the Rupee as an emerging markets currency.
| | | | |
| --- | --- | --- | --- |
| Name of the Scheme | Interest Rate (%) | Limit | Tenure |
| Senior Citizen's Saving Scheme | 9.3 | RS 1.5 million | 5 years |
| Sukanya Samriddhi Yojana | 9.2 | RS 1.5 million | Till girl is 21 |
| NSCs (10 years) | 8.9 | No Ceiling | 10 years |
| Public Provident Fund (PPF) | 8.7 | No Ceiling | At least 30 months |
| Post Office Time Deposit | ~8.5 | No Ceiling | 1-5 years |
To this end, the PPF and SCSC have been shown to be good options for household depositors as they offer higher returns than bank rate and generally their rates get fixed, considering the yields of government bond with same maturity period. There are rumors that the government is also seriously thinking about reducing the rates of small savings schemes so the smart money in India finds ways to capitalize on investments in these areas it before it is too late and later rates drop.
Indian investors that rely on long-term investments (i.e., bonds) have been beneficiaries in these situations as their funds' actual returns are higher than returns originally expected. The 125 bps rate reduction by the Reserve Bank of India has been the cause of this enhanced return, and it would be safe to assume that there is almost no chance of further rate cuts by RBI in FY 2016-17.
The repo rate and the reverse repo will continue to be key factors for the Reserve Bank of India in its attempts to control the historically volatile consumer inflation rate. An increase in the repo rate discourages commercial banks in borrow money from a central bank, and ultimately, this reduces the money supply in the economy. The RBI knows that the inflation rate may increase and it predicts these numbers will reach 5% from present 4.31%. When this will be the case is still a matter of debate, so the broader impact of the RBI's decision to decrease the repo rate is yet to be determined. What we do know is that these are special factors that will be closely monitored by the Reserve Bank of India, and any further reluctance to raise rates and show concern for possible inflationary pressures will almost certainly lead to rallies in currency pairs like the USD/IDR.
Disclosure: I/we have no positions in any stocks mentioned, and no plans to initiate any positions within the next 72 hours.
I wrote this article myself, and it expresses my own opinions. I am not receiving compensation for it (other than from Seeking Alpha). I have no business relationship with any company whose stock is mentioned in this article.