GW Pharmaceuticals (NASDAQ:GWPH) is continuing to see bullish factors for its business prospects and hence for its stock price.
In September I wrote about the very promising test results for its cannabinoid "Epidiolex" drug in the treatment of childhood epilepsies. Phase 3 FDA approval and commercial sales are now close, though not of course guaranteed.
Since my article, new legal changes in the U.K. on medical marijuana open up substantial opportunities for the sector. Within the sector as a whole GW Pharma has become increasingly the only serious game in town as competitors face problems.
Recently GW Pharma has been giving more details of new planned tests in addition those already under way for childhood epilepsy.
The UK Changes.
The big change in the U.K. is that the Medicines & Healthcare Products Regulatory Agency (MHRA) has announced its findings for Cannabidiol (or CBD). CBD is the extract from the cannabis plant that does not contain psycho-active elements.
The MHRA stated:
"CBD... may be used by or administered to human beings either with a view to restoring, correcting or modifying physiological functions by exerting a pharmacological, immunological or metabolic action, or to making a medical diagnosis."
This should represent a strong driver for the use and acceptance of medical marijuana drugs in the U.K. and Europe. In fact it reflects similar findings published last year in the Journal of the American Medical Association, but is more positive than that previous American report.
The MHRA recommendation follows hard on the heels of a report in October by all-party committee of MP's. This made a strong recommendation to legalize cannabis for "medicinal" use. It estimated that 1 million people in the U.K. are already illegally smoking cannabis for various medical conditions. It recommended cannabis as a recreational drug should be downgraded from a Schedule 1 drug to a Schedule 4 drug. 56% of British MP's are said to be in favor of complete legalization of marijuana for medical purposes.
The MP's report specifically identified its use for various conditions. These were chronic pain, anxiety, muscle problems especially those caused by multiple sclerosis, and to off-set the effects of chemotherapy. GW Pharma's "Sativex" drug is specifically targeted at multiple sclerosis sufferers. It is the only drug made from natural cannabis that is currently cleared for use in the U.K. It is comprised of CBD and non psychoactive elements of THC (Delta-9 tetrahydrocannabidol).
Numerous tests have also been carried out by research bodies in the U.K. on animals. These have shown very successful results in which both cannabinoids (which are psychoactive compounds) and CBD's have reduced tumors in mice. They have also been very successful in various pain reduction studies.
The fact that there is still opposition to legalizing cannabis but agreement that it does have medical benefits is of precise benefit to GW Pharma. It reinforces their quest to make drugs based on cannabis, but without the psychotropic effects. It is hardly a new idea that cannabis has health benefits. It was prescribed to Queen Victoria in the nineteenth century for period pains. The breakthrough in its usage should come with safe drugs manufactured from cannabis compounds.
Competitors.
The big question is whether medical marijuana can possess many of the medical benefits its proponents believe. As the evidence mounts that this is likely, so GW Pharma's value should increase. It is head and shoulders above its competitors.
Its year-to-date share price as indicated below is evidence the market agrees.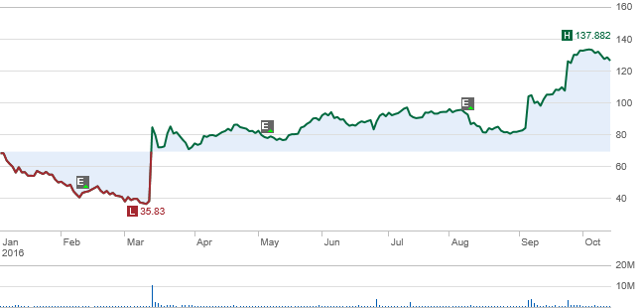 There are quite a few other mostly small companies working on drugs based on CBD's and cannabinoids. Some are working on synthetic cannabinoids. Some are working on different delivery methods such as transdermal.
Several of them are looking at epilepsy treatments as well. This could be seen as direct competition to "Epidiolex". What this really shows however is that there is a consensus of opinion that medical marijuana could well have very positive health benefits for epilepsy treatment. The fact that GW Pharma is so much further down the line in FDA testing is the key point.
If one looks at the share prices of various competitors, they have virtually all declined this year. This compares to the GW Pharma share rise noted in the graph above. Some spiked for a while on the back of GW Pharma test results, then later fell back to earth. In a later article I will review the investment opportunities with several of these companies. They are however in general more speculative than GW Pharma because they are further back in the FDA process. In general competitors are also less well financed than GW Pharma.
The fact that so many companies are instituting research into cannabis based drugs is a favorable factor for GW Pharma, not a negative one. It shows that many research scientists believe in the potential of medical marijuana for a host of conditions.
GW Pharma's Pipeline.
The most high profile GW treatment is the testing going on for "Epidiolex" for various severe forms of childhood epilepsy. These are under orphan designation with the FDA. However if full FDA approval is forthcoming, then there is a good chance approvals could be extended to adults. That is obviously a far larger market for the drug.
Epilepsy is caused by faulty electronic signals in the brain leading to seizures from parts of the brain which temporarily don't function properly. There has been a long history of ineffective epilepsy drugs. These fail to prevent seizures totally and tend to cause extreme fatigue and impaired memory. The Ancient Rome writer Pliny the Elder recommended "lightly poached bears testes" for epilepsy, but that did not do the trick either.
Childhood epilepsy is a very dangerous condition for children and obviously a condition of extreme difficulty which is very tough on the parents as well. "Epidiolex" could go a long way to bringing comfort to many sadly affected families.
There have been some interesting new surgical techniques developed recently in the U.K. These involve surgery to remove those parts of the brain emitting the faulty signals. However brain surgery is not something anyone wants to undergo unless 100% necessary, and it is costly.
The tests which are upcoming in the next 6 months for GW Pharma aside from childhood epilepsy are extensive and far in excess of the competition:
Phase 3 study for "Epidiolex" in infantile spasms.
Phase 2 study for "Sativex" in cerebral palsy spasticity.
Phase 2A study for THC: CBD in recurrent gliobastoma, for which Orphan designation has already been granted in the USA and in Europe.
Phase 2 study for CBDV in epilepsy seizures.
Phase 2 study for CBDV in autism spectrum disorders.
Phase 3 study for "Epidiolex" in tuberous sclerosis.
Phase 3 study for "Sativex" for multiple sclerosis spasticity (for which the total market potential is thought to be worth a potential US$18 billion per annum).
Phase 1 study for THC: CBD for NHIE (Neonatal Hypoxic-Ischemic Encephalopathy), for which Orphan designation has already been granted in the USA and in Europe.
Pre-clinical testing is ongoing for Duchenne muscular dystrophy, glioma, and ovarian and pancreatic cancers.
Conclusion.
It is not certain what will significantly move the GW Pharma share price next. The company is not likely to have definite further test results on "Epidiolex' this year. Its Q4 results are due out on 5th December. These are unlikely to be critical either way to the company's share price.
Test results are what will drive the price up or down. A study of the cash in hand at the results call will be of importance to investors. The company does though seem to be well-financed to see through its short and medium term requirements. This is despite having ramped up spending this year in the USA on both office facilities and test procedures. The company has just announced in fact that it will be delisting from AIM, the secondary stock market in the U.K. as from December this year, and will focus just on its ADR listing on NASDAQ.
Apart from test data, some important upcoming events include:
Publication in medical journals of Phase 3 "Epidiolex" study for Dravet syndrome by the end of the year.
Presentation to American Epilepsy Society in December.
"Epidiolex" NDA submission in the first half of 2017.
AAN (American Academy of Neurology) data update in April 2017.
A recent Goldman Sachs Buy report modeled US$1.6 billion in annual sales for "Epidiolex" in childhood seizures. They reckoned this should lead to a 45% stock price increase. Roth Capital Partners made a similar estimate recently with annual potential of US$1.8 billion. However if one included off-label usage they reckoned this would amount to US$3 billion by 2024.
These figures do rely on the basis that "Epidiolex" will achieve very high market penetration. That is possible as there is no other imminent such drug coming onto the market.
Approval of "Epidiolex" for children on an "orphan" status could well also lead to approval in the USA and in Europe for epilepsy in general. This would open up a huge new value potential for the drug. The National Health Service in the U.K. estimates that 500,000 people in the U.K. suffer from epilepsy in varying degrees of severity. There are an estimated 62,000 children in the USA and Europe who suffer from Dravets Syndrome and Lennox-Gastaut syndrome.
The biggest potential negative is more of a macro one than anything to do with GW Pharma itself. The profits of Big Pharma have become an election issue following a spate of scandals. Most recently there were the price-gouging by Mylan (NASDAQ:MYL) for their EpiPen allergy medicine and by Turing for their HIV drug.
Assuming Hillary Clinton becomes President, it will be interesting to see if she follows through on her strictures about drug-pricing by drug companies. Big Pharma is well-represented amongst lobbyists in Washington, and will probably be able to ride the storm.
GW Pharma has a market cap of US$3.2 billion. Its Enterprise Value is US$2.9 billion. So I do not believe the company is at all over-valued at present. It is also a potential take-over target for one of the many Big Pharma companies currently finding their forward looking drug pipelines somewhat empty. Buying companies on the basis of their being potential take-over plays is a difficult game though.
GW Pharma's product pipe-line and the potential of cannabis based drug treatments, allied to generally favorable macro trends for cannabis, are what make GW Pharma still a strong Buy.
Disclosure: I am/we are long GWPH.
I wrote this article myself, and it expresses my own opinions. I am not receiving compensation for it (other than from Seeking Alpha). I have no business relationship with any company whose stock is mentioned in this article.