Svenska Handelsbanken (OTCPK:SVNLY) (OTCPK:SVNLF) reported Q3 results. The numbers were strong across the board. Net interest income increased by 3% q/q, thanks to mortgage margins' tailwinds in Sweden and volume growth in other home markets.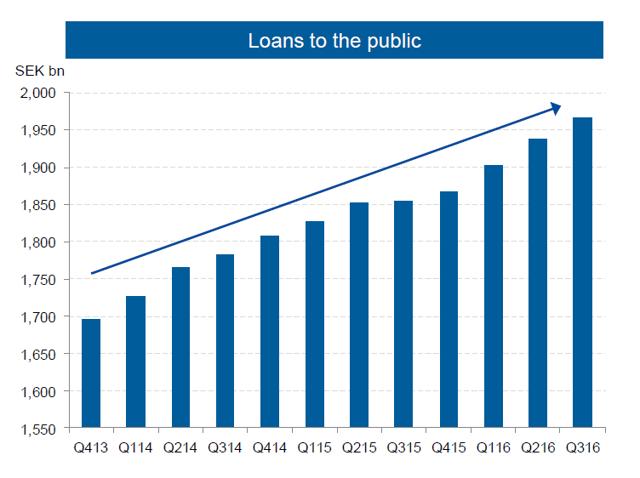 Source: Company data
The results once again highlighted the company's excellent cost control management. SHB's cost-income ratio reached 41.2% in Q316, a marked improvement from 44.5% a quarter earlier. The group's return on equity increased by 50 bps q/q to 14.7% in Q3. It is also worth mentioning that Handelsbanken's business model is still generating a significant premium over Sweden's risk-free interest rate.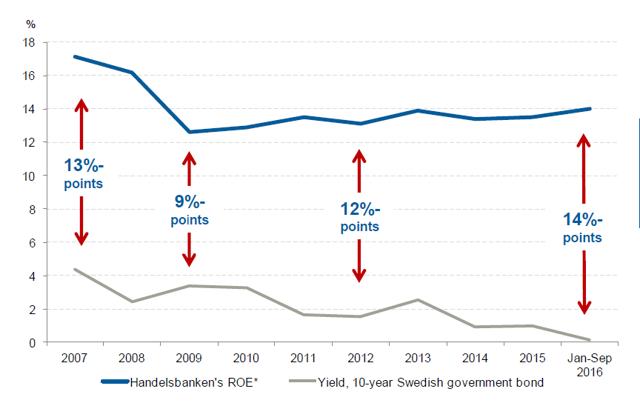 Source: Company data
SHB's asset quality remains superior to peers, thanks to its prudent credit policy and risk management procedures. As such, should provisioning trends deteriorate, we expect Handelsbanken's impressive asset quality metrics to become more visible in earnings and return performance relative to peers.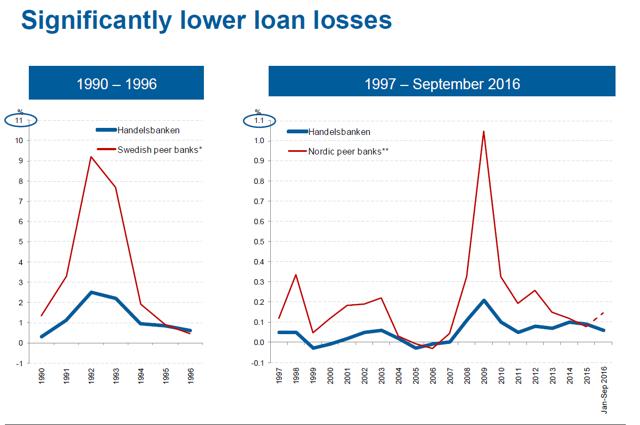 Source: Company data
CEO surprised the market with cautionary comments
SHB's shares have reacted very positively to the results announcement.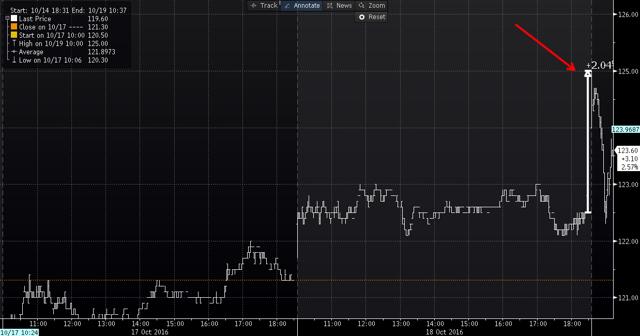 Source: Bloomberg
However, Handelsbanken's CEO Anders Bouvin, who was appointed to the role in August, was cautious on the group's capital position. His remarks came as a surprise, given that Handelsbaken has improved its CET1 ratio by 100bps q/q to 24%, well above its regulatory requirement of 21.1%. Mr. Bouvin mentioned that 'there are always movements in risk-weighted assets and it is unclear how Basel IV rules will affect the bank's capital ratios'. As such, 'the company's board still needs to make an assessment of how big that capital buffer will be'.
<Q - Willis Palermo>: Hi. Good morning. I have two questions. The first one is on capital. I had a very strong progression during the quarter. We also had one area of clarity regarding the corporate risk weight. However, the buffer that you want to keep remain unchanged. And I was wondering, is this a sign that the remaining risks around capital are unchanged as well despite this additional source of clarity? And is the buffer all related to additional requirements from the better date suggesting that this impact could be as big as the 300 bps that you plan to hold? Or is there anything else, any other risk to keep in mind? That's for the first one. The second one is around the UK operation. I was wondering if you could give a bit more granularity and describe the landscape and what you saw during the quarter? And especially, if you could describe the pricing pressure that you're currently seeing in the UK. And secondly, if there was a somewhat slowdown in branch opening this quarter, is this the growth pace we should expect going forward? And that's all for me. Thanks.

<A>: Thank you. Well, I will talk with the capital-related question. So, now, the Swedish FSA has made the assessment, as you have seen. And so, the requirement is 21.1% in core equity Tier 1 ratio. And we are quite a bit above that, which is good.

And the reason for the outcome is that mainly the corporate risk rates that came out may be lower than the market we seem to have expected and what was also communicated by the Swedish FSA earlier this year. And that is a reflection of, I mean, when we have done this, we have looked at our historical office and then we have made very conservative assessment of those. And then based on that, we have proposed the new model which we also have applied for with the Swedish FSA. And that came out lower than the 30%. Now, will that mean that we expect to change the range at 1% to 3%? That is the decision that is going to be made by the board, actually. So they make that decision. But that is also - the reason why we do that is that we want to be sure that when we the world go into the next crisis or a more difficult times, there are always movements in risk-weighted assets, and so on. So, we need a buffer to take care of those volatility. And we will make an assessment of how big that buffer will be, but the decision will be made by the board later on this year and - so, we don't make any particular forecast around that. So that is - 1% to 3%, is what we do apply. And that's where it is now. And when we decide not to change that, we reflected on what could come out of Basel 4. Regarding Basel 4, I think it's important to keep in mind that it's really difficult to say at this stage what the outcome will be, because that is really unclear to us both when it will happen and when we will have an outcome, and also what the outcome will be. And on top of that uncertainty, we don't have any additional information than others do have about this process. So, it's really hard to know where it will end up. But what is also comes into the picture is how that is going to be applied in Sweden. And that is also something we don't know for sure. So, we just have to wait and see, I would say
Handelsbanken's shares reversed a strong opening after these comments.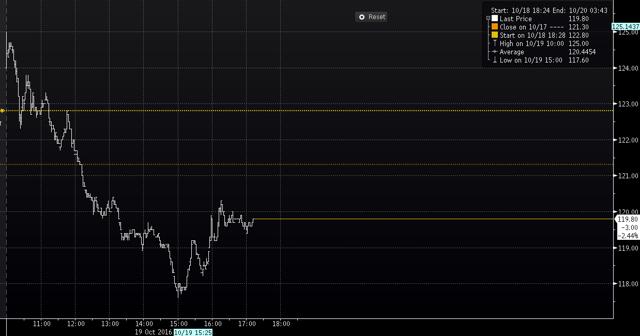 Source: Bloomberg
Time to worry about dividends?
While we do agree that SHB's CEO was cautious on the group's capital adequacy, we note that his comments do not imply that Handelsbanken will face any capital-related headwinds in the near-term. Basel IV standards are indeed an issue worth keeping eye on. However, it is not a company-specific issue, but a headwind for the whole banking industry.
The proposal on corporate risk weights from Swedish Financial Supervisory Authority was better than the consensus had expected. As such, it is not a tail risk anymore. In addition, SHB does now appear less vulnerable to rising capital requirements, having increased its CET1 by 100bps q/q and 290 bps ytd in Q3. The group's CET1 ratio printed at 23% in Q3, well above its regulatory requirement of 21.1%.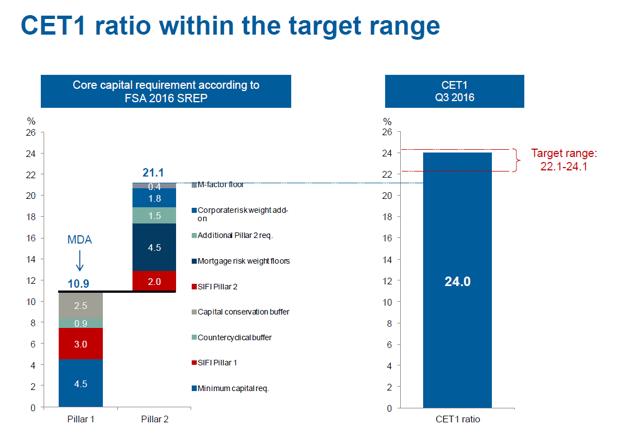 Source: Company data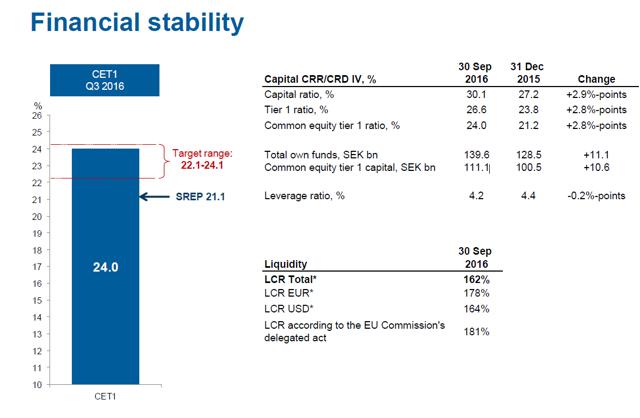 Source: Company data
The below chart shows that SHB's dividend expectations have been already revised downwards. As such, given the above, we do not think that Handelsbanken is at risk of a dividend cut.

Source: Bloomberg
Bottom line
Svenska Handelsbanken has a unique business model, which is a proven generator of superior shareholder returns, with a safe-haven profile, impressive asset quality and above-average profitability levels. We still have a BUY recommendation on the stock.
If you are interested in equity research on U.S., European and LatAm banks/financial companies, including fundamental analysis, DCF/multiples valuation, commentaries on price-sensitive events and actionable trading ideas, consider following us by clicking the "Follow" button beside our name at the top of the page. Thank you for reading.
Disclosure: I am/we are long SVNLF.
I wrote this article myself, and it expresses my own opinions. I am not receiving compensation for it (other than from Seeking Alpha). I have no business relationship with any company whose stock is mentioned in this article.
Editor's Note: This article discusses one or more securities that do not trade on a major U.S. exchange. Please be aware of the risks associated with these stocks.