If you asked me back in December of 2015, when at the time SunCoke Energy Partners (NYSE:SXCP) was trading at close to $5.00/share, if I would be writing a negative article on what I felt was the best equity opportunity for 2016, I would've been very skeptical. At the time, SunCoke Energy Partners was yielding north of 40% and was written off by the market as a MLP with no future prospects. I saw value in taking a stake in the company at the time, and quickly built a position while writing about it on Seeking Alpha.

Fast forward to today, and a rash of positive events have seemingly made the company the new darling among dividend investors. Personally, I love seeing this company succeed, and it's an open-and-shut case of why investing in low volume, underfollowed small caps can still be a winning strategy in generating market-beating performance.
Low volume and low coverage can often work the other way, however. Unfortunately, it seems some investors might be moving into the company too late and too quickly in my opinion, without understanding the company's operations and its risks. For investors who have been following the company for some time, what I'll cover isn't ground-breaking. Still, it hopefully gives you some insight into how other investors like myself perceive the underlying risk in the company, and how I try to track and adequately manage that risk here. I am still long SunCoke Energy Partners, but only indirectly (sold 11/18/2016 12.50 Put options in August, which are now virtually guaranteed to expire worthless, also recommended to Industrial Insights subscribers).
Business Overview
Most investors understand the basic thesis surrounding an investment here. The primary source of distributable cash flow for SunCoke Energy Partners is via providing coke coal to steelmakers. Coke coal is an integral ingredient in the steelmaking process, but it is one that steelmakers, particularly smaller ones, are increasingly interested in shifting outside of their internal operations to third parties. Shifting the process externally lowers overall capital expenditures in the already capital-intensive steel business, reduces fixed costs to some extent depending on the contract structure (more on that later), skirts direct involvement in some environmental issues, and lets them focus on their primary business.
Within this business, SunCoke Energy Partners provides coke coal to three primary steelmakers: AK Steel (NYSE:AKS), ArcelorMittal (NYSE:MT), and United States Steel (NYSE:X). These contracts are take-or-pay with high minimum volumes (>90% capacity). As a result, short of bankruptcy filings or renegotiation,these counterparties must make payments to SunCoke Energy Partners regardless of whether their operations are idled. If they don't, they face an easy thrashing in court.
Why AK Steel, U.S. Steel and ArcelorMittal Matter, And Will Always Matter
I've seen more than a fair share of investors speculate that SunCoke Energy Partners could grow its earnings by selling to other counterparties, or that if current counterparties defaulted, renegotiated or otherwise cancelled these take-or-pay contracts, the company could simply sell elsewhere. This isn't the case, and the simple answer would be to send those investors to SunCoke Energy Partner's 10-K:
"Most of the world's coke production capacity is owned by blast furnace steel companies utilizing by-product coke oven technology. The international merchant coke market is largely supplied by Chinese, Colombian and Ukrainian producers among others, though it is difficult to maintain high quality coke in the export market, and when coupled with transportation costs, coke imports are often not economical."
The more long-winded answer is this. While there is generally rail access at SunCoke Energy Partners' facilities to bring in coal, there is nothing currently in place to move it out. As a result, there would be capital expenditures needed to even bring rail transport into question. Given the company's volumes (millions of tons), transport by truck is simply unfeasible. However, the market reality is that shipping by rail, even if the infrastructure was in place, would not work.
Through the first half of 2016, SunCoke Energy Partners produced 1.16M tons of coke, generating $346.4M in revenue ($298/ton). The operating costs to produce one ton of coke coal was $255/ton in 2016. Simple math says the spread, or profit margin, here is therefore $43/ton. To benchmark potential transportation costs, we can rely on the EIA. According to the EIA, it costs $20-25/ton to transport thermal coal from mines to utilities (average of 700km). In reality, it would likely cost more than that figure given the chemical properties and purity demands of steelmakers for their coke coal. Remember, as per the SEC filing disclosure, it can be difficult to maintain the quality of the coke when moving it over long distances.
The reality is that selling to other domestic companies is at best a breakeven prospect, and that selling overseas is guaranteed to be a losing proposition. Given the lack of alternatives, if any of these steel counterparties shuttered operations, SunCoke Energy Partners' would also be deemed basically worthless. This is why SunCoke was so aggressive in contract structuring when building these facilities; it needed to be, otherwise the company could have invested hundreds of millions of dollars with no long-term cash flow visibility.
In the future, however, expect steelmakers to be more aggressive in renegotiating. The recent market malaise in steel has proven that companies with low fixed costs can more easily survive. As pricing and volumes have fallen, steelmakers with high fixed costs (U.S. Steel, AK Steel) have operated on the razor's edge, while more nimble and dynamic steelmakers like Steel Dynamics (NASDAQ:STLD) and Nucor (NYSE:NUE) have thrived. Both AK Steel and U.S. Steel have idled capacity at plants served by SunCoke Energy Partners (Ashland, Granite City), and you can bet steel management is miffed that they have no flexibility in these contracts. In short, expect much tougher renegotiations in 2022-2025 when these contracts expire.
Counterparty Leverage
Beyond the renegotiation issue, it is important to recognize the still real possibility of default or reorganization of these steelmakers. AK Steel is puttering along at a 5x net debt/EBITDA ratio, which is definitely on the high side when it comes to leverage. ArcelorMittal isn't far off from that point. Both parties are still better than U.S. Steel, which over the trailing four quarters, actually posted negative EBITDA (563M EBIT loss excluding unusual expenses, 523M in D/A). While this will improve given recent management actions (diluting shareholders) and the shift in sentiment in steel because of firming in pricing, there is still plenty of work to do for these companies to get back down to reasonable leverage and stable profitability. Remember that despite bullishness surrounding tariffs and anti-dumping measures, steel import volumes have only fallen marginally y/y, and are actually reporting gains in some product types (such as tubular, which impacts U.S. Steel's domestic tubular operations).
To be an informed investor in SunCoke Energy Partners, you have to be an informed party on these three steelmakers - more so than SunCoke's operations itself. By and large, SunCoke Energy Partners' plants have operated nearly the same for years; similar coke yield, similar costs of operations, etc. The cost plus fixed margin contracts make predicting earnings relatively simple, often with a high degree of accuracy. The variable for the stock's value has always been counterparty risk.
Understanding Risk
However, you have to view these steelmakers more from a bond investor's point of view, and not from the prospective of an equity investor. What is good news for a bond investor can often times be a negative for the equity. As an example, U.S. Steel recently raised a substantial amount of capital ($440M) via a dilutive equity offering; AK Steel and ArcelorMittal have both engaged in similar secondary offerings recently. These are generally negative events for owners of common stock (dilution), but they are positives for bondholders (improved balance sheet by raising cash). You can best believe SunCoke Energy Partners' management jumped for joy when they heard about these companies diluting shareholders, and have highlighted as such in their investor reporting: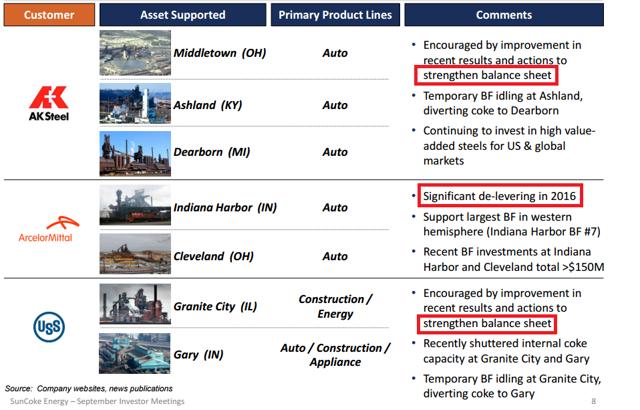 When I want to look at perceivable long-term risk, I turn to the bond markets. Credit markets have much longer timeframes than equity investors, and they tend to take the big picture approach over short-term. Take a look at Cusip 912909AG3, a U.S. Steel bond maturing 3/15/2022. This bond was chosen intentionally, as it has the closest maturity date from U.S. Steel's current offerings to that of the expiration of SunCoke Energy Partner's take-or-pay contract expiration. If the company can pay its bondholders through the period, it can also likely pay its contractual obligations. At issue date back in 2012, this bond traded at 7.5% yield, and has typically traded above par value for most of its life. That is, until the collapse that begun in mid-2015: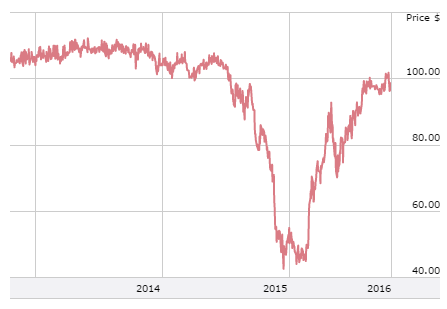 As a refresher, 2015 was the year that saw U.S. Steel GAAP gross margin contract to 3.7%, from 11.7% in 2014. The turnaround that was hoped for after a decent 2014 had eroded, and investors fled, including bond investors. The above bond plummeted in price by more than 60%, pushing yield to maturity on the bond to close to 25% in just a few short months. This is a testament to how quickly sentiment can change in the steel industry, and how widespread the impact can be. You'll find similar drops across other steel company bonds, such as Cusip 03938LAZ7 (ArcelorMittal, 6/1/2025 Maturity).
If you're buying today, you're buying near peak optimism from the point of view of bond investors on steel's future. That is often not a winning hand to play.
Takeaway
This isn't meant to be an outright bear call on SunCoke Energy Partners. What it is meant to be is a gut check for some investors who still see enormous gains in the future for the company. The easy money has been made here, and investor sentiment is about as strong as it ever has been. That sentiment can change quickly. Remember, this is a company that saw two thirds of the stock's value evaporate in less than ninety trading days in 2015, and given the low rate of institutional investors and low trading volumes, that is a scenario that could repeat itself if steel markets deteriorate again. The industry is notoriously fickle, and you have to invest smart if you're going to expose your portfolio to the sector.
For deep-dive research on asymmetric risk/reward plays in the Industrial and Basic Materials sectors (particularly small and mid-caps), consider investing alongside me and other subscribers within Industrial Insights. Get cutting-edge information with proven results.
This new offering doesn't mean I will be cutting down on quality or my allocated time towards my free offerings on Seeking Alpha. Follow me (by clicking the "Follow" button at the top of this article next to my name) to receive general stock market research and commentary, especially on under-followed small/mid-caps across a wide variety of sectors and industries.
Disclosure: I am/we are long SXCP.
I wrote this article myself, and it expresses my own opinions. I am not receiving compensation for it (other than from Seeking Alpha). I have no business relationship with any company whose stock is mentioned in this article.