According to its latest annual report, QNX is a global provider of operating systems, development tools, and middleware for the automotive, medical, industrial, consumer, networking, and defense markets. BlackBerry (NASDAQ:BBRY) generates revenue from QNX by licensing its software to automakers and from other professional services provided during the installation of QNX solutions.
Recent product updates to QNX includes:
QNX PLATFORM FOR ADAS (advanced driver assistance systems): for auto safety, vehicle-to-vehicle communication, and a multi camera vision system.
QNX Acoustics management platform: a software solution for management of audio signal processing in cars.
QNX OS for safety: an operating system with an applied cryptography and key management solution which also includes end-to-end security.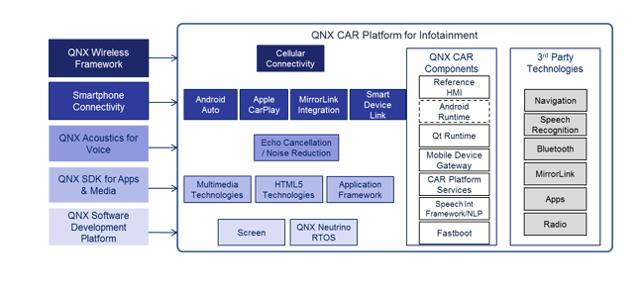 The argument that BlackBerry is a market leader in IoT and automotive seems far-fetched.
Bobberry1 refuted my claim that BlackBerry is not a leader in automotive security due to its investment in QNX. I disagree to say the least that anyone would regard an OS for IVI (in-vehicle infotainment) as an indicator of market innovation in cyber security.
Microsoft and Linux have always implemented strong cryptographic solutions from the kernel to GUI level. KIA Investment further highlighted the fact that other OS generally have strong security like digital signature checking, secure boot, permission checking (high level)etc.
Hashing algorithms from DES to RSA and other crypto solutions have protected both operating systems. Saying QNX is different because of its kernel level security or ECC (elliptic curve cryptography) solution via its partnership with Certicom does not make it more of a security solution than a safety measure.
To further support the market leadership claim, BigZ, dropped a number of automotive awards that QNX has won.
Here are last year's QNX awards:

Winner, Tom's Guide CES 2015 Award,
Finalist, CNET Best of CES Award,
Finalist, TU-Automotive Awards 2015,
Finalist, TU-Automotive Awards 2015, automotive influencer
Ottawa Business Journal Forty Under 40 award (QNX director of engineering)
I must say I am quite impressed with the achievements. I hope we can share these awards in place of dividend - oh, BlackBerry doesn't issue dividends. Nevertheless, I don't think we have enough of these awards to go round when investors decide to cash out. Regardless, the ones made of gold and other precious metals can be sold for a profit.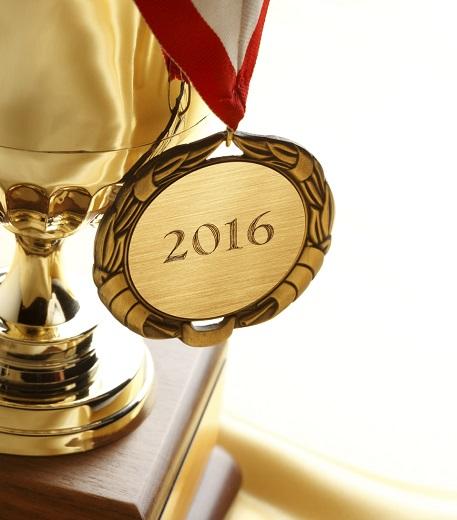 Away from the awards and back to business.
Like other BB bears, I'm still not convinced about QNX until those awards can be converted into profit for shareholders.
According to a QNX news release:
More than 40 automotive OEMs now use QNX® software, including the QNX Neutrino® OS, the QNX CAR™ Platform for Infotainment, and QNX acoustics middleware, for their head units, hands-free systems, connectivity modules, and digital instrument
Also, QNX has been deployed in over 60 million cars. All these facts only look good on paper until BlackBerry can convert QNX to a cash cow. Here are my reasons for more skepticism.
Market Share will not provide much leverage
"QNX Software Systems is the clear leader in automotive software, specifically for infotainment, and is forecasted to remain the leader for years to come - growing from more than 16 million units in 2013 to 56 million in 2020," said Egil Juliussen, director of research, infotainment and ADAS, IHS Automotive.
BlackBerry has over 50% market share in the embedded software segment for infotainment systems. The overall market is expected to grow to $130 million units by 2020.
However, the market size does not matter because QNX only contributed 2% to BlackBerry's sales in 2014 according to estimates from Bloomberg. At an estimated $3 in licensing fee per car which is also in line with Ellas's estimate, we can assume that if BlackBerry maintains its market share of 50%, it will make no more than $195million in licensing fee per car from QNX in 2020. This is also assuming QNX generates the bulk of its revenue from the auto industry.
If licensing contributes 70% to QNX auto, total revenue from the auto industry will stand at $279 million. Since auto is 90% of total revenue, QNX can potentially contribute $310million to BlackBerry's revenue by 2020.
All these are optimistic projections, which does not factor in the negative effect of commoditization, competition from vehicle manufacturers and OS makers like Google (NASDAQ:GOOGL) and Apple (NASDAQ:AAPL).
Moreover, the global connected car will be worth 39 billion euros by 2018. However, the bulk of the profit will go to OEMs. These car manufacturers develop apps and IVI UI features. Google does not monetize Android and Linux is open source. The QNX OS will find it hard charging more than the $3 in licensing fee to increase revenue per vehicle.
Profit matters
In 2014, the QNX unit was not profitable to BlackBerry. BlackBerry needs to realize break-even per vehicle for the unit to be earnings accretive.
Assuming an optimistic operating margin of 50% by 2020, BlackBerry will make no more than $150 million in profit from QNX OS for auto.
Other IoT offerings are bound to bring more revenue; however, achieving profitability depends on BlackBerry's ability to position itself strongly as a leader in IoT.
Android and Linux are pushing
There is no doubt that QNX will continue to add to BlackBerry's revenue. However, BlackBerry continues to face competition from free OS platforms like Android and Linux. IHS automotive predicts Linux will be the infotainment OS market share leader by 2020.

Source: LinkedIn using data from IHS
This data predicts a 46% market share, confirming my earlier optimistic market projection of 50%. In addition, Apple is setting up its own IVI platform.
According to David653, the former CEO of QNX, Dan Dodge, was poached by Apple earlier this year. This was also confirmed by Bloomberg, as Apple intensifies its effort to develop a self-driving technology.
However, QNX is not limited to automobiles. It has also be deployed on other IoT devices. The problem is that BlackBerry is yet to announce a major breakthrough in other IoT platforms. It has solutions for the medical, defense and networking industry. Regardless, its R&D budget does not bode well for its ability to capture future market gains.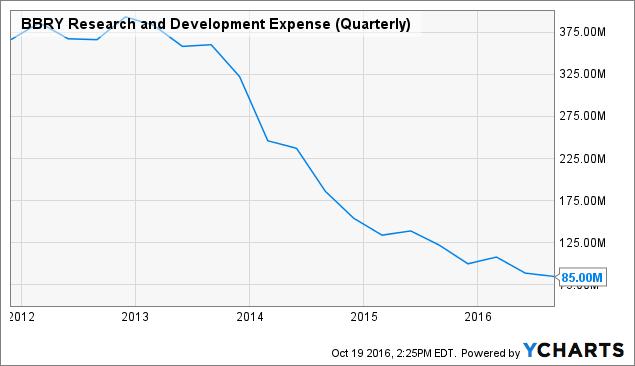 BBRY Research and Development Expense (Quarterly) data by YCharts
Until BlackBerry can demonstrate strong monetization capabilities outside QNX auto, I consider QNX an also-ran in BlackBerry's product portfolio.
Lastly, to answer the question about BlackBerry's status as a security company, we can say BlackBerry is a security-sensitive mobile software and technology company, as Albert has rightly put.
Disclosure: I/we have no positions in any stocks mentioned, and no plans to initiate any positions within the next 72 hours.
I wrote this article myself, and it expresses my own opinions. I am not receiving compensation for it (other than from Seeking Alpha). I have no business relationship with any company whose stock is mentioned in this article.