BlackBerry (NASDAQ: BBRY) has finally embarked on a path which I have been long focusing on. The Canadian company is now willing to spend more dollars on the marketing of its products and services, which are facing declining revenues.
Marty Beard, Chief Operating Officer at BlackBerry, recently penned a post on Inside BlackBerry, titled Spreading the Word About BlackBerry's Software Pivot, in which he clearly wrote,
We are amplifying our efforts to let the world know about the new BlackBerry.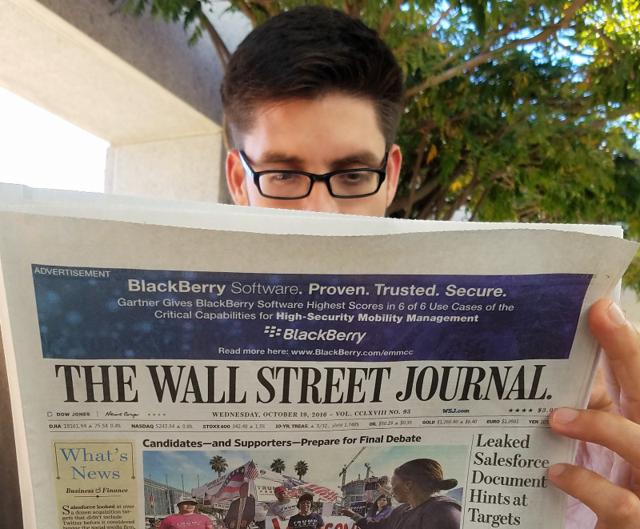 The company is taking a small step first by choosing to market itself using print and digital ads in two of the leading publications in the world, The Wall Street Journal and Financial Times. With these two business publications, the company hopes to reach the 20 million monthly readers of WSJ and 2.2 million daily users of FT.
As I said, these ads are the first step and would soon be followed by many others. The company is hoping to gather customer feedback in order to better understand their requirements and how they could provide them with improved services.
BlackBerry is currently involved in various areas such as connected cars, health sector, and emergency communications.
In some of my comments and more specifically in my earlier article on BlackBerry titled BlackBerry Shareholders: Please Ask These Questions, I had reflected upon several key financial aspects of the company including the revenue numbers, inventory write-down, EBITDA numbers and the decline in R&D and SM&A expenses.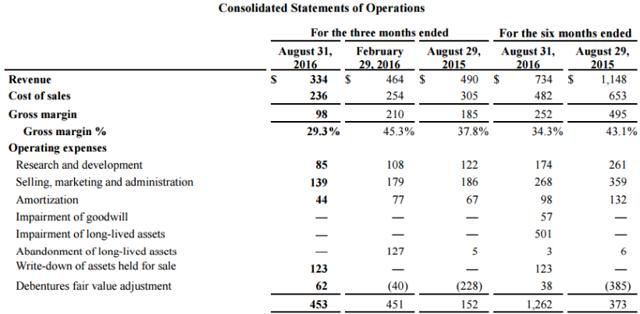 I have always maintained that a business cannot grow if the money is not being utilized in the selling and marketing segments. You can make a beautiful, out-of-the-world product, but its success will always remain limited if there is not proper marketing. Marketing expenses are crucial for the long-term survival and growth of a business.
With BlackBerry ready to take the first step in promotional activities, I am slightly inclined to think that they would consider allocating increased funds to the R&D segment as well. After all, it only becomes strategically obvious to develop newer products attuned to the rapidly changing needs of the customers distributed in several fields.
Dedicated focus on selling and marketing and an ambitious approach to create new and advanced products and services via R&D can be the first big steps for BlackBerry.
This strategy, or these structural reforms, may help in achieving that much-talked about turnaround. The moves also will be appreciated by the market, which could bring in huge returns for the investors since the expectations are set abysmally low.
But will BlackBerry oblige? I will wait for some weeks to see if more steps are being taken by the management or not.
Disclosure: I/we have no positions in any stocks mentioned, and no plans to initiate any positions within the next 72 hours.
I wrote this article myself, and it expresses my own opinions. I am not receiving compensation for it (other than from Seeking Alpha). I have no business relationship with any company whose stock is mentioned in this article.