Newmont Mining Corp. (NYSE:NEM) is a global mining company mainly involved in the mining of gold and copper. It operates in U.S., Australia, Peru, Indonesia, Ghana, Canada, New Zealand and Mexico. The company has gold reserves of approximately 73.7 million ounces and its aggregate land areas cover approximately 20,000 square miles (over 52,000 square kilometers).
Of late, the company has made many changes with respect to its land holdings. In June, the company announce its plans to sell its entire stake in an Indonesian copper-gold mine for $350 million. Earlier, in March 2016, it completed the sale of its 19.45% stake in Regis Resources Ltd. for a sum of $182 million. Last year, in October, the company sold rights to its Newmont Waihi Gold Limited holdings (located in New Zealand) to OceanaGold Corporation for $101 million in cash and $5 million in contingent payments. With this deal Newmont will also get one percent royalty.
Earnings Outlook
On July 20th, the company reported Q2 adjusted earnings-per-share of $0.44 (far surpassing the Thomson-Reuters estimate of $0.29) and Q2 revenue were reported at $2.0 billion (versus estimates of $1.92 billion). The company is expected to repay $800 million to 1.3 billion in debt between 2016 and 2018.

Chart Source: Gold Traders
The stock has moved quite a bit over the past year, reflecting the improved sentiment in mining stocks and the growing aversion to assets not tied to safe-haven demand. On October 14th, 2015 NEM was trading around $19. We then started to see more buying activity in January before making another low near $16. We then saw forceful moves with NEM making highs at $46 in August, and now we see the stock trading around $34. For many, this volatility is something that should be avoided. But there are substantial gains to be made here for traders that are willing to enter into short-term and medium-term positions.
The company's trailing twelve-month earnings-per-share is $0.16 and with these current prices, the stock is at abnormally high PE ratio of 220.34x (the industry average is 0.98x). Analysts are now expecting earnings-per-share of $1.80 for the year ending December 2016 and $2.05 for the year ending December 2017.
The company is regular dividend payer, and pays its dividend quarterly. Falling commodity prices have caused the quarterly dividend to be reduced gradually from $.35 to $.03 over last five year. So the current risk is that Newmont will further decrease the dividend to $0.025 for the next quarter. At $.03 per quarter the dividend yield is 0.29%, and the stock has a trailing twelve-month payout ratio of 67.47%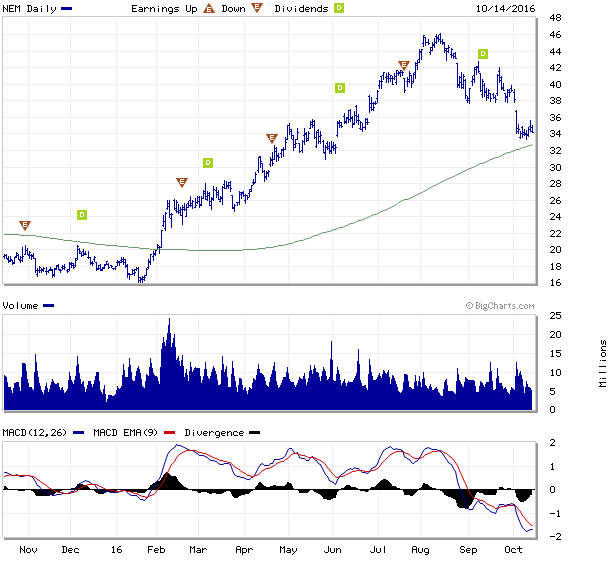 Chart Source: Gold Traders
The stock gives a 1.14% annualized return-on-investment on average over the last 5 years and a 0.89% annualized return-on-equity over the same period. Newmont has a negative 5-year annualized sales growth rate of -4.12% and a 5-year annualized EPS growth rate of -39.49%. Here, we can see that the company is feeling the heat of falling commodity prices and low price realization for some of its products. Its 5-year average annualized return on assets is 0.89%( compared to the industry average of 3.08%). The analyst community seems to be warming on the stock, however, on the expectation that rising commodities prices will generate better-then-expected revenues in coming quarters. This makes the stock a buy at current levels, or investors can wait for additional declines to support at $32 (which also coincides with the 200-day moving average) to make improvements on the risk-to-reward ratios currently available.
Disclosure: I/we have no positions in any stocks mentioned, and no plans to initiate any positions within the next 72 hours.
I wrote this article myself, and it expresses my own opinions. I am not receiving compensation for it (other than from Seeking Alpha). I have no business relationship with any company whose stock is mentioned in this article.