Although Intel (NASDAQ:INTC) beat analyst estimates in its recently reported Q3 results, the stock fell 4% on those results. The reason: a tug of war between its Client Computing Group and its Data Center Group. Investors expected CCG to not do so well, because the underlying PC Computing Group or PCCG is falling for over 2 years now, and the other component, Mobile Computing Group or MCG, has never been a money-maker for Intel. So investors had priced in a low growth percentage for CCG overall, which turned out to be 5% Y/Y. Broadly, the CCG growth history of the last few quarters doesn't encourage more optimism, even though Intel dominates the PC market at 80% marketshare.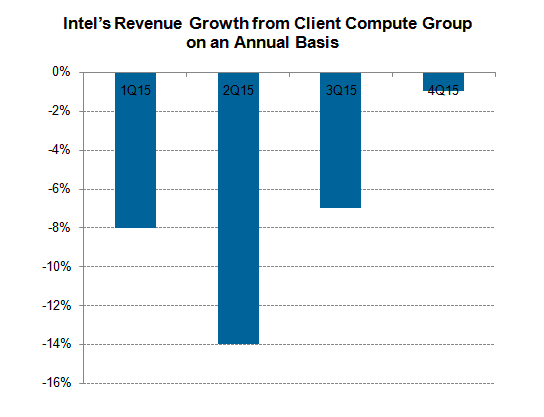 Source: Intel's SEC filing
However, what investors were expecting was a much better performance from DCG, which didn't happen. The DCG group, which accounts for almost 30% of Intel's revenue and 50% of its operating profit, is the high-growth chip segment at Intel. Although this is still half of Intel's CCG numbers, investors are aware that CCG is a waning game, while DCG is the future. So, they were expecting more than the current 10% Y/Y growth in the segment, which didn't happen. Therefore, even though overall earnings beat estimate by a small margin, the stock slumped.
However, what needs to be understood is that there is a one-time reason DCG didn't perform so well this time. Intel has moved its main server processors over from 22nm chips to 14nm chips during the last one year. However, the manufacturing process of its latest, next generation 14nm chips is made difficult by the fact that the silicon wafers on which these chips are bundled are thinner, and therefore more difficult to make. Thus, on a per batch basis, there's more bad yield for these wafers - meaning, more wafers go wasted than, say, compared to wafers for 22nm chips. That difference took a little time for Intel to work with and make better. That was last quarter.
The next quarter, or more conservatively, the next year onwards, DCG will not have this problem any longer. 14nm will become easier to manufacture, with comparable yield.
This is very important because 14nm is the future of chip technology, at least for the next 3-4 years. Not only does 14nm make thinner chips that can fit more chips into the same space, it also makes for better battery, less power consumption, and better performance per unit size, reducing costs for the consumer. Also important for servers is that 14nm provides the best benefits in this segment in terms of product benefits like performance, active power, performance per watt, and in terms of cost per transistor. Although 14nm works everywhere, servers benefit the most, as you can see from the following diagrams.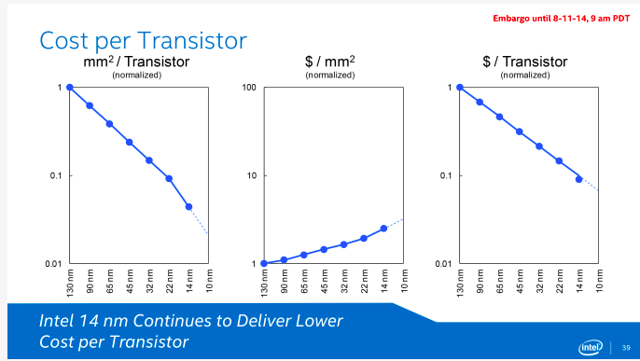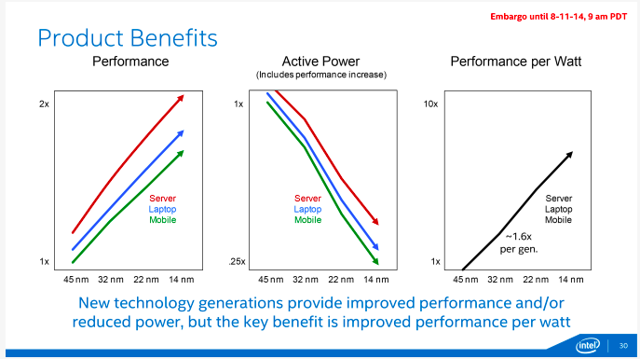 Right now, Intel hogs 99% of the data center market, with AMD (NASDAQ:AMD) a distant second. However, as cloud computing develops, other companies are trying to get into the game. IBM (NYSE:IBM) is building its 14nm Power9 processor, while Qualcomm (NASDAQ:QCOM) is working in China, a market where Intel has a partial ban. However, near term, there's hardly anything to worry for a 99% marketshare company - nobody is going to catch up, and Intel is not sleeping at work.
Another item we should not overlook is restructuring costs. Intel is downsizing its PC business, cutting more than 12,000 jobs, or 11% of its workforce, by 2017. It also shed off its computer security business (McAfee), and the total restructuring charge is close to $2.3 billion, with possibly another half a billion to go. Moreover, another one time cost, R&D and fab development for 14nm, has also grown considerably this year, and the previous one. Basically, what has happened is, these last couple years has been restructuring and investment years, and the benefits are yet to come.
The best year Intel will have in the near future is when CCG is still not dead, and DCG has grown to capacity. That year, or those years, it appears to me, are the next two. The declining PC industry would still have enough juice to spike up CCG, while the upstart 14nm industry will become trending.
Disclosure: I am/we are long INTC.
I wrote this article myself, and it expresses my own opinions. I am not receiving compensation for it (other than from Seeking Alpha). I have no business relationship with any company whose stock is mentioned in this article.