Company Background
GoGold Resources (GGD - Toronto; OTC:GLGDF) is a Canadian-based silver and gold producer with two primary projects in Mexico. Let us start with a brief overview of each. (Note: the company also has the San Diego exploration project, shown on the map below, which I exclude in this article.)
Source: GoGold Investor Presentation; Used with Permission
Parral Tailings Project (Producing)
Parral is a producing silver and gold project located in Parral, which is in the Chihuahua State of Northwestern Mexico. This project consists simply of the conventional heap leach processing of the tailings dump from the Mina la Prieta silver and base metal mine that operated on and off over the last several centuries.
The Parral Tailings currently holds about 25.8 million ounces of proven & probable ("P&P") silver reserves and 219 thousand ounces of P&P gold reserves. This is 42 million ounces of silver equivalent ("SE") reserves at current prices. In early 2015, GoGold acquired the Esmeralda tailings, which are located nearby and within the vicinity of the Parral heap leach facility (see map below). The company is awaiting the final reserve determination on Esmeralda, but it is likely to add at least another 10 million ounces of P&P SE reserves to the broader Parral operations. Overall, after adjusting for recoveries (more on that later), the Parral operation holds about a 25+ million ounces of remaining SE production potential.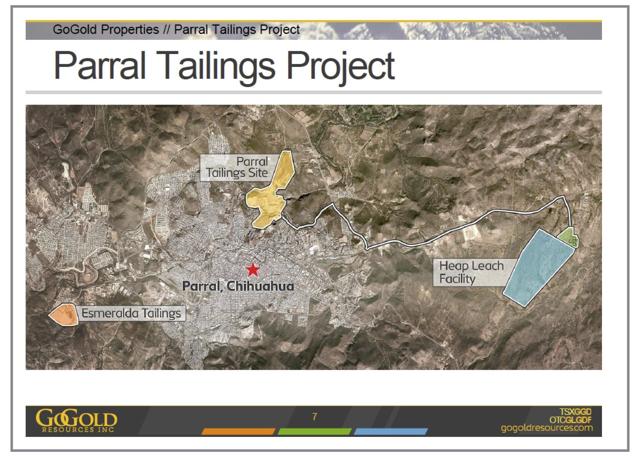 Source: GoGold Investor Presentation; Used with Permission
It is important to understand that Parral is not a mine. It is the leftovers from past mines. This means three things. The grade is very low, but the costs and the risks are also very low.
GoGold has been keeping the commonly reported cash costs for the operation below $7 per SE ounce. Using my Cost of Current Operations metric, I calculated their 2015 core operating costs to be $5.6 per SE ounce. My research shows that Parral is likely the 2nd lowest cost silver project of all the primary silver miners, behind Fresnillo's Saucito mine. Not bad for a tailings dump the city wants to get rid of.
The primary focus of this article will be Parral, with particular attention paid to the grade and recoveries. The remainder of this article will exclude Esmeralda entirely. Any future, additional low cost production from Esmeralda would simply be icing on the cake.
Santa Gertrudis Property (Under Construction)
Santa Gertrudis is a property, located in the Sonora State of Northwestern Mexico, that contains several former producing gold mines. The property is currently in the final construction and engineering phase as the company plans to have it under full production in about a year. The property holds an indicated resource of about 800,000 ounces, grading at about 1 gram per ton ("g/t"). It is essentially a run-of-the-mill, average grade, open pit gold operation, but with very favorable economics. GoGold is targeting annual production of 56,000 ounces over 12 years at an all-in sustaining cash cost (AISC) of $699 per oz. To put this in perspective, $700 AISC would put the mine in the top 10 of the gold majors' largest gold mines in the world for cost efficiency. If GoGold can execute Santa Gertrudis production in line with the preliminary economic assessment ("PEA"), then the company will have a top tier gold mine as far as free cash flow potential is concerned.
GoGold's Current Status
I was recently drawn to investigate GoGold Resources after completing an analysis of the primary silver miners. The company ranked very high in some metrics I ran in a recent Seeking Alpha article titled, Benchmarking The Primary Silver Miners.
Knowing nothing else and looking at the following 5-year stock chart of the company, we can see that we either have a disaster here or an opportunity: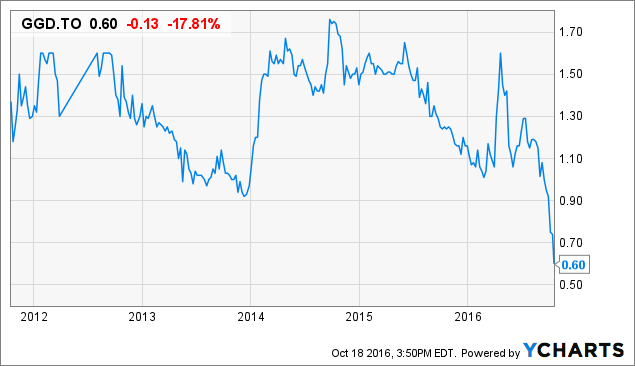 It is not always easy to determine what has moved the stock price of a small capitalization miner one way or the other. GoGold's decline appears to be driven by the standard junior mining company mix of (1) operational difficulties, (2) some capital raising (share dilution), (3) weaker metals prices, and (4) speculators focusing solely on the headline production numbers.
I wrote the previous paragraph when the stock was trading in the low $.70s CAD and just a few hours later it was trading in the low $.60s CAD. I said to myself, "Somebody is capitulating." A few hours later it was brought to my attention that a major gold newsletter issued a sell recommendation. As far as I can tell this recommendation came with zero analysis or explanation. This clearly looks like panic selling to me.
The Santa Gertrudis base economic case, assuming $1,250 gold, calls for $232 million of after tax net cash flow over a 12-year mine life. This is roughly $19 million of free cash flow ("FCF") per year. The company has 180 million fully diluted shares outstanding. This equates to almost $.11 of annual FCF per share for 12 years. GoGold is trading for roughly 5 times the annual FCF of Santa Gertrudis alone.
GoGold needs about $20 million over the next year to get Santa Gertrudis back online. Given their (1) in-process metal inventory of about $21 million, (2) remaining credit facility of $22 million, and (3) existing free cash flow from Parral, it looks like they will be able to get the operation fully producing without having to raise any additional capital. Also, the company leased a mill to process the initial high grade material at the surface of the operation. This is already producing additional cash flow which management has geared toward helping pay for the construction of the vat leach plants.
The current equity capital of 180 million fully diluted shares should be the peak. At the current price, the stock appears to be a reasonable value, given the risks, based solely on Santa Gertrudis.
Digging into the Details at Parral
If you are going to analyze GoGold Resources at all, the best place to start is the technical report for the Parral tailings project. Specifically, the Mine Production Schedule (although it is not really a "mine"). Here it is: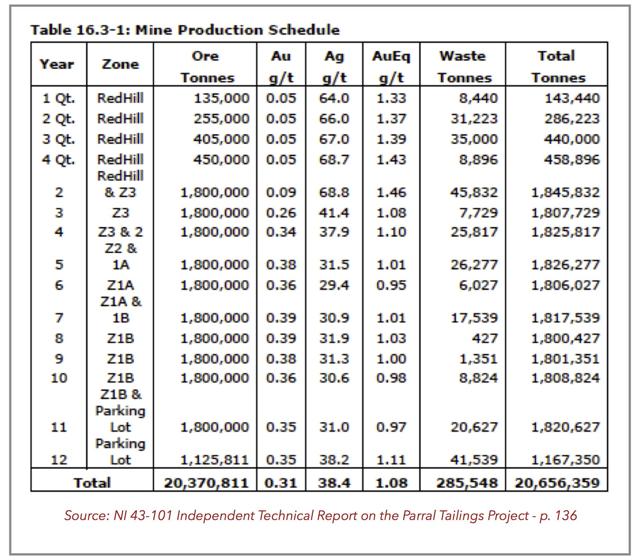 Parral has been operating for about 2 years now. By my accounting, about 3.7 million tons of tailings have been loaded on the heap leach so far, so based on the mine plan, GoGold is now working on zone 3 (Year 3 - Z3 in the mine plan). Notice that the gold g/t jumps from .09 g/t in year 2 to .26 g/t in year 3 to .34 g/t in year 4 and then continues in the mid-to-upper .30 g/t range for the remaining mine life. Essentially, the company is just now starting to dig into the gold portion of the tailings. According to the mine plan, the average gold grade of the portion of the tailings processed so far has only been .10 g/t. This is set to more than triple over then next 24 months.
The Parral technical report estimated 64% recoveries for the gold in the tailings. So far, Parral has produced 7,793 ounces of gold from 3.7 million tons of tailings and according to the mine plan the average gold grade of this material was estimated to be around .10 g/t. Using these variables, I calculated an average recovery so far of 61%.
The following table shows how gold production at Parral has continued to rise as the company begins to hit the higher grade material inline with the mine plan:
| Time Period of Production | Tons Placed on Leach Pad | Gold Production (ounces) |
| --- | --- | --- |
| Q3 & Q4 2014 | 264,834 | 174 |
| Q1 2015 | 335,181 | 237 |
| Q2 2015 | 405,596 | 318 |
| Q3 2015 | 468,287 | 687 |
| Q4 2015 | 375,734 | 733 |
| Q1 2016 | 332,076 | 784 |
| Q2 2016 | 538,965 | 1,382 |
| Q3 2016 | 631,219 | 2,218 |
| Q4 2016 | 332,628 | 1,260 |
| | | |
| Totals | 3,684,520 | 7,793 |
Given the nature of the chemical reaction of Parral's heap leach processing, gold comes out quickly and, as demonstrated by the recoveries, the company has not had any issues extracting it in a timely manner. 61% average recoveries is good execution for an estimated 64% in the technical report.
On top of all this, GoGold just completed an expansion of the Parral facility and is going to double the amount of tons placed on the leach pad in 2017. The facility will be able to process 10,000 tons per day. Which according to the 364 day workday in the mine plan, comes out to 3,640,000 tons to be placed on the leach pad in the coming years. At an average gold grade of .36 g/t and 61% recoveries, we are looking at 28,000 ounces of annual gold production (starting in about 6 to 12 months) at these volumes. This is $35 million in revenue at current gold prices. This is a significant positive for GoGold that the bears seem to have completely missed.
The operational setbacks I previously referred to are specifically related to the silver being processed through the Parral facility. Through an extended email exchange, GoGold's Corporate Development officer, Steven Low, provided me with the specifics, which I will now summarize.
The preliminary economic assessment ("PEA") estimated it would take 6 to 8 months to process the silver through the leach facility, but it is taking 20 to 24 months instead. The initial design of the heap caused the center to slump which lead to a lack of oxygen. Oxygen needs to be present for the proper chemical reaction to occur. They altered the elevation of the heap and are implementing a new SART plant to increase the oxygen levels in the solution. This method has worked well for other heap leach operations in Mexico. The company expects this solution to speed up the reaction with the cyanide which would lead to a faster recovery of the silver.
The mine plan estimated that 4.6 million ounces of silver would have been produced by now, given 58% recoveries. So far, Parral has only produced 1.9 million ounces of silver, which equates to a 22% recovery. I estimate that the company has roughly 1.2 million ounces of silver in-process, given the company's $21.5 million of in-process inventory on its balance sheet. This 3.1 million ounces of total silver calculates out to a 37% recovery percentage, based upon the silver grades in the mine plan (see above). However, GoGold's management still believes it can achieve ultimate recoveries of 50%, given its initial processing experience and the solutions it is now implementing.
At present, GoGold's stock is being priced as if this will be a total failure and the gold in the tailings does not exist. In a worst case scenario, the gold production alone at Parral is enough for the operation to break even. In a best case scenario, if 50% silver recoveries can be achieved in a 12 month processing timeframe, then GoGold's stock has massive upside, especially considering the low cost dynamics of both its operations.
I have broken down these production variables on a quarterly basis and analyzed them. The numbers are telling the same story that management is so I have good reason to believe there is a strong case for a turnaround here.
Running the Numbers
I am now going to pull everything together in a dynamic financial model that estimates GoGold's FY 2018 results (FY 2018 will begin in October 2017). When I say dynamic, I mean this model incorporates gold and silver price forecasts from my own supply and demand research. I make the following assumptions:
61% recoveries in gold continue at Parral
41% recoveries in silver are achieved at Parral. (This is slightly higher than what they have been and could prove to be a very conservative estimate if the improvements pan out.)
900,000 ounces of additional silver production at Parral comes through from the in-process inventory
Santa Gertrudis produces 53,616 ounces of gold from 1.9 tons of 1 g/t material being processed with 80% recoveries.
Cost and Sustaining CAPEX numbers were derived from technical reports
$5 million is committed to expansionary CAPEX (exploration drilling, etc.)
$18 silver and $900 gold
| | | Comments |
| --- | --- | --- |
| Overall Gold Equivalent Production (ounces) | 130,613 | |
| Overall Silver Equivalent Production (ounces) | 6,530,653 | |
| | | |
| Revenue | $117,600,000 | 41% of revenue from Santa Gertrudis |
| Costs | $65,400,000 | |
| Operating Income | $52,200,000 | 44% margin |
| Interest Expense | $2,300,000 | 4% on full $58 million credit facility |
| Net Income | $32,400,000 | after applying 35% tax rate |
| | | |
| Parral Sustaining CAPEX | $4,000,000 | assumes shortened mine life due to capacity expansion |
| Santa Gertrudis Sustaining CAPEX | $1,500,000 | |
| Expansionary CAPEX | $5,000,000 | |
| Free Cash Flow | $37,900,000 | assuming $16 million in depreciation, amortization, and depletion |
| Shares Outstanding | 180,000,000 | |
| FCF per Share | $.21 | |
| | | |
| Total Costs per GE Ounce of Production | $610 | Total Costs = Revenue - Net Cash from Operations + Sustaining & Expansionary CAPEX; this is a comparative figure to the commonly reported "All-in Costs" |
Running what I view as reasonable assumptions, I calculate that GoGold can produce $.21 per share of free cash flow in the fiscal year that starts about 11 months from now. As I write, the $CAD share price is $.59. At USD/CAD exchange rate of 1.30 we get a $US price of $.45 per share which would price the stock with a 24-month forward FCF per share multiple of only 2.2.
It is important to note that I am modeling a gold price of only $900 per ounce. Most readers will probably view this as ultra-bearish. Also, with total costs of only $610 per GE ounce, GoGold provides investors with a sizeable margin against lower metals prices. If the company can execute on this cost structure, they will easily be one of the lowest cost producers in the world. This scenario, if achieved, would likely lead to further, significant multiple expansion beyond which is readily apparent.
The primary risk with GoGold is centered around the ability of the company to successfully produce silver at the Parral facility. However, all the downside risk seems to have been priced into the stock at this point.
Strategic Conclusion
I think GoGold Resources represents a significant opportunity for the enterprising investor. It is important to remember that my estimates do not include additional tailings processing opportunities from Esmeralda. Furthermore, the company continues to hit very high gold grades in its expansionary drilling at Santa Gertrudis so the future is looking increasingly bright there.
GoGold is run by a seasoned management team and insiders own 30% of the shares. In the past, company observers have stated that management delivers on what they say they are going to do. I expect the same in the current situation. Speculators tend to flee from negative short-term circumstances, while investors realize that these obstacles tend to bring out the best in management.
GoGold Resources is a holding in my client portfolios and I plan on doing more buying with the recent launch of my exclusive Silver Miners Portfolio service. For now this is a silver stock, but will likely transition to a gold producer in a few years. I plan on holding it until the value in the shares is unlocked.
Promoting Quality Discussion
In order to promote quality discussion about the topics I address in my Seeking Alpha articles, I have decided to give away a free copy of my book, The Truth On Investing: From The Darkness Of The Crowd To The Light, to the individual who provides what I think is the most thoughtful comment on the article (U.S. residents only). This can also be a quality view that is opposed to my thesis. I will pick this person about a month after the article is published to allow time for comments. If there are no exceptional comments, then no book will be given out. Thanks for reading and hopefully contributing to the discussion.
Important Regulatory Disclosure
I am an investment adviser and owner of True Vine Investments, a Registered Investment Advisor in the State of Pennsylvania (U.S.A.). I screen electronic communications from prospective clients in other states to ensure that I do not communicate directly with any prospect in another state where I have not met the registration requirements or do not have an applicable exemption.
Any investment advice or recommendations involving securities referenced in this article is general in nature and geared towards a readership of sophisticated investors. This article does not involve an attempt to effect transactions in a specific security nor constitute specific investment advice to any particular individual. It does not take into the account the specific financial situation, investment objectives, or particular needs of any specific person who may read this article. Individual investors are encouraged to independently evaluate specific investments and consult a licensed professional before making any investment decisions.
All data presented by the author is regarded as factual, however, its accuracy is not guaranteed. Investors are encouraged to conduct their own comprehensive analysis.
Positive comments made regarding this article should not be construed by readers to be an endorsement of my abilities to act as an investment adviser.
Disclosure: I/we have no positions in any stocks mentioned, and no plans to initiate any positions within the next 72 hours.
I wrote this article myself, and it expresses my own opinions. I am not receiving compensation for it (other than from Seeking Alpha). I have no business relationship with any company whose stock is mentioned in this article.
Additional disclosure: I do not personally own shares of GoGold Resources, however, it is a holding in client portfolios, from which most of my salary is derived.
Editor's Note: This article covers one or more stocks trading at less than $1 per share and/or with less than a $100 million market cap. Please be aware of the risks associated with these stocks.