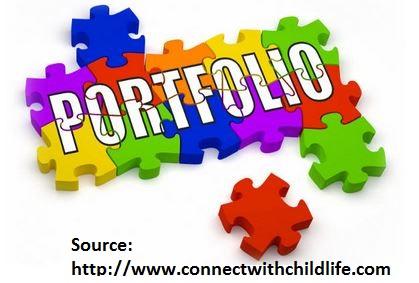 Checking out my portfolio today (10/19/2016) I noticed that HQH (Tekla Healthcare Investors) was selling at $21.72 per share which is quite a bit lower than the $25.00 entry point I chose in this article. This CEF had a high in the past 52 weeks of $30.90 per share and a low of $19.16. It currently offers a yield of over 8.5% and sells at a 7% discount to NAV. One can see from the graph below that it has been on downward spiral for almost a year.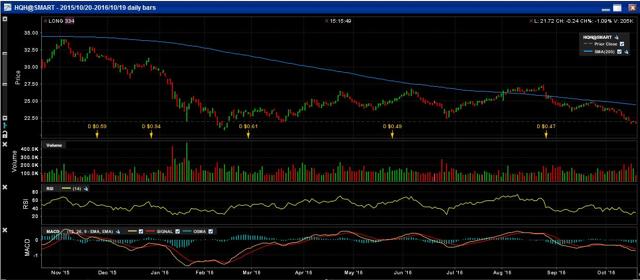 Source: Interactive Brokers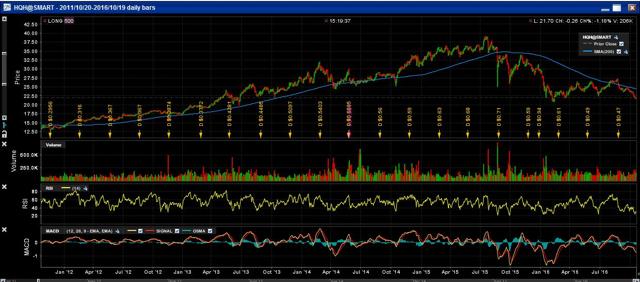 Source: Interactive Brokers
The 5 year graph above shows that the current price is lower than it was for most of 2013. Many healthcare industry equities are going against the market; their share prices are slipping while equities in many other industries are rising. Bloomberg suggests this price slippage is because Hilary appears to be winning the presidential election and that Democrats may also increase their numbers in the house and senate. Democratic leadership definitely favors socialized medicine and stricter control of healthcare which would likely lead to poorer returns for the industry. According to the Democratic platform, "Democrats believe that health care is a right, not a privilege, and our health care system should put people before profits." Fears among investors that healthcare profits will disappear under Clinton and the Democrats are currently driving share prices down.
While this is a reasonable proposition, the current price spiral appears to be overdone. Even if the Democrats win the presidency and increase their presence in congress, any major changes in the healthcare industry will take years to accomplish. Furthermore, people and companies will still need to be paid no matter who is leading the country. Since this fear has driven prices down considerably, I believe this is a good time to purchase some healthcare companies. If one is not confident about which companies will be the winners and losers, healthcare funds are good alternatives to place one's investment in the industry.
Since HQH was my CEF of choice in the healthcare category for the income portfolio cited above, I placed another order to increase my holdings. I now have 500 shares in my non-taxable portfolio which is 100 shares over the limit set in the article. HQL (Tekla Life Sciences Investors) also got a commendation in the same article and is reviewed below starting with a graph covering the last 52 weeks.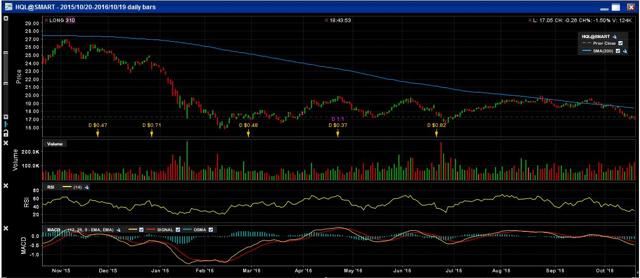 Source: Interactive Brokers
HQL had a 52 week high of $24.15 and a low of $14.18 with a current yield of 17%. However that yield is not likely to be maintained since there is quite a bit of variation in the dividend quarter by quarter. At $17.00 HQL is also lower than my suggested entry point of $18.50 per share and is 7.5% below NAV.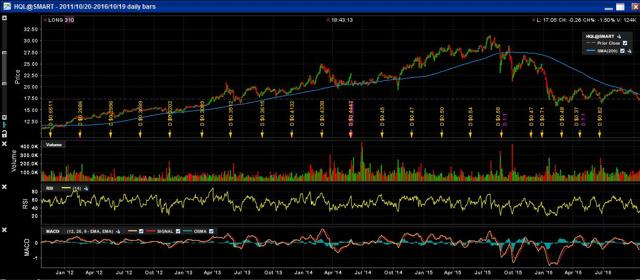 Source: Interactive Brokers
The 5 year graph displayed above shows that HQL is also selling at its 2013 prices.
While it is certainly possible that the prices of these healthcare CEFs could decline further, I am convinced that this is a good time to start adding these shares to one's dividend portfolio. Both are paying well enough that even if dividends are lowered there is a measure of safety in buying them now because of the huge price contraction over the past year.
Disclosure: I am/we are long HQH, HQL.
I wrote this article myself, and it expresses my own opinions. I am not receiving compensation for it (other than from Seeking Alpha). I have no business relationship with any company whose stock is mentioned in this article.