Canada's number two rail company Canadian Pacific Railway (NYSE:CP) continues its quest to reduce its operating ratio and boost net income despite the current state of the economy. Now that CP Rail has released its Q3 2016 report we can check in and see how this company is achieving or falling short of those goals.
When we look at CP Rail's revenues we see the reflection of several issues which are working against CP Rail. Continued low oil prices and a delay in the Canadian grain harvest have combined to bring down CP Rail's revenues by 9%. In Q3 2016, CP Rail only brought in C$1.55 billion in revenues, down from C$1.71 billion in Q3 2015, and only moved 649,000 carloads in the quarter which is down from 669,000 carloads during the same period last year.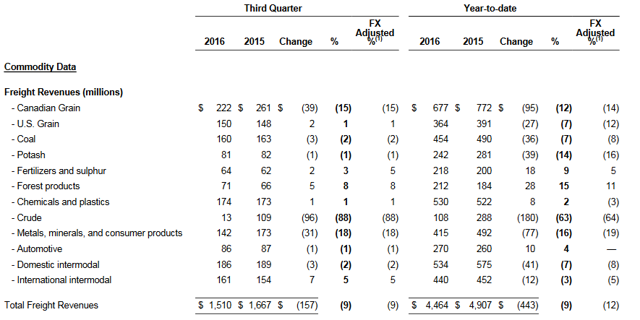 The primary source of lost revenues came from the crude oil category, crude oil freight revenues were down 88% in the quarter and are down 63% year to date. CP Rail revealed that in the last quarter it only moved 5,000 carloads of crude oil compared to the 25,000 it moved during the same period last year. Not only are the amount of shipments of crude down but the revenue generated per carload is also down by 36%, falling to C$2,732 per carload from $4,281 during Q3 2015.
Despite the loss of revenues CP Rail was still able to add to its bottom line, as net income rose to C$347 million from C$323 million. CP Rail was able to achieve this increase thanks in part to the C$43 million (after tax) gain from the sale of its Arbutus corridor to the City of Vancouver and in lowering its operating expenses in the quarter to C$897 million from C$956 million. The biggest adjustments to CP Rail's operating expenses came from a reduction in benefits & compensation which fell from C$392 million to C$294 million, and reduced fuel costs which fell to C$138 million from C$162 million during the same period last year. Even with these cost reductions CP Rail's operating ratio rose to 57.7% from 55.9% and year to date the ratio is at 59.5%, down from 60.0% at this point last year.
When we break down CP Rail's net income into earnings per share we see that diluted EPS rose to C$2.34 per share from C$2.04 per share, and adjusted EPS rose to C$2.73 per share from C$2.69 per share but missed analysts expectations of C$2.79 per share. CP Rail may have missed expectations by analysts in the quarter but that is not the biggest red flag for investors, as the company's cash and cash equivalents have plummeted to C$103 million from last year's C$661 million.
Grain issues
Aside from the collapse of crude oil shipments in the quarter, the other major force which has worked against CP Rail this past quarter has been the delayed grain harvest in Western Canada. This delay resulted in a 15% drop in grain shipment revenues, and the movement of 7,000 fewer grain cars in Canada, although U.S. grain carloads increased by 5,000 in Q3 2016.
CP Rail is attempting to alleviate concerns from farmers, shippers and government officials that it will be able to efficiently move the grain once it is fully harvested. This is especially important as this year is expected to be another record crop in Western Canada. CP Rail has announced that it will be keeping its own in-house scorecard to track not only its own performance but that of the rest of the supply chain. The company has stated that "our supply chain is built to deliver grain throughout the year and depends on all the various pieces working together collaboratively. Our new supply chain scorecard will help tell that story while holding us and the rest of the supply chain accountable."
However, a report from AG Transport Coalition, which represents 90% of grain shipped from Western Canada, paints a contradicting story than that of CP Rail. This report states that since August 1, CP Rail has only been able to supply an average of 80% of the grain cars ordered per week, compared to Canadian National Railway (NYSE:CNI) which has maintained an average delivery of empty hoppers of 94%. As of the release of the report which is considered week nine of the harvest cycle, CP Rail still had yet to deliver 1,772 grain cars while CN Rail had only fallen behind by 262 grain cars.
The last couple of grain harvests have been difficult for CP Rail, as with its rampant and sometimes questionable cost cutting and the "retirement" of hundreds of railcars and locomotives it has been struggling to keep up with the demands of shippers. Even CP Rail's push in the last quarter to increase the average size and weight of trains by 7% may not be enough to keep up with what could be another record crop.
Riding the rails
On the TSX, CP Rail's stock has struggled to cross back over the C$200.00 mark for the better part of the year and is still a long way off from the C$240.00 mark it was trading at in April 2015. The issue with CP Rail is that it is running out of ways to cut internal costs in order to maintain its commitment to boosting net income. Since the stock crashed from C$240.00 to C$200.00 it has remained stuck in terms of the top end of the share price. Even now the stock price is trading at C$198.84 while the average price target (not updated since the quarterly report) is only at C$201.91. There appears to be some growth potential on the NYSE as the stock is trading at $151.44 and the average price target is at $177.89.
| | | | | | | |
| --- | --- | --- | --- | --- | --- | --- |
| | Price | 52-Week Low | 52-Week High | Dividend | Yield | Fwd P/E |
| TSX | C$198.84 | C$140.02 | C$204.82 | C$2.00 | 1.01% | 18.60 |
| NYSE | $151.44 | $97.09 | $157.34 | C$2.00 | 1.01% | 14.28 |
Going forward with everything working against CP Rail (from outside and within), now could be a time to initiate a moderate short option, especially if reports persist surrounding the inability to move Western Canadian grain. It appears very unlikely that CP Rail could generate enough positive momentum on the TSX to return to the C$240.00 level and if grain shipments have a repeat of previous season and crude oil shipments continue to vanish, the party at CP Rail could be just about over.
Author's note: If you enjoyed this article and found it helpful, please "Follow" me on Seeking Alpha to receive notification whenever I publish a new article.
You may also be interested in other recent articles I have written for Seeking Alpha with my Canadian point of view that focus on stocks and stories that I have found compelling. You can also find my previous articles here for further study.
Disclosure: I am/we are long CNI.
I wrote this article myself, and it expresses my own opinions. I am not receiving compensation for it (other than from Seeking Alpha). I have no business relationship with any company whose stock is mentioned in this article.