Cempra (NASDAQ:CEMP) has done a great job at advancing its pipeline over the last few years. The company's lead product candidate Solithera (solithromycin) is awaiting FDA approval after successful phase 3 trials in CABP and it has been successful in phase 2 trials in gonorrhea and is also targeting additional indications. The growth potential in CABP alone is enough to drive significant upside for long-term investors in the following years while the rest of the pipeline could also produce meaningful gains over the next 4-5 years.
Solithera can become a blockbuster
Cempra's main product candidate is Solithera (Solithromycin), which is being developed for the treatment of community-acquired bacterial pneumonia or CABP, as well as for the treatment of gonorrhea, NASH and COPD. The most advanced indication is CABP for which the company has successfully completed clinical trials and is awaiting the AdCom meeting in November and FDA approval in late December. Fellow contributor Clinically Sound Investor provided a really good clinical overview last week.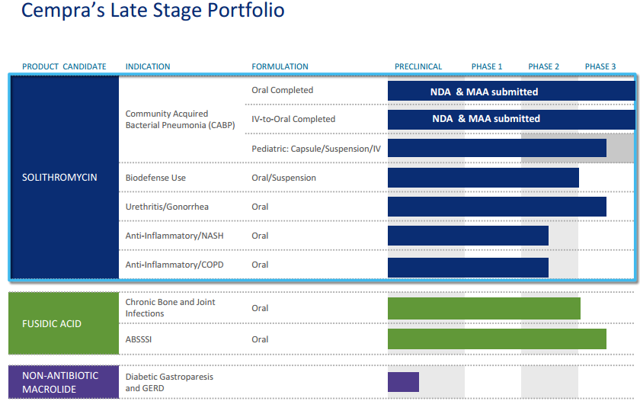 Source: Cempra investor presentation
CABP is a common disease, which is especially serious in the elderly and young children. Outpatient CABP is currently being treated with a macrolide (azithromycin) or with a fluoroquinolone (levofloxacin). The use of azithromycin is less common over the last few years due to the development of resistance and has led to more frequent use of fluoroquinolones, which have serious side effects. Cephalosporins are also used in CABP, but have limitations and can only be administered intravenously.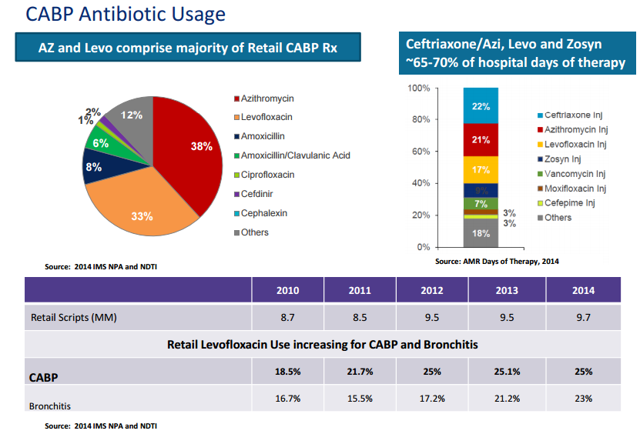 Source: Cempra investor presentation
The above-mentioned problems with available treatments and Solithera's profile could make it a blockbuster:
Solithera has a favorable safety and tolerability profile. The most frequently reported adverse events in clinical trials were infusion-related events, a common problem with IV antibiotics (which is obviously not a problem for the oral version), headache, diarrhea, nausea, emesis and dizziness. Asymptomatic, reversible grade 3 and 4 ALT elevation was observed in a small set of patients. The results compare very favorably to the side effect profile and levofloxacin (C. difficile enterocolitis, tendonitis, hepatoxicity and CNS effects).
Solithera has comparable efficacy to levofloxacin and non-inferiority to moxifloxacin.
Solithera can overcome resistance development due to its chemical structure. The drug has a unique structure that binds to bacterial ribosomes in three sites while earlier generation macrolides have only one or two. To date, the company has seen no resistance to Solithera in clinical trials and resistance was rare in preclinical studies. This should be a major selling point for Solithera. Pneumococcal resistance to azithromycin is rising and was reported to be 28% in the EU, 48% in North America and above 70% in Asia. The combination of rising resistance and safety concerns for current treatments should drive strong early adoption and high market penetration rates.
Given the favorable efficacy and safety profile, I believe the FDA AdCom will recommend approval in early November and that the FDA will approve Solithera in late December. However, based on the high probability of approval, I think that the AdCom recommendation and the FDA approval will not be major catalysts for the stock.
I think Solithera will take significant CABP market share based on its superior safety profile over levofloxacin and the lack of resistance development compared to azithromycin. There is a lot of debate about pricing, since Solithera will compete against cheap generics. Management suggested that the price could be between $400 and $500 without jeopardizing access (source Cempra Q1 conference call, emphasis mine):
If the price is kept below a certain amount and most of the time what we hear is somewhere between $400 and $500 for a course of therapy, then there's no interest in managing. What I mean by managing is putting a step edit in place, where you have to use a generic first or putting a prior authorization in place.

And what they tell us is, even though this is a lot more than the generics, right? They see this as a must fill category, meaning they must reimburse it, must pay for it. And in most cases, what we're hearing is that we can work with them proactively for preferred brand position. Sometimes that will be Tier 2, sometimes it will be preferred brand for co-insurance.

And just anecdotally I'll mention, our head of managed care, two weeks ago was at AMCP, the Academy of Managed Care Pharmacy and a very large PBM, one of the largest, was doing a pipeline review. And what they do there, is they talk about drugs that are going generic, they talk about drugs that are coming. Solithromycin was on a slide and the quote was, this is a product that will likely take the market share from levofloxacin and azithromycin, we see it as a blockbuster, quote and something that we're going to have to cover for our patients.
So, I think we can assume favorable pricing upon approval with a high degree of certainty. For modeling purposes, I am going to assume net pricing in the $300-400 range. The addressable retail market for CABP in the U.S. is around 10 million scripts a year, which translates into a $3-4 billion retail market in the U.S. alone. Assuming 40-50% peak U.S. market share, we get $1.2 billion to $2 billion in U.S. peak sales. I expect international sales to eventually contribute up to a third of worldwide peak sales, which translates into $1.8 billion to $3 billion in worldwide peak sales for the CABP indication. However, Solithera is likely to be partnered outside of the U.S. which translates into lower revenues outside of the U.S. for the company, but higher overall margins. Therefore, I am assuming worldwide peak sales range of $1.5-2 billion with net margins in the 30-35% range. Analysts have similar views when it comes to peak sales. Needham sees over $2 billion in worldwide peak sales and so does Roth Capital.
Solithera's net present value (just the CABP indication) is between $34 and $52 per share and my price target is $43 and is based on the middle of the range (model available to Growth Stock Forum subscribers). The price target is above the analyst consensus of $38 but below the highest PT ($51). Solithera's approval should add $8, $10 and $13 to the NPV range, respectively. I am using a fully-diluted share count based on the company's assessment upon the launch of the ATM program, which was based on $16 per share (and the company has certainly sold shares at a higher price in the meantime) and that it includes the funds that were not raised yet (the $75 million left in the ATM program).
So, Solithera has blockbuster potential in CABP alone. Additional indications could add significantly to the above mentioned peak sales projections as well as potentially higher worldwide market share.
The second indication Cempra is pursuing is gonorrhea. The increasing resistance is a problem for gonorrhea too and Cempra thinks it could solve the problem there too. The current standard of care for gonorrhea is both an intramuscular injection of ceftriaxone (there is no oral formulation) and oral azithromycin. The company successfully completed an open-label phase 2 trial in 2013, which has shown that microbiological eradication of gonococci was achieved in 100% of all evaluable patients. A phase 3 trial was initiated in 2014 and will compare Solithera to current standard of care. In December 2015, the trial was expanded to include women and adolescent patients, which will allow a broader label. Gonorrhea is the second most commonly reported STD in the U.S. with 350,000 cases in 2014, according to CDC. This indication could represent a nice addition to the CABP indication, although the market is significantly smaller.
And finally, Cempra is looking to advance Solithera in anti-inflammatory diseases, such as NASH and COPD. The company recently announced interim results from a phase 2 trial in NASH, which showed that all six patients had a reduction in their nonalcoholic fatty liver disease (NAFLD) activity score (NAS) (mean reduction, 1.3) and mean reduction of 17.8 U/L in their ALT. The results seem promising, especially considering the length of treatment of just 13 weeks, but I think it's too early to assign any value to this indication.
Financial overview
Cempra had $250.7 million in cash and equivalents at the end of Q2. The company raised $29.2 million through its ATM program in July and raised a total amount of $75 million through its $150 million program through the end of July. This puts the adjusted cash balance at $280 million. The company expects to have enough cash to last through 2017. We should expect a significant spending ramp-up ahead of the Solithera launch in early 2017 and I think that operating expenses in 2017 will be up to $200 million and that total expenses over the next 6 quarters will be in the $250-300 million range. This means the company should have enough cash to execute the Solithera launch and I think it is likely that we will not see additional dilution (beside the $75 million the company has left under its ATM program which is included in my model). We could also see a rest-of-the world partnership (ex-Japan, which is already partnered to Fujifilm) announcement in 2017 with a sizable upfront payment (at least $100 million) which could eliminate the dilution concern altogether. Of course, future funding will depend on Solithera's launch and if it turns out to be slower than expected, additional funding could be needed.
Can Solithera run right out of the gate?
Cempra mentioned Ketek's launch in 2004 as a good indicator of potential demand for Solithera in its 2015 annual report. Ketek generated 3.4 million prescriptions and $193 million in sales in the U.S. in 2005 (with a broader label) but the product was found to cause some severe side effects and its attractiveness was gone by 2007. I doubt Solithera could generate 3.4 million prescriptions in its first year on the market, but I think the launch will be successful. Analyst estimates for 2017 are all over the place with a wide range of $32.2-184 million and a consensus of $68.5 million.
I would be satisfied and believe it is realistic for Cempra to generate between $50 million and $60 million in net sales in 2017 (or up to 200,000 scripts) with the majority of sales generated later in the year (during the flu season) and that the bull case is $80-100 million. A strong U.S. launch could leverage the company's position at the negotiating table with potential partners and would set the stage for stronger market penetration in 2018 along with the partnered EU launch in the 2018/2019 time frame, since EU approval is one year away.
Taksta (fusidic acid)
Cempra is developing Taksta in the U.S. for oral chronic treatment of refractory bone and joint infections. Fusidic acid has been approved and sold for several decades in Europe and other countries and has an established safety and efficacy profile, but the product was never approved in the U.S. The company believes Taksta has the potential to be used in hospital and community settings. Taksta is currently in a phase 3 trial in ABSSSI and a phase 2 trial in chronic bone and joint infections. Considering its use in the EU and other countries and its well-known safety profile, I think the product is approvable and that it can add shareholder value over the next 4-5 years. At this point, I am conservatively not assigning any value for this product.
Cempra is an attractive acquisition target
I believe Solithera's approval will make Cempra an attractive acquisition target. The product's safety profile and the lack of resistance development could make Solithera a blockbuster and could attract large-cap pharma companies' attention. Merck (NYSE:MRK) acquired Cubist Pharmaceuticals in December 2014 for $9.6 billion. Granted, Cubist did have an already approved product that was generating $1 billion in annual sales - Cubicin (but this was a product facing generic competition and just a few years of exclusivity - 2019/2020 if the patents were upheld) and two products that had $1.5 billion in combined peak sales potential at the time of the sale. According to its latest publicly available annual report, Cubist also had two additional late-stage pipeline assets for which I was unable to find peak sales estimates. If we take $3-4 billion as the peak sales range for the whole portfolio, we get a 2.5x to 3.2x peak sales range for the Cubist deal, which is not that far from other deals in the space over the last few years. And we would also have to take into account the fact that 25-30% of those peak sales were either threatened by immediate generic competition (within two years) or that those sales would be largely gone by 2019 or 2020.
Based on what Merck paid for Cubist back in late 2014, I believe the lowest valuation Cempra would fetch is 2x Solithera peak sales. If we take the low end of the worldwide peak sales estimate of $1.5 billion, we get a $3 billion price tag, or around $46 per share on a fully diluted basis or around $50 if the company doesn't complete the ATM program in the meantime (cash on hand is not included). This would be the bottom price at which I would be willing to sell the company, but I think the stock is worth much more as an acquisition target since the rest of the pipeline is not taken into account here (including Solithera's label expansion).
Risks
Investing in biotech carries significant risks and Cempra is no exception:
Solithera is facing the FDA Advisory Committee on November 4, and while I believe the risk is low, the committee could vote against approval.
After the AdCom meeting, the next obstacle is the FDA, which might not approve the product, but I think that the odds of approval are very high.
Once approved, Cempra will need to successfully commercialize the drug. Lower-than-expected sales growth could negatively impact Cempra's valuation, future growth expectations and cause additional dilution.
Pipeline failures (other Solithera indications and other candidates) could negatively affect Cempra's share price, though not much value is assigned to the pipeline at the moment (and none at all by me).
There are a number of available generic drugs for the treatment of CABP and pricing could be an issue. However, Solithera's superior safety profile and the lack of resistance should be a strong selling point and should result in premium pricing.
Conclusion
I am initiating Cempra with a buy rating, $43 price target. The company seems well positioned to capture a solid chunk of the global CABP market over the next 4-5 years. Solithera's superior safety profile over current standard of care and the fact that it can overcome resistance development due to its chemical structure are major selling points that should enable rapid market penetration upon approval. I also think that Solithera's approval will make Cempra an attractive acquisition target.
Note: Growth Stock Forum subscribers had an early look at this article and have access to regular exclusive updates on every stock I am covering. Readers are invited to take a two-week free trial in the Seeking Alpha Marketplace.
Disclosure: I am/we are long CEMP.
I wrote this article myself, and it expresses my own opinions. I am not receiving compensation for it (other than from Seeking Alpha). I have no business relationship with any company whose stock is mentioned in this article.
Additional disclosure: This article reflects the author's personal opinion and should not be regarded as a buy or sell recommendation or investment advice in any way.