Halliburton (NYSE:HAL), the world's second largest oilfield services company, has recently reported its quarterly results in which it surprised the markets by reporting a profit, thanks to the company's cost reduction efforts and uptake in drilling activity.
Halliburton reported a third quarter profit of $6 million, or $0.01 per share, up from a loss of $54 million, or $0.06 per share a year earlier and a loss of $3.2 billion, or $3.73 per share in 2Q2016. The earnings were better than analysts' consensus estimate of a loss of $0.07 per share, as per data from Thomson Reuters.
Revenues fell 31.3% from a year earlier and were almost flat from the previous quarter to $3.83 billion. This was, however, below analysts' consensus of $3.9 billion.
Halliburton's bottom-line benefited from a lack of merger costs and termination fees related to its failed attempt to acquire Baker Hughes (BHI) as well as zero impairment charges. These costs were $463 million a year earlier and $3.94 billion in the second quarter.
On a year-over-year and sequential basis, the company posted a decline in revenues in every region. The only exception was the key North American market where revenues climbed 9.4% from the second quarter to $1.65 billion in the third quarter.
The company also reported improvement in operating income in North America and Europe/CIS/Africa regions on a sequential basis. Overall, the company's income from the four geographic regions dropped 69% on year-over-year basis but climbed 43.4% on a sequential basis to $175 million.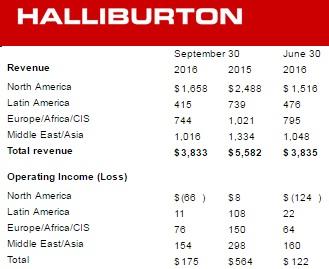 Halliburton comes with a solid track record of beating earrings estimates. Excluding the latest results, the company has reported 10 earnings beats and one in-line results in the last 11 quarters. But despite its history, most analysts and financial writers, including myself, thought that while Halliburton could beat estimates, its earrings will likely remain in the red. The company was expected to continue to battle with pricing pressure and low drilling activity as compared to last year. Remember, despite the uptake in activity, there are still 163 fewer oil rigs operating in the North America as compared to last year. In this backdrop, a profit, even as small as Halliburton's, was a pleasant surprise.
The company's bottom-line was aided by the cost cutting efforts, including the structural cost reductions in which the company is on track to achieve $1 billion of annual savings. Moreover, the sequential improvement in revenues and profits in North America business, which is Halliburton's key market that has been historically responsible for half of the company's revenues and earnings, was driven by the improvement in business environment.
Oil prices have gained substantially to $50 a barrel range after dropping to multi-year lows of $26.05 in February. In fact, over the last five months, the WTI spot price has averaged north of $44 a barrel. This improvement and stability in oil price environment has given confidence to oil producers who have increased drilling activity. The weekly US oil rig count, released by Baker Hughes, has not fallen for the last 16 weeks. And it is clear that Halliburton has turned out to be a big beneficiary of this positive trend, which was evident in the performance in North America.
As mentioned earlier, Halliburton posted a small increase in revenues in North America, but that's a big deal considering that the company has significant leverage to this market and the company's revenues from the region have fallen in the prior six quarters. But the growth could have been better, considering that the growth (up 9.4%) was outpaced by the 14% increase in US rig count in the same period. This could raise concerns that the company might be losing market share, but it could also be due to a deliberate change in business strategy.
During the conference call, Halliburton's CEO Dave Lesar said that the company is now switching its primary focus to improving margins from gaining market share. In the US, the company now believes that it has the highest market share it has ever had. At this point, Halliburton is willing to give up some of its share in order to improve its profit margins. That's probably why the revenues did not climb as fast as the increase in rig count, and this trend could continue in the future. But this approach will likely give a boost to Halliburton's margins and could accelerate the turnaround of North American business in terms of profitability.
Conclusion
Halliburton still has a long way to go before it reaches its pre-downturn levels of revenues and earnings. The oil rig count in its core market is still just about a quarter of what it was at its peak two years ago. The international rig count has still not stabilized. The company continues to lose money in North America. But it is showing what could be the first signs of a turnaround.
In the latest quarter, earnings were up from a year earlier and sequentially. Its revenues and earnings in North America improved sequentially on the back of increase in drilling activity and the company's focus on improving returns. That's crucial since Halliburton has significant leverage to this market. If oil prices hold their ground, then Halliburton could also begin to witness a rise in activity in international markets, which should lead to higher earnings from outside of North America and return to profitability at home.
Note from author: Thank you for reading. If you like this article, then please follow me by clicking the " Follow" link at the top of this page.
Disclosure: I/we have no positions in any stocks mentioned, and no plans to initiate any positions within the next 72 hours.
I wrote this article myself, and it expresses my own opinions. I am not receiving compensation for it (other than from Seeking Alpha). I have no business relationship with any company whose stock is mentioned in this article.
Additional disclosure: I own shares of funds that may hold a long position in HAL.