When we talk about companies which deal in precious metals hardly any company offers the same level of security Silver Wheaton Corp. (SLW) offers. After going through a series of uneasy years since 2012 we have seen the stock price recover in the last year, but is that enough to conclusively narrow down on SLW as a good investment opportunity?
The Pros
Right of the bat the single biggest advantage Silver Wheaton has its ability to acquire silver and gold through its streaming agreements. These agreements allow it to purchase the precious metals from mines at fixed low rates while Silver Wheaton finances their operations without actually acquiring the mines itself, unlike other companies in the industry which own and maintain their own mines. To top it off the company offers funding options which prevents any additional debt to pile up nor does it damage the company shareholder's stock. The advantage of this is obvious when you compare the $373 per ounce of gold and $4.14 per ounce of Silver Wheaton has paid (average of the last 5 years records ) in comparison to the current prices of gold and silver which stand at approximately $1,260 per ounce and $17 per ounce, respectively.
Not only does it help the company maintain its impressive operating margins but it also helps by cushioning itself from dips in the prices of the commodities. And considering the current and upcoming trend in gold prices this might be the most useful trait the company has to offer. The US Federal Reserve was supposed to raise rates this year but after seeing crucial economic indicators, such as job growth figures, miss their target the central bank refrained from committing to a rate hike this year. Even though they have not completely outright denied the possibility of a rate hike the possibility of rise in rates in 2016 does not seem likely. That bodes well for gold and silver producers, especially Silver Wheaton, who often see their company performances linked directly with gold and silver prices.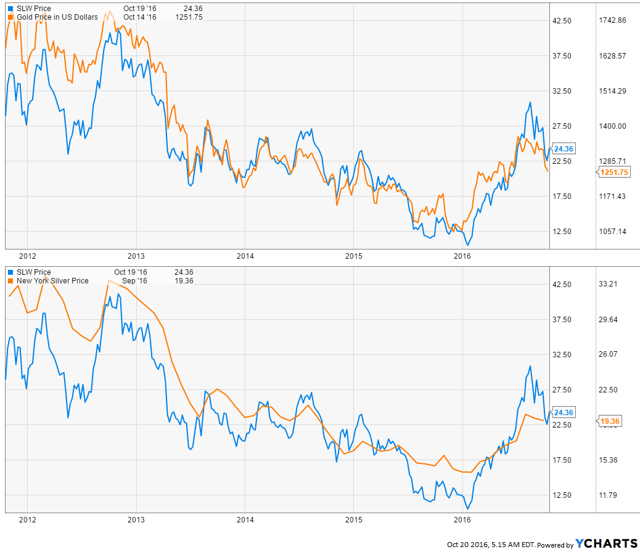 (Source: YChart)
This is crucial when considering what lies up ahead in 2017. A report by Ken Ticehurst of Gold-Eagle News suggests that gold prices are going to dip to a final low somewhere in mid-2017, and any gain before that will only be momentary. So walking into declining gold prices you want to pick the company which has the best capability of hedging itself against falling commodity prices, and so far Silver Wheaton is your best option.
The Cons
Silver Wheaton faces its biggest hurdle in the coming year will be faced in courts where it has to defend itself against a class action lawsuit. If found guilty the company might be forced to dish out approximately C$353 million in penalties, a figure large enough to seriously damage its financial statement as well as its stock price. Things are rather uncertain at the moment as the case might be headed towards a trial when the US District Court denied a motion by Silver Wheaton and three of its executives to dismiss the lawsuit.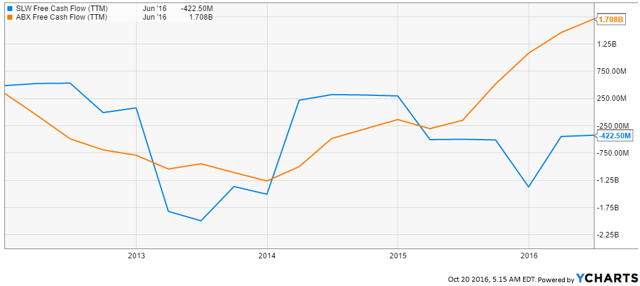 (Source: YChart)
At the same time the Silver Wheaton's FCF position is nothing to be proud of. By the end of 2013 the company had a negative FCF of nearly $2 billion and after briefly recovering in 2014 it has fallen again into negative territory currently standing at -$422 million. However this year has seen its FCF position strengthen and there is a good chance that the company might successfully continue the growth in its FCF to help it recover.
Conclusion
If you're looking to invest in companies that deal in precious metals then Silver Wheaton is a wonderful choice, with its unique business model and its ability to cushion itself to a good degree against volatility in commodity prices. If the report by Ken Ticehurst is correct then falling gold prices in 2017 will hurt the already damaged mining industry, and SLW is the best positioned to weather the storm. Its FCF position could definitely use some improvement, and it has been steadily increasing this year, but so far there are other companies such as Barrick Gold (NYSE:ABX) who have a better FCF position.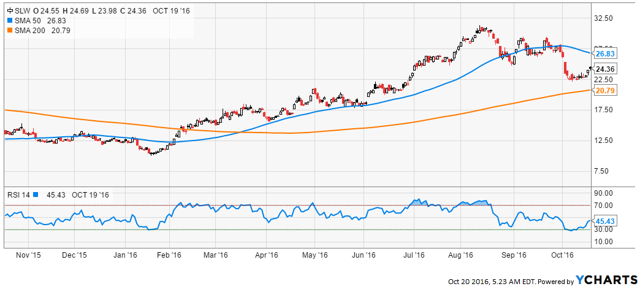 (Source: YChart)
So far it seems like the company stock is trading very close to its fair market price. The 50 and 200 day moving averages show that SLW has been in bullish territory since March of this year while the RSI indicates that it is currently close to its fair market value, maybe even heading for a short term surge in the coming days. The companies streaming agreements will continue to help it grow in the coming days when things get tough, and flourish when conditions improve even further.
Disclosure: I/we have no positions in any stocks mentioned, and no plans to initiate any positions within the next 72 hours.
I wrote this article myself, and it expresses my own opinions. I am not receiving compensation for it (other than from Seeking Alpha). I have no business relationship with any company whose stock is mentioned in this article.