Amid recent reports about the latest fusion "breakthrough," now seems like an appropriate time to turn our gaze toward this most reticent of technologies. Broadly speaking, fusion is an industry about which the view you hold is a binary choice. Are you a true believer or an outright skeptic? And, if you were in any doubt, the latter has always proven the more prudent view. Do the most recent reports on fusion, alongside the new paradigm of private fusion companies supported by tech billionaires and venture capital, herald a medium- to long-term energy revolution? Or is this simply another publicity round to attract investment in a technology that's always 20 years away?
As noted in the above-linked Guardian article:

This article will not analyse the engineering principles at work within the fusion sector, as far more capable analysis is available elsewhere, but will instead consider the new paradigm of fusion investment in recent years, and assess whether there are any opportunities for exposure that might prove interesting. If you are interested in assessing any of the private companies involved in attempting to crack the fusion dilemma, in much the same way as companies such as Space X are attempting to do with space travel, the following is a broad list: Tri-Alpha, General Fusion, Helion Energy, First Light Fusion, Tokamak Energy, not to mention Lockheed Martin's (NYSE:LMT) Skunk Works.
What's interesting about this new wave of fusion research is its private support. Fusion research, until fairly recently, has for the most part been academic, and while it's true that many of the investors in the above companies, such as Bezos, Musk and Thiel, are known to be partial to a moon-shot or two, they each have previous experience with spotting an opportunity. Even more interesting than this is the fact that other notable investors into fusion energy are believed to be more cautious. The names Goldman Sachs, Venrock, Vulcan Capital, Cenovus, Chrysalix, and Khazanah Nasional Berhad certainly do not bring to mind the image of gullible idealists betting solely on the hope of a technological clean energy utopia.
Disruptive technologies are, so to speak, all the rage. As we have seen countless times, should they come to fruition, the potential profits would be enormous. Therefore, when considering the future of fusion there are four things to bear in mind.
The rate at which fusion energy output has increased is greater than that of Moore's Law. There has been a new wave of private investment, usually a sign that a technology is far nearer to realization than when it is supported solely by government funding. There has been a steady stream of positive news coming from those involved in fusion research for a number of years, and the ITER, an international project, also increases the possibility of a breakthrough. The 10- and 20-year time scales for solving the puzzle of fusion has become a running joke.
It is true that smaller, more nimble companies offer a flexibility and creativity that mature companies do not. It is equally true that they lack the ability to fail that large research organisations say enables the blue-sky thinking that sustains real innovation. However, fusion for all sides remains a long shot. Additionally, with none of the aforementioned private companies even close to an IPO, for those with a personal interest they remain solely ones to watch.

Source: Dividend.com
The risk involved in fusion investment is clear, as there is an extraordinarily high chance of a project's failure. In addition, aside from taking the venture capital path, it is difficult to find an investment mature enough to be open to the public. Tri-Alpha, for instance, has only had a website for a few years, despite being founded in 1998. What this means is that an investment with some exposure to fusion is likely the best way to play an interested hand. It is also certainly a positive thing, if you happen to be so inclined and not ethically opposed, that one of the companies involved in fusion research is a thoroughbred market performer: Lockheed Martin (LMT).
Its five-year share price growth makes for positive viewing. Its Skunkworks team is innovative and bullish on fusion, and Lockheed's defense products are always in demand, not least in an era of geopolitical instability. As a long-term holding in your portfolio, Lockheed seems likely to at least hold its value. With a 2.83% dividend return and 13 years of dividend growth behind it, the company is a safe bet for exposure to the fusion industry.
LMT - 5-Year Share Price

Source: Bloomberg
There are, of course, other ways one can gain exposure to the fusion industry, notably through exposure to the raw materials used in potential reactor designs, such as graphite and lithium, both themselves areas of significant and sustained investment attention, with producers of both seeing share price rises in the wake of the ubiquitous lithium-ion battery. Albemarle (NYSE:ALB) and Syrah Resources (OTCPK:SYAAF) are two potential investments in the sector, with the latter one to watch rather than a steady riser at present.
It is also, of course, possible to consider investing in fusion's much maligned and divisive sibling: fission. However, prices in this area -- such as those of uranium -- remain unstable. Additionally, the two uranium ETFs, the VanEck Vectors Uranium+Nuclear Energy ETF (NYSEARCA:NLR) and the Global X Uranium ETF (NYSEARCA:URA), are not having the most remarkable of years. This last option would at present appear only viable as a distinctly long-term bet, with the IAEA expecting prices to remain weak for the foreseeable future and companies such as ARMZ Uranium Holding expecting it to take until 2020 before prices start appreciably to rise.
Albemarle One-Year Share Price

Source: Bloomberg
SYAAF Share Price - Five Years of Fluctuation, but Room for Growth

Source: Bloomberg
URA and NLR - Not an Enticing Investment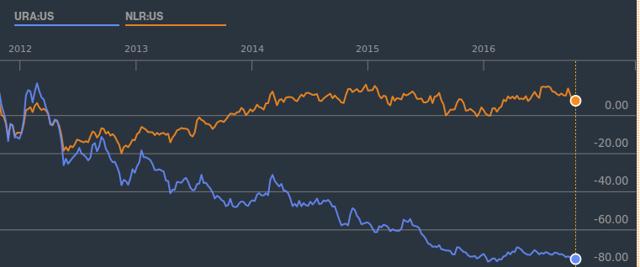 Source: Bloomberg
From an investment perspective, despite the recent positive noises emanating from those involved in fusion research, the opportunities for investing -- unless you choose to get in on the ground floor in early venture capital funding rounds -- are extremely limited. The pure play is essentially non-existent, and sadly for those of us who might like to see a fusion future, its near-term development remains seemingly unlikely. That said, choosing to get some exposure to the fusion industry through graphite, lithium and Lockheed is hardly an investors worst dream, with the former two growth areas, and the latter a solid blue-chip, sufficiently diversified for there to be little risk should its fusion research fail to pay off. Investing in fusion is, at present, a decision for the heart; in this way, however, it ought not worry the head.
Disclosure: I/we have no positions in any stocks mentioned, and no plans to initiate any positions within the next 72 hours.
I wrote this article myself, and it expresses my own opinions. I am not receiving compensation for it (other than from Seeking Alpha). I have no business relationship with any company whose stock is mentioned in this article.
Additional disclosure: CFDs, spread-betting and FX can result in losses exceeding your initial deposit. They are not suitable for everyone, so please ensure you understand the risks. Seek independent financial advice if necessary. Nothing in this article should be considered a personal recommendation. It does not account for your personal circumstances or appetite for risk.