Please take note this is only one aspect in weighing the attractiveness or non-attractiveness of the companies mentioned in the article as an investment and should not be used independent of other factors such as valuation, which are not addressed.
Alipay, the third-party online payment platform controlled by Alibaba (NYSE:BABA) through its financial affiliate Ant Financial Services Group with which it has a profit-sharing interest is the largest electronic payment services provider in Mainland China with over 450 million users conducting 170 million transactions a day.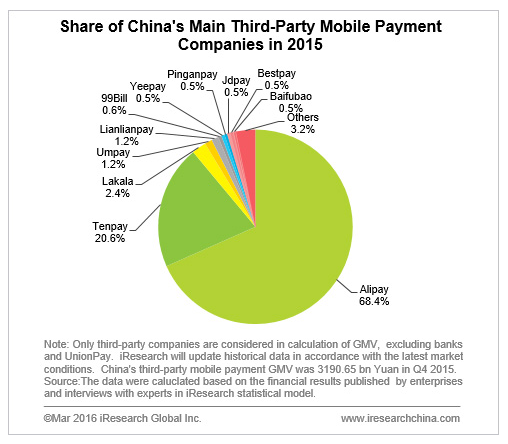 Source: iResearchChina
Alipay has been a beneficiary of China's growing mobile payments market, which is the largest and fastest growing mobile payments market in the world.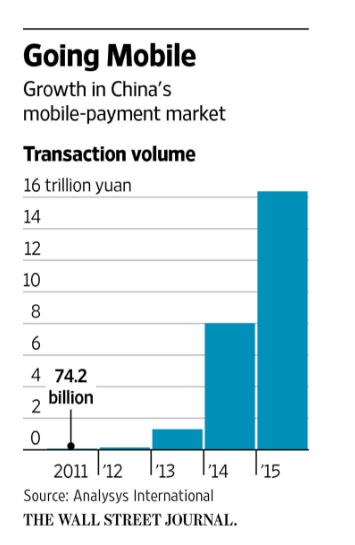 Source: Wall Street Journal
Last year, China overtook the U.S. as the world's largest mobile payment market.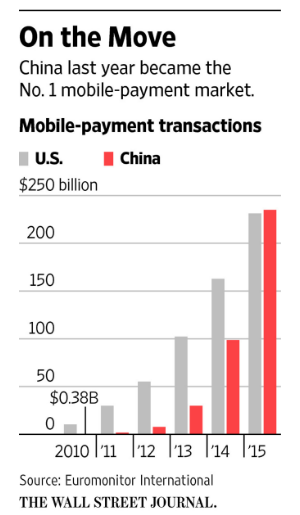 Source: Wall Street Journal
The rapid growth of mobile payments in China's is largely attributed to the country's 1.3 billion population and mobile internet penetration rate of 90% of the total population of Chinese internet users according to China Internet Network Information Center (CNNIC).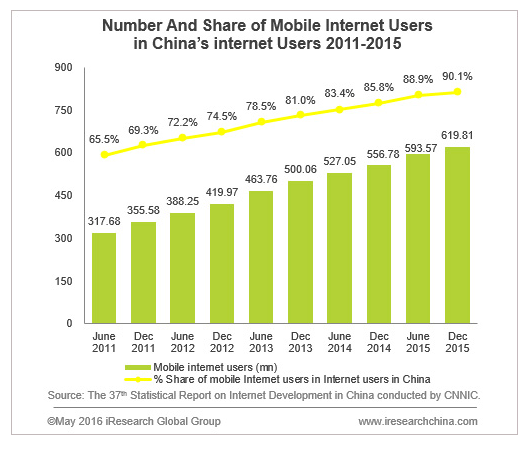 Source: iResearchChina
As a result, China has the largest number of mobile shoppers in the world with over 300 million people shopping through their smartphones.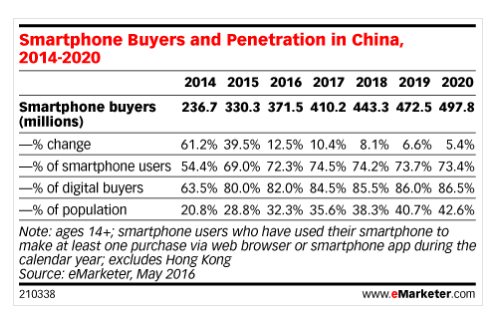 Source: eMarketer
Without a long-standing credit and debit card payments infrastructure, China's shift to a cashless consumer payment system has largely rested on mobile payment platforms dominated by Alibaba's Alipay and Tencent's (OTCPK:TCEHY) Tenpay which together control over 80% of China's third-party mobile platform market.
With only 16% of consumers holding a credit card according to World Bank estimates, Chinese consumers are more open to digital payment methods than users in developed countries.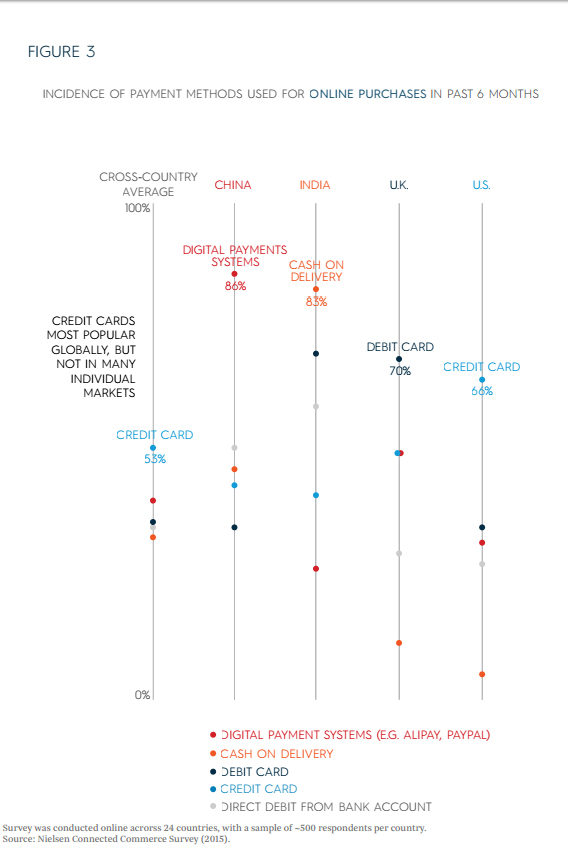 Source: The Demand Institute
Yet there's still room for growth. China's internet penetration stands at about 50% of the population (compared with the U.S. where it is about 87%). Nielsen projects this figure to increase to 68% by 2020, bringing 300 million more people online.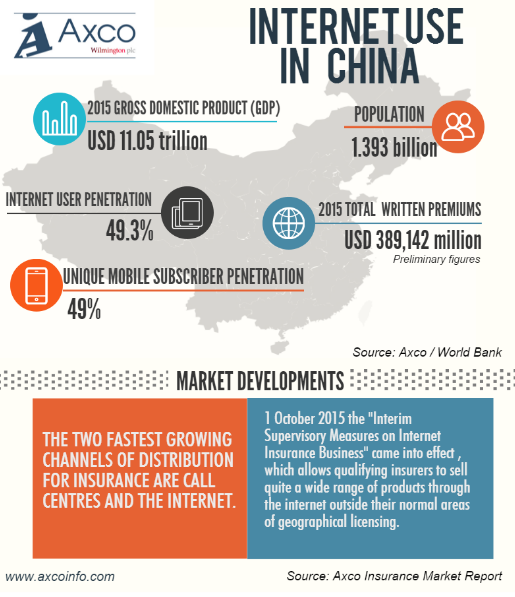 Source: Axco Insurance
China's urban internet penetration is relatively high - first-tier cities such as Beijing have a penetration rate above 70%. In rural China, internet users make up about 28% of China's total internet users, despite accounting for 50% of the total Chinese population. Much of this disparity is due to inadequate internet infrastructure in rural China.
The Chinese government plans to allocate additional funds to rural areas to improve internet infrastructure and extend broadband connections in an effort promote e-commerce and boost trade.
After Premier Li Keqiang criticized the country's mobile internet for being expensive and slow, the country's three telecom operators pledged to reduce data prices by 25-30 percent and improve network speeds.
This will help increase China's internet penetration which is expected to lead to a corresponding increase in mobile internet usage.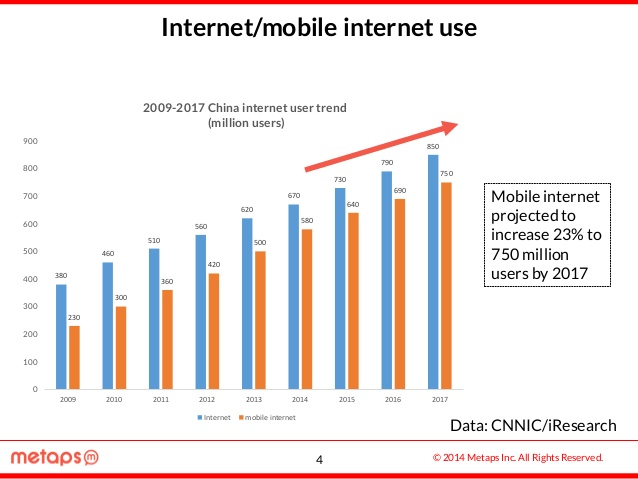 Source: Metaps
Additionally, China is undergoing a technological shift in which an increasing number of online shoppers are switching to mobile, thereby increasing the proportion of e-commerce sales being made over mobile.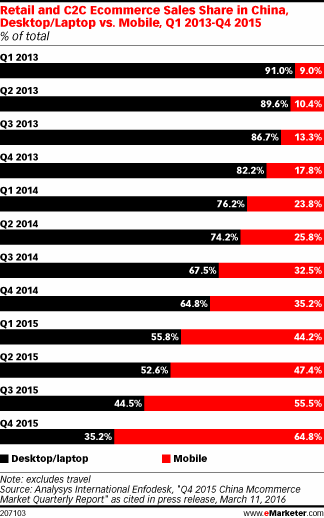 Source: eMarketer
Going forward, this will have the effect of increasing mobile's share as a proportion of total e-commerce sales. By 2019, eMarketer expects that over 70% of China's e-commerce sales will be made through mobile, up from 49% in 2015.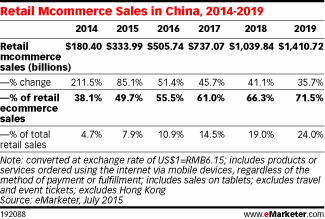 Source: eMarketer
Apart from this growth driver, Alipay's next opportunity is to increase expansion into brick-and-mortar stores.
China is the world's largest proximity mobile payments market. China's proximity mobile users doubled in 2015 and are expected to increase by 45% this year to 195 million smartphone users.
By comparison, eMarketer estimates the U.S. will be home to 37.5 million proximity mobile payments users this year. At an estimated 38% in 2016, China's proximity mobile payments penetration is higher than the U.S. yet the market is still untapped with usage mostly concentrated in larger cities. Thus, there is room for growth and as more Chinese retailers upgrade their systems to accept mobile payment methods at the point of sale, the number of smartphone users making in-store payments with their mobile phones should increase as well. eMarketer expects it to increase to 50% of China's total smartphone users by 2020.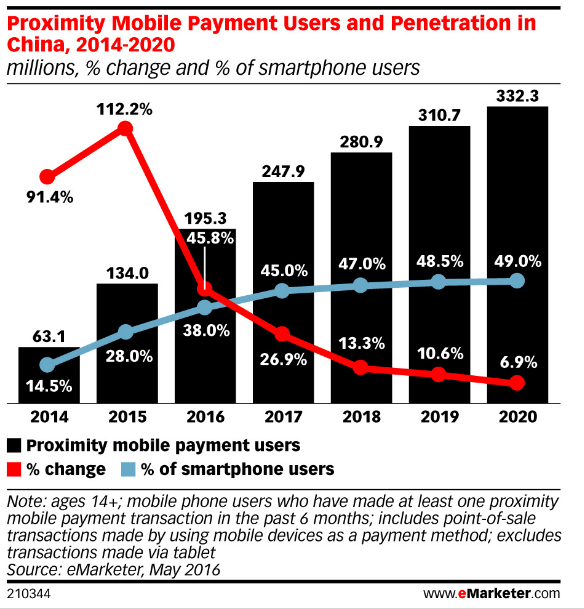 Source: eMarketer
Currently, over 600,000 retail locations and over 1 million taxis in China accept Alipay, and Alibaba is continuously making efforts to expand its reach in brick-and-mortar businesses through partnerships and alliances.
This year, Samsung (OTC:SSNLF) teamed up with Ant Financial to offer Alipay as an option for Samsung Pay users, which increases Alipay's offline business reach since Samsung Pay is accepted at almost every terminal that uses near-field communications (NYSEMKT:NFC) and magnetic stripe technology (similar to Tenpay, which is owned by Tencent, Alipay is a QR code-based mobile payment service).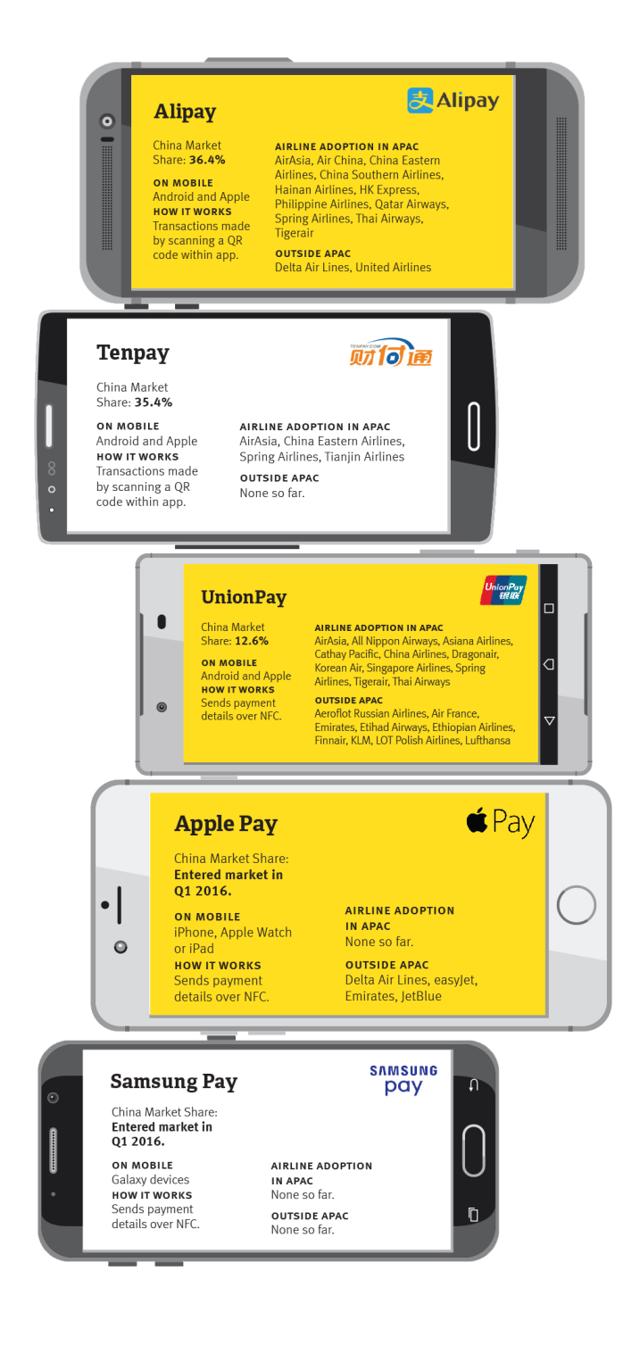 Source: Airline Passenger Experience Association (APEX)
Last year, KFC and McDonald's (NYSE:MCD) struck deals with Alipay to allow customers to pay using the Alipay smartphone app. Under the deal, around 5,000 KFC outlets in 900 cities across China and more than 2,100 McDonald's restaurants will accept Alipay.
Alipay has also teamed up with Wal-Mart (NYSE:WMT) and hotel chain Marriott (NYSE:MAR).
Alipay's offline business expansion is not limited to China with efforts being made to go global by following in the footsteps of Chinese cross-border online shoppers and Chinese outbound tourists who are the highest spending international tourists in the world.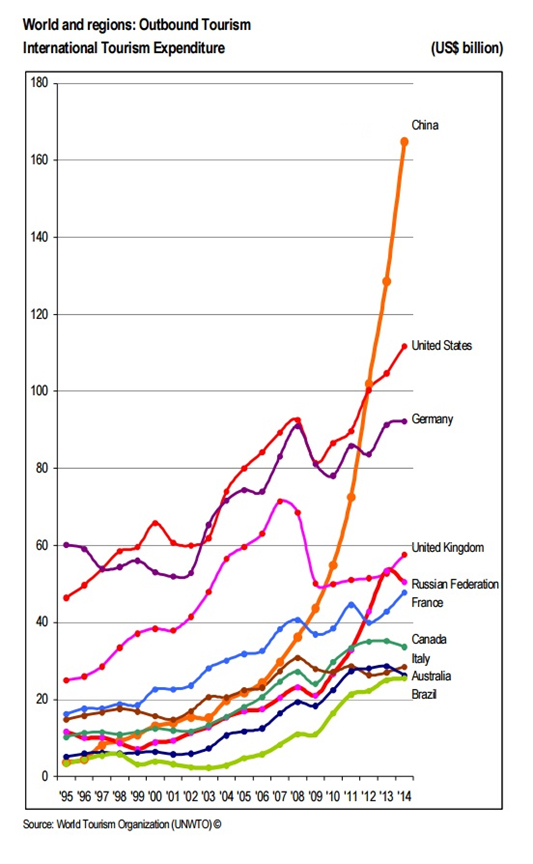 Source: World Tourism Organization
Alipay has already signed deals with 10 overseas airports and over 80,000 merchants worldwide.
Europe is the most popular tourist destination outside Asia for Chinese tourists. By the end of this year, in partnership with Ingenico Group (OTCPK:INGIY), Alipay will be available to Chinese travelers travelling in Europe. As part of the deal, Alipay will be embedded into Ingenico's in-store payment gateway, thereby allowing Chinese Alipay customers to use the mobile payment service in European locations already offering Ingenico's in-store payment system. With Ingenico Group being Europe's largest payment technology service provider, with thousands of merchants as its customers, this partnership will significantly expand Alipay's reach across brick-and-mortar stores in Europe. Ingenico, together with its U.S. competitor, Verifone (NYSE:PAY), control 80% of the market for payment terminals.
Apart from this latest European partnership, Alipay also has agreements with Airbnb (Private:AIRB) and Uber (Private:UBER).
Chinese cross-border e-commerce is booming, with Chinese shoppers spending US$ 57 billion in 2015, nearly double the amount spent the previous year. With rising incomes and increasing numbers of cross-border shoppers, Chinese cross-border retail sales are on the rise with sales projected to increase nearly three-fold by 2020 compared to 2015. A Nielsen study revealed that 88% of consumers in China's Tier 2 cities intend to try to cross-border e-commerce in the next year, primarily motivated by the lack of offline opportunities to buy the same goods.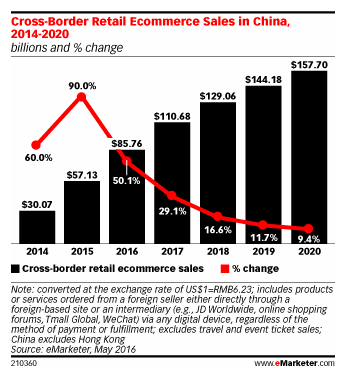 Source: eMarketer
The U.S. is the top destination for Chinese cross-border shoppers.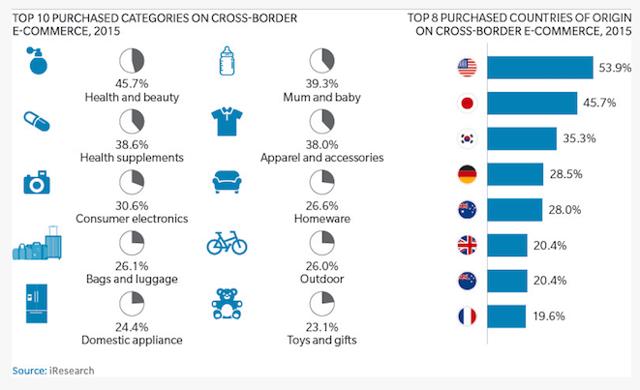 Source: iResearch
In response to this, Alibaba has signed deals with many U.S. retailers and brands such as Saks Fifth Avenue, Bloomingdale's, Macy's (NYSE:M) and Ann Taylor (NYSE:ANN), all of which have recently begun accepting Alipay in an effort to woo wealthy Chinese customers.
Last year, the number of China-based Alipay users that shopped from U.S. retail sites over Thanksgiving, Black Friday and Cyber Monday increased 700% from the previous year, according to Alipay. Meanwhile, total U.S. sales from China-based shoppers using Alipay increased 15 times versus last year.
All these factors are expected to contribute to the growth of China's mobile payment market in the future. Total payment volume processed by China's mobile wallet companies is set to more than triple by 2019 to US$ 5.3 trillion.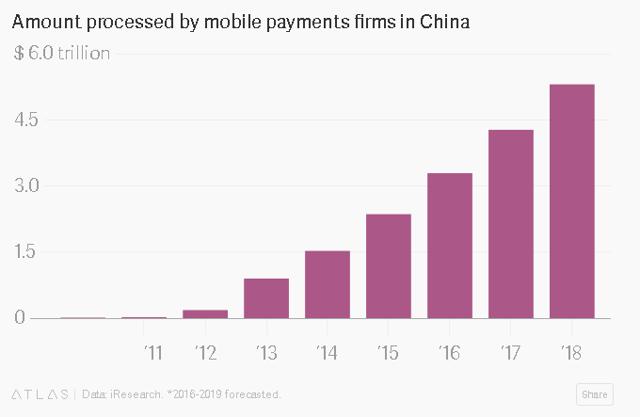 Source: qz.com
In a sign of Alipay's dominance and future prospects, parent Ant Financial Services Group recently raised US$ 4.5 billion in equity from two consortiums of investors. The Series B round valued Ant Financial at more than $60bn, making it one of the world's most valuable private technology companies.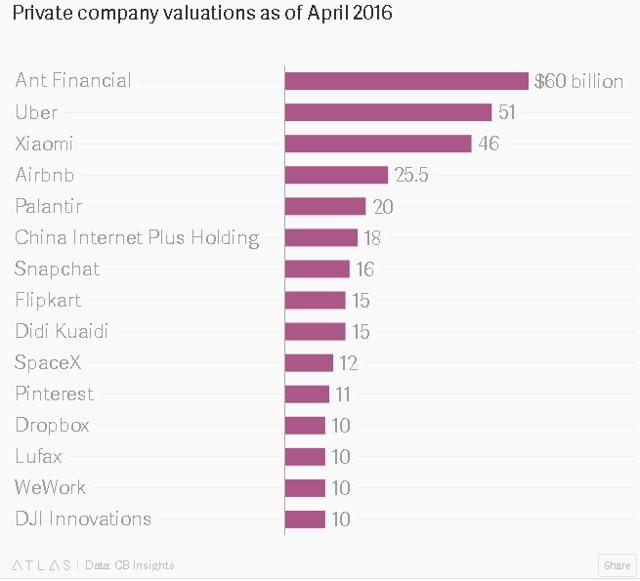 Source: qz.com
Disclosure: I/we have no positions in any stocks mentioned, and no plans to initiate any positions within the next 72 hours.
I wrote this article myself, and it expresses my own opinions. I am not receiving compensation for it (other than from Seeking Alpha). I have no business relationship with any company whose stock is mentioned in this article.