Follow some of the short selling campaigns, but not others
Activist short-selling is on the rise now. What entails is the disclosure of previously opaque short-theses to the public.
That is obviously good news for the investors, because they no longer have to spend time identifying and investigating overvaluations or financial frauds. Activist short-sellers make their hard work available to the public so that all investors have free access to the analytical theses to make investment decisions. For example, by following the short-selling campaign of Citron Research on Valeant (VRX), you can sell (long or short) the stock and make a profit.
Sounds too good an investment strategy to be true?
Be aware that the double-edged sword could also bleed you dry if you just blindly follow any campaign.
Therefore, I'm discussing today the crucial question of how to discriminatingly follow short-selling campaigns.
In my doctoral dissertation in Accounting at University of Toronto, I provide practical insights on how to separate winners vs. losers based on easily available firm characteristics.
I construct two indexes, namely, overvaluation and uncertainty. I find that overvaluation features affect returns in the long term (but not in the very short term), and uncertainty features affect returns in the very short term (but not in the long term). My findings are based on a large sample of more than 6,000 activist short-selling cases collected from Seeking Alpha and Activist Shorts Research.
For the complete detail of how to construct overvaluation and uncertainty indexes, please refer to my paper available at SSRN.com. But here is the short-cut: for overvaluation, you can look at how much the stock price has increased in the past year, P/B ratio, asset growth, quarterly earnings, non-operating assets, and manipulation scores. For uncertainty, you can look at whether the firm has a blockholder, big 4 auditors, and internal control weakness.
The general recommendations are as follows.
An ideal target would have both overvaluation and uncertainty features - the solid line (see the figure below) drops about 60% over the following year.
Investors should follow targets that at least exhibit overvaluation features. If you find that a target has few overvaluation features, maybe you should instead buy in.
On top of overvaluation features, having the uncertainty features may be a sign of a quick exit with a profit. But if investors can bear the risk of holding short positions for a long time, they can simply ignore the uncertainty features.
Below is the figure that shows mean cumulative abnormal returns for targets with different features in the two dimensions. For example, the stock price for targets with high overvaluation and high uncertainty drops more than 60% over the year. However, the price doesn't even drop over the year for firms with low overvaluation. Such evidence confirms that it is a good idea to follow short-selling campaigns with overvaluation features.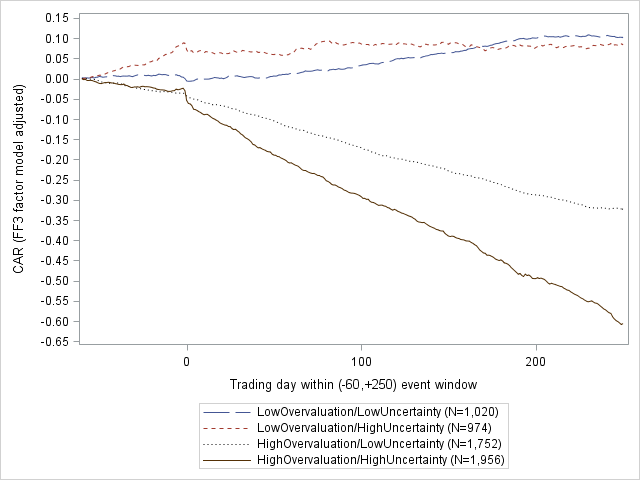 A final note
When activist short-sellers talk down stocks publicly to benefit their short positions, they often create panic and market turmoil. My research highlights the role of accounting information in distinguishing winners vs. losers of short selling campaigns. My findings are useful not only for investors, but also for shareholders or executives to understand what types of firms attract activist short-sellers.
Disclosure: I/we have no positions in any stocks mentioned, and no plans to initiate any positions within the next 72 hours.
I wrote this article myself, and it expresses my own opinions. I am not receiving compensation for it (other than from Seeking Alpha). I have no business relationship with any company whose stock is mentioned in this article.