Hello friends and readers. It has been a few weeks since our last article as my writing time was taken up by a number of due diligence conferences that required travel.
One of the topics that came up during the meetings and that I believe is now more appropriate than ever is the potential for a December rate hike and what investors can potentially do about it.
The due diligence conferences were focused on non-traded and privately registered investments so the solutions were wrapped around private placement and non-traded BDC structures. The asset class in question however is available in a number of other wrappers too, including closed end funds.
The asset class that was offered as a solution is floating rate senior loans.
As my last article also covered this space I will not spend too much time going over the asset class again however I will cover the basics for those whom have not viewed it before. I do recommend reading "Nuveen Credit Strategies Income Fund: Discount Income And Diversification" (NYSE:JQC) as it is yet another take on this space.
The Sales Pitch (For the Fund & Asset Class)
There are two reasons for this asset class that makes it worth your look today.
First, senior floating rate loans traditionally have interest coupons that are adjustable, typically libor + some rate, therefore even if interests rates go up, so will the interest income.
Secondly, senior floating rate loans are traditionally negatively correlated to traditional fixed income. They are therefore a good diversifier to traditional fixed income.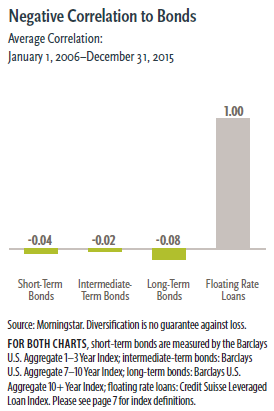 Source: Nuveen NSL Brochure, Morningstar Data
Now that we covered why floating rate senior loans, which fund deserves a look?
One of the funds that has been on my watchlist for some time is Nuveen's Senior Income (NYSE:NSL) closed end fund. While I have not personally invested in the fund directly, it has been a part of a number of unit investment trusts in which we invest in.
Fund Basics
Sponsor: Nuveen Fund Advisors
Managers: Scott Caraher, Gunther Stein
AUM: $409 Million in Invvestment Exposure, $263 Million net assets
Historical Style: Taxable Income-Senior Loan
Investment Objectives: The fund seeks to achieve a high level of current income, consistent with capital preservation by investing in primarily adjustable rate U.S. dollar-denominated secured Senior loans.
Number of Holdings: 300
Current Yield: 7.08% based on market price, Monthly Distributions
Inception Date: 10/29/99
Fees: 1.47% + .89% interest expense, 2.36% Total.
Discount to NAV: 7.99%
Sources: CEF Connect, YCharts, & Nuveen
The Alpha
NSL is a sister fund to 4 other closed end funds managed by Nuveen Investments and its Symphony Asset Management advisor.
What separates NSL from the others is that it is the oldest of the 5. Furthermore, it is also the one that puts a secondary focus on capital preservation.
Like the others, NSL will invest at least 80% in senior loan funds. Unlike the other funds however, at least 80% of the fund will be invested in senior loans secured by specific collateral.
Just like the other Nuveen funds, the alpha here is also the management. Symphony Asset Management, an affiliate of Nuveen has extensive expertise in credit and the fixed income markets.
Source: Nuveen CEF website, Q2 Fact Sheet & Senior Loans Brochure 2016
The Portfolio
The investment portfolio is what you would expect out of such a fund and brings no big surprises.
It is comprised approximately 85% of senior loans, and 9% in high yield bonds.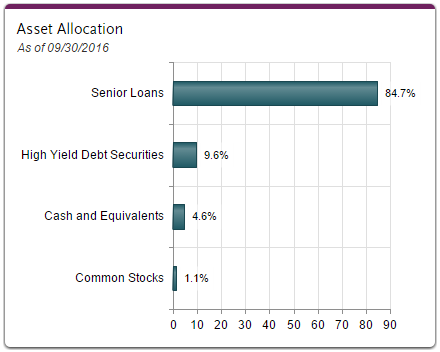 Source: Nuveen
The top 10 holdings contain fixed income securities issued by household names like Albertson's (grocery stores), Dell and Western Digital.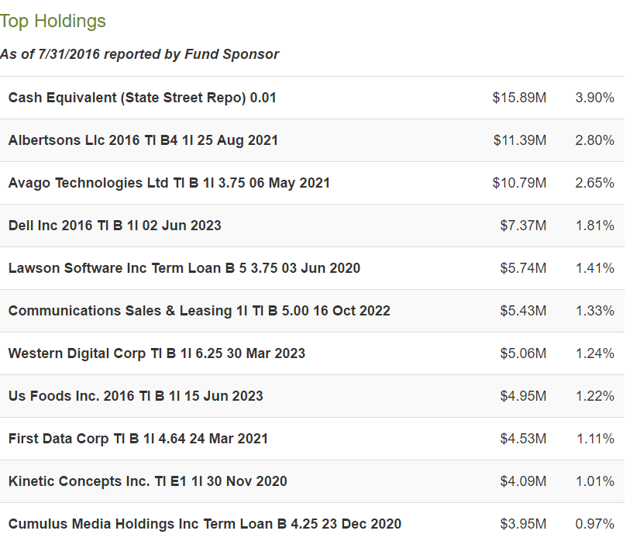 Source: CEF Connect
The sector breakdown shows you a well diversified portfolio without too many overlaps.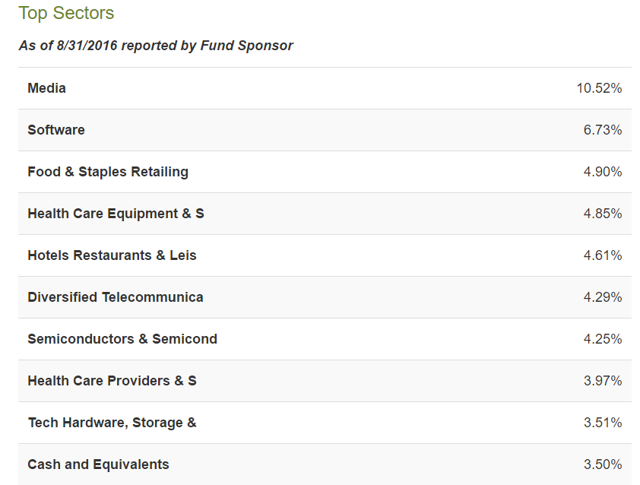 Source: CEF Connect
Pricing & Performance
One of my favorite charts to look at and include in these articles is a since inception price chart along with a historical look at the relationship between price and the net asset value, or the discount to NAV.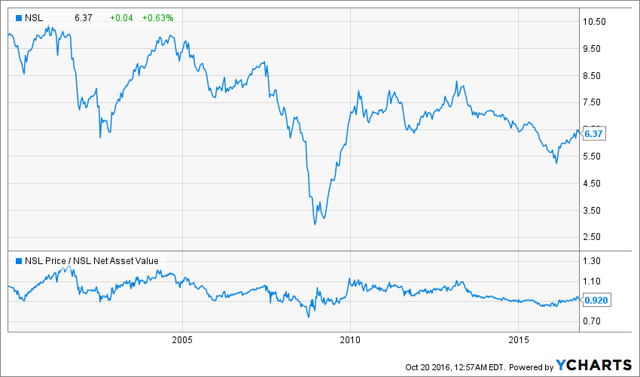 As we can see, yes, since inception in 1999, the price has gone down. It took a huge beating during the great financial crisis, however it has bounced back, doubling in value from the lows of the GFC.
The really interesting part, and why I like the fund now is the historical discount to NAV for which you can buy these bonds.
For the first 10 years or so, prior to the GFC the fund has actually traded at a premium to NAV. During and after the GFC the discount opened up quite a bit, bounced back to a premium of nearly 10%, and spent the last 2 years or so trading at a discount.
This discount can be attributed to Brexit and just some overall concerns about the space (CEFs and non-investment grade debt). For a long term investor, getting in today may be an interesting proposition.
In a really interesting matter, when I first started reaching and prepping for this fund, the NAV was at 5%. By yesterday, the discount was over 7%. This just goes to show you, funds do go on sale, and worth having a list that you can reference.
On the performance side, the fund has done quite well.
The fund is up 17.22% YTD, 16.66% over the year, 41.63% over 5 years, 70.95% over the last 10 years, and 137.7% since inception on a total return basis.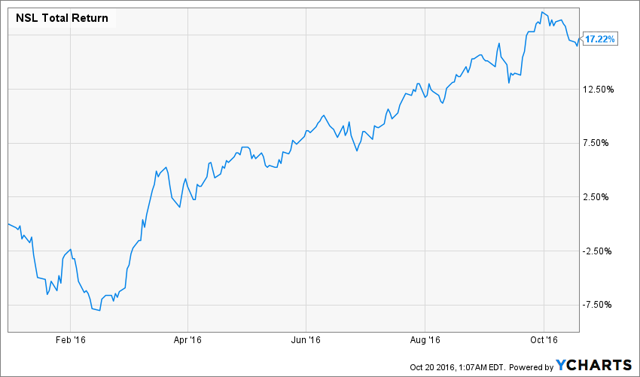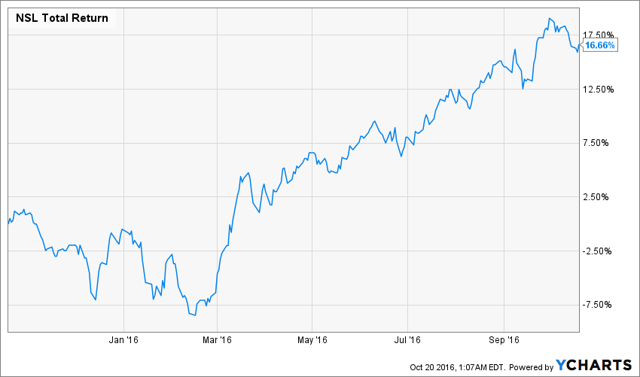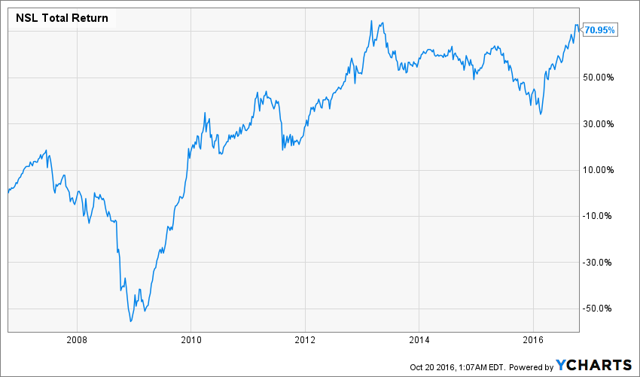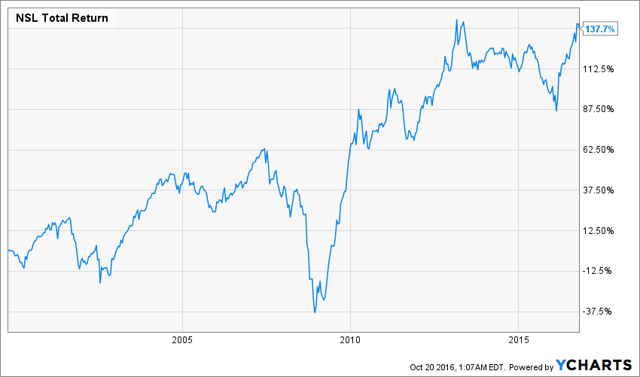 Awesome right?
So how has it done versus some alternatives?
This is actually where the value of a closed end fund comes in.
Two comparisons we can look at are the iShares High Yield ETF (NYSEARCA:HYG) and the PowerShares BankLoan ETF (NYSEARCA:BKLN).
On a YTD basis NSL easily outperforms both.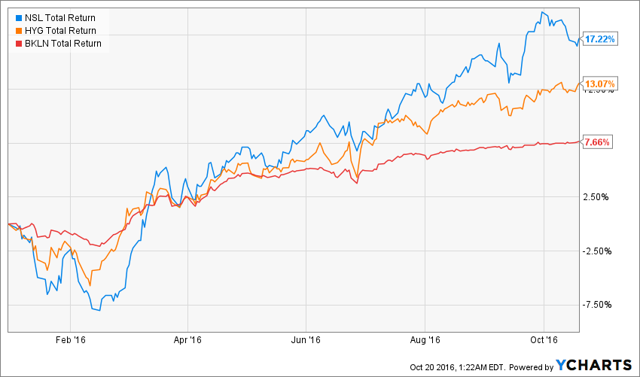 The same holds true over the 1 year number. The interesting note is how both HYG and NSL took a bigger hit during Brexit, and we can likely attribute that to just being higher volume markets. Not looked at here but would be of interest is to see how NSL's NAV performed during that time. What we do know is that during Q3 2015 through Q2 2016, NSL's discount to NAV opened up significantly, reinforcing that idea.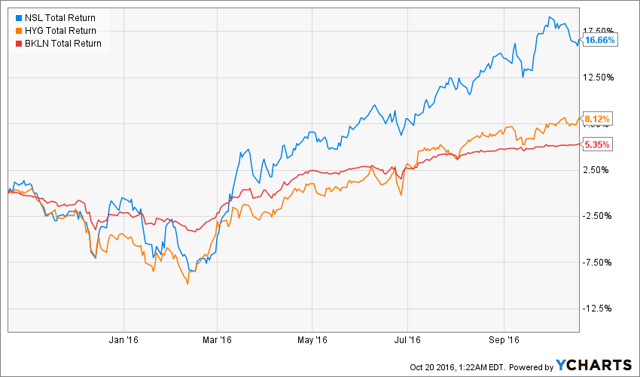 Over 5 years, NSL continues to outperform, significantly outperforming the ETF.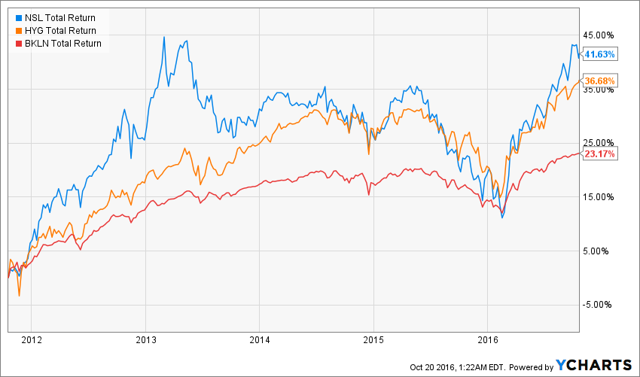 If we look 1 year further back, or the earliest common trading date, HYG does outperform by a few percentage points. The best explanation is the 2015 sell off in assets, and as a leveraged CEF, it would be hit harder being both, a closed end fund AND being levered.
In either case, I would still prefer to be in senior secured loans than high yield junk bonds.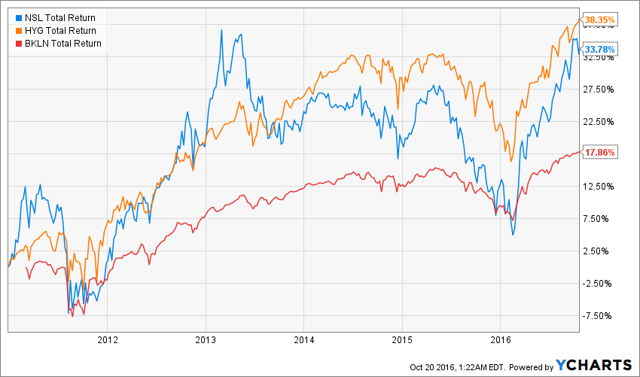 Who's It For?
Since our last article was about the Senior Loan CEF space, I will re-iterate what I wrote there.
I personally believe Senior Loans deserve a place as part of the overall portfolio, be it an income or a growth portfolio.

Generally these types of bonds are going to be put in the junk bond category or be unrated. The thing to keep in mind is that unlike traditional bonds, these types of loans put you near the top of the capital stack.

Would you rather be the first in line to get paid in a company that has a modestly higher chance of going through bankruptcy or would you rather be further down in the capital structure behind other creditors in a company that has a lower probability of going bust?

For an income investor, senior loans have the ability to spice up returns.

For an equity investor, it allows you to invest in smaller cap, or higher risk companies while lowering the risk of losing everything in case they go belly up.
Source: Nuveen Credit Strategies Income Fund: Discount Income And Diversification
For someone starting out with senior loan funds, the Nuveen Senior Income Fund is worth a look as it is a professionally managed closed end fund with a secondary objective of capital preservation.
In the last article I mentioned that for investors of the Nuveen Symphony Floating Rate Income (MUTF:NFRAX) (MUTF:NFFCX) (MUTF:NFRIX) (MUTF:NFRFX) and the Nuveen Symphony Credit Opportunities (MUTF:NCOAX) (MUTF:NCFCX) (MUTF:NCOIX) (MUTF:NCSRX) funds, looking at the CEF versions of those open end mutual funds was worthwhile.
While JQC is a good fund, I personally believe NSL may be a better first choice considering its focus on capital preservation and thus worthy of being added on your watchlist for further due diligence.
I hope this was helpful in your search for income. Questions? Let's keep the conversation going.
Looking for more income ideas? Check out our last two closed end fund articles here and here.
I believe in active management that works, and I am here to help you find those opportunities. Please follow me here on Seeking Alpha as we look for those opportunities and sort out the good managers from the mediocre. Simply click the "Follow" button next to my name at the top of the article or on my profile page.
Disclosure: I/we have no positions in any stocks mentioned, but may initiate a long position in NSL over the next 72 hours.
I wrote this article myself, and it expresses my own opinions. I am not receiving compensation for it (other than from Seeking Alpha). I have no business relationship with any company whose stock is mentioned in this article.
Additional disclosure: Maks Financial Services is a registered investment advisor and our Form ADV Part 2 is available upon request. We certify that the opinions and predictions in these articles are our professional beliefs at the time of publication and should not be construed as personal investment advice. Please consult your financial professional to see how anything discussed here applies to you. Furthermore this is not a solicitation to buy or sell any securities. This is not Tax Advice. Please consult your tax professional.