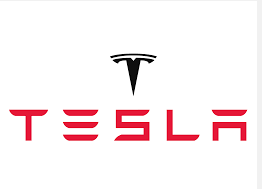 Tesla (TSLA) has pulled back to support. I tried to buy, but I chickened out recently around break-even. With earnings on October 26th and no sign of buying at important levels, new longs are in danger of crossing the brave/foolhardy line.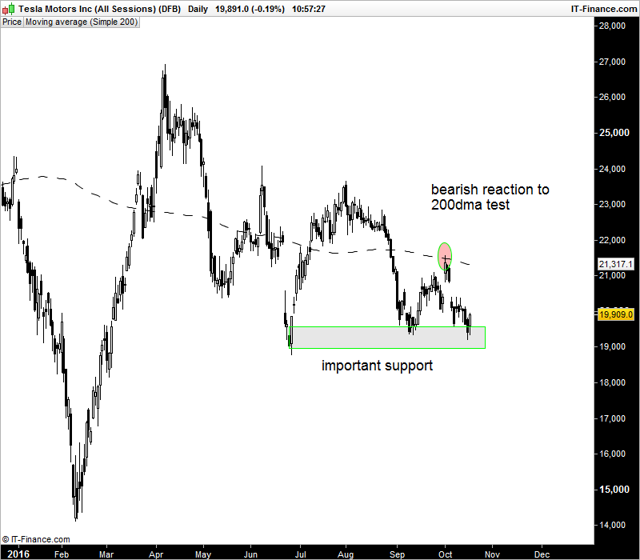 Diminishing bounces around $195 show buyers at this point have less and less effect. This may sound basic, and it is, but technical analysis is only trying to figure out what participants are doing and why.
The "why" comes from fundamental analysis and context. If you conclude these are bullish, your view should be confirmed by price action and what participants are actually doing. If you are bullish and buying during a clear downtrend in price you are probably focusing on the wrong things. You must find out the drivers of price.
So what's driving Tesla? There's a pun in there somewhere, but let's look at some of the bigger picture stuff.
Tesla is a stock that always creates a discussion and seems to polarize investors like no other. Certainly it's a very interesting story, and there's no other stock with such world changing potential. I don't own a Tesla, but in 10 years I might not have to own a car at all. I could hail a ride around in one of Tesla's self driving, self charging cars. It would pick me up from the bar and take my kids to school. I'd never have to worry about it breaking down as it would be part of a country wide Tesla fleet. I'd never have to worry about filling it up with gas as it would charge in the sun.
Well either that or Tesla will be bankrupt.
And this is the problem. When you take your head out of the clouds and delve a bit deeper the cracks appear: massive debt, cash burn, potential dilution, broken promises, poor investor sentiment, strong competition, and absolutely no sign of any profit. But you know all of that. Everyone does.
This is evident in the charts. Whatever has been driving Tesla lower last quarter isn't new as the two declines in Tesla in 2016 look nearly the same: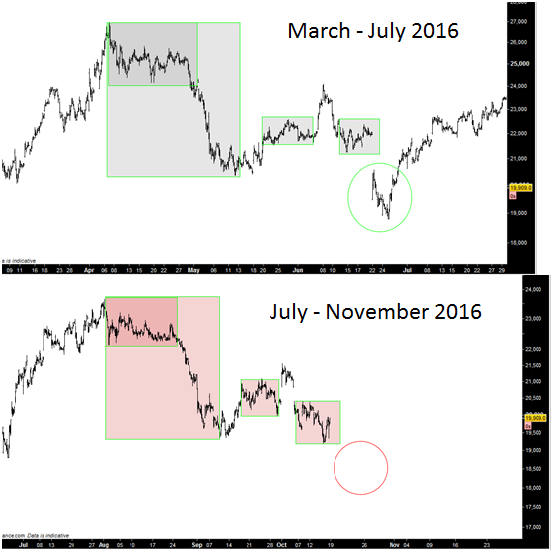 How many spotted this when looking at the first chart? It's a nearly perfect self similar fractal.
I realize this isn't a term or concept many readers will be familiar with. It's useful to investors as it shows the positioning and sentiment going into earnings is nearly identical to how it was before the gap down on 22nd June. Much of the narrative has changed over the last few months, but participants must be focusing on specific concerns that haven't changed.
What the fractal also suggests is any earnings sell off will recover. Shorts will likely get flat, not initiate fresh positions. A proportional repeat of the rally would take price back to fill the $208 gap. I'd consider buying $179.
It isn't clear how may times the pattern will repeat. It has to diverge at some point. When it does it will be a good signal that something has changed in the behavior of the participants and the way they position themselves. This could be due to major news, but is often something more subtle.
Each week there are many small changes to the Tesla story. Some people call them "noise," but they all add up and can't be dismissed as insignificant. The really hard part is to know when news is significant enough to impact the trend.
Every rumor, earnings or piece of important information has the potential for change. But if we think "this is a game changer" and the pattern above keeps repeating, the participants who really move Tesla price obviously don't agree.
I'll include an example of this from Gilead (GILD). The last two quarterly earnings created a gap down and repeating patterns. Participants were doing exactly the same thing despite a steady flow of seemingly "important" news. Then something changed.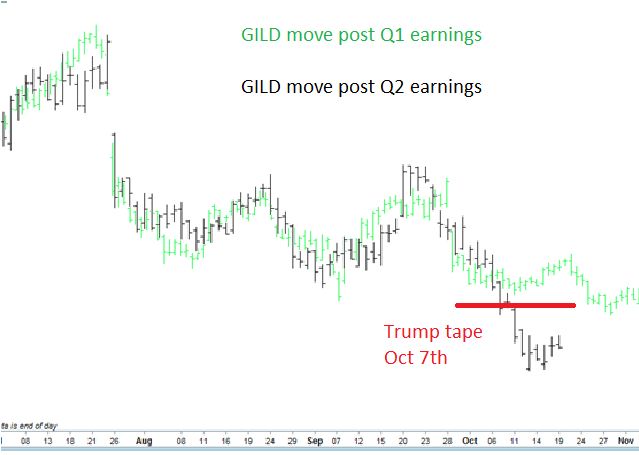 I won't get into the finer details, but it should be clear there is only one event in the past few months with any real significance for this biotech stock.
Until something different happens in Tesla I expect new lows. I'll keep monitoring the patterns, but only a strong rally over $216 signals change.
Longer Term
When I tried to buy the dip in August/September I did so because I thought the longer term trend is still up. I explained this in my article Tesla: Price Action Tells Us The Way Is Up.
I'll hold my hands up and admit I probably got this wrong. There is still a chance it works but the odds don't look to great and I'll explain why.
I was looking for a rally to new highs - not because I particularly liked the fundamentals but because cyclically a final wave up (wave 5 in a Elliott Wave trend sequence) still seemed due. I'll quote again from alphaking.com
Once the selling pressure of the Wave 4 correction subsides then a blow-off speculative Wave 5 impulse move begins. This is the territory of the novice, and the investor who trades on emotion. Unlike the solid advance of Wave 3 - the reality wave - Wave 5 advances are carried on a wave of speculative greed with the desire to get-rich-quick spurring on the momentum players who often feel they cannot lose with this stock since it is seemingly acting so well. They scoff at the cautious words of the veteran trader who warns of excessive valuations. "It's different this time, old timer," is their mantra.
I'm starting to think the rip higher in February was "it" - wave 5 and the top. The rally didn't make it to new highs (it actually doesn't have to), but this was the move that made little sense given the fundamentals. It fits the description above quite well.
It also makes sense on the chart. Wave 4 tested the channel and wave 5 started where it should.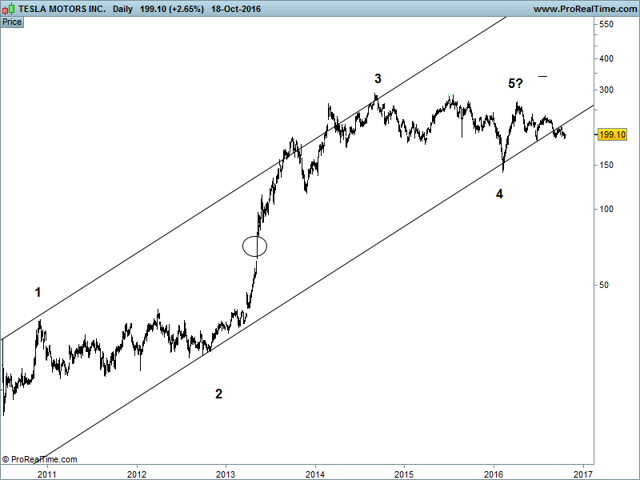 The move down from the wave 5 high has broken the channel and this adds further doubt to the "new highs" thesis.
To be clear, I'm not turning bearish on Tesla. I just think, given the evidence, the probability of new highs in the next few years is pretty low. Therefore I am adapting my strategy to capture shorter term moves within the $150 - $250 range. There's still plenty potential for profit.
Conclusions
There is a very clear pattern going into earnings. It suggests participants are positioning for a sell off and recovery.
A break from this pattern would be significant. The next time you hear Tesla news and wonder if it changes the bigger picture, check the charts.
In fact, today is a good time to test the theory as Elon Musk just announced all new Teslas will come with fully autonomous hardware. Momentous news? A close over $216 is significant. Otherwise it's business as usual.
Disclosure: I am/we are long TSLA.
I wrote this article myself, and it expresses my own opinions. I am not receiving compensation for it (other than from Seeking Alpha). I have no business relationship with any company whose stock is mentioned in this article.
Additional disclosure: I have long dated calls and short dated puts into earnings.