By Brian Levitt, Senior Investment Strategist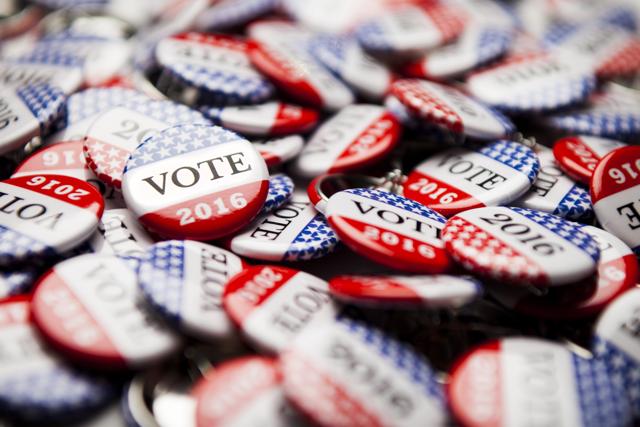 Vice President Dan Quayle once declared, "This election is about who's going to be the next President of the United States!" Quayle's stating of the obvious was mocked by the nation's punditry. From an investors' perspective, the gaffe might be more brilliant than any of us originally realized.
There is a cottage industry built on advising investors on how different asset classes, sectors, and industries will perform based upon which party controls the executive branch of government. This time is no different. If Hillary wins we are told to sell the pharmaceutical companies and buy the renewable energy companies. If Trump wins then we are to short the Mexican peso and buy the defense companies.
Does anyone ever go back and look at the predictions? For example, in 2008, the prevailing view was that the McCain-Palin "drill baby, drill" ticket was good for big oil, while Obama-Biden were going to decimate the fossil fuel industry.
Obama won and advanced techniques for oil extraction drove production to a 45-year high. Any assumption a Democratic administration would have been unfriendly to the petroleum industry proved irrelevant-because of economic forces and private sector ingenuity at work during the president's time in office.
Speaking of private sector ingenuity, here's an abridged list of products or services brought to the market over the past eight years: cloud computing, iPad, FitBit, 3D printing, Instagram, Uber, the world's first full face transplant, and the world's first bionic eye implant, to name a few. This is not to say that there aren't important real-world implications to this year's election and clear distinctions between the two candidates. There are, and we should vote according to our own personal views. But how much will the outcome ultimately matter to investors?
History suggests that it won't. There are far more important factors impacting both the economy and the stock market than which political party happens to occupy 1600 Pennsylvania Ave. Investors considering waiting until the man or woman from their preferred political party occupies the White House should recognize how that would have worked out in the past:
A $10,000 investment held in the Dow Jones from 1897 to 2014 would now be worth $4.3 million.
Investing only when your preferred party is in the White House and selling whenever the other party is, would be worth roughly $4 million less!1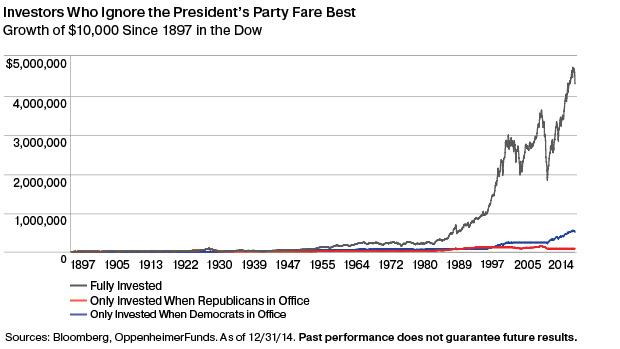 Well-positioned, well-led companies will create investment value regardless of who sits in the White House. Quayle is right. This election is about who's going to be the next President of the United States.
I'm far more interested in the business leaders who are going to harness the powers of artificial intelligence and robotics, create the next generation of life sciences that will cure our most debilitating diseases, continue to evolve the nation's energy sources, and develop new technologies and new industries that aren't even yet on our radar. The world is about to get a whole lot better, irrespective of who wins the election. It always does.
1. Yes, markets have technically done better when Democrats were in office although the numbers were neck and neck heading into 2008 until George W. Bush captured all of the downside of the financial crisis, and Barack Obama captured all of the upside off of the 2009 bottom. Lucky? Good? You make the call. (Past Performance does not guarantee future results.)
Mutual funds are subject to market risk and volatility. Shares may gain or lose value.
These views represent the opinions of OppenheimerFunds, Inc. and are not intended as investment advice or to predict or depict the performance of any investment. These views are as of the publication date, and are subject to change based on subsequent developments.
Carefully consider fund investment objectives, risks, charges, and expenses. Visit oppenheimerfunds.com or call your advisor for a prospectus with this and other fund information. Read it carefully before investing.
OppenheimerFunds is not affiliated with Seeking Alpha.
©2016 OppenheimerFunds Distributor, Inc.
Disclosure: I/we have no positions in any stocks mentioned, and no plans to initiate any positions within the next 72 hours.
I wrote this article myself, and it expresses my own opinions. I am not receiving compensation for it. I have no business relationship with any company whose stock is mentioned in this article.