Background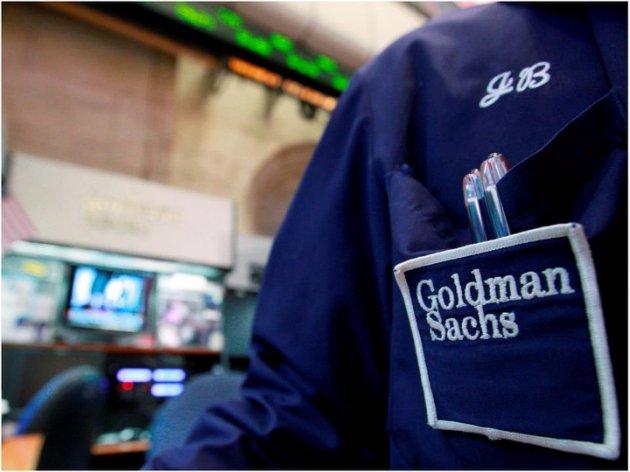 Source: Yahoo Finance
Goldman Sachs (NYSE:GS) operates worldwide as a investment bank, securities, and investment management company. Also, GS operates under four primary segments;
Investment Banking
Institutional Client Services
Investing & Lending
Investment Management
The corporation serves individuals, governments, and financial institutions. Goldman Sachs was founded in New York, New York, also in 1869. Hence the investment bank is very old and rooted institution in the financial industry.
Consolidated Financials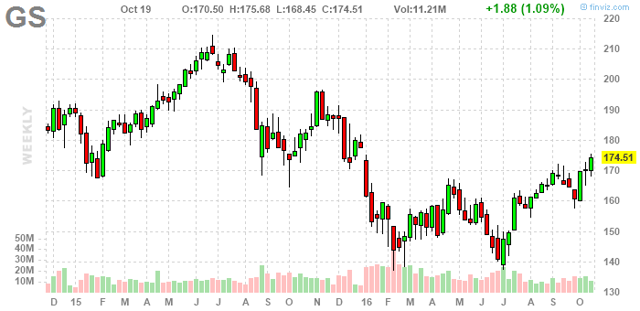 GS Data via finviz
The stock trades around 16x earnings, which makes it moderately expensive but when P/B is considered for evaluation the company is at an optimal undervaluation state. The P/B stands exactly at 1. Which is a metric we take into consideration over the earnings multiple due to the P/B ratio being more representative in the financial industry.
Market Cap: 73.08 bln
P/E Ratio: 16.5
P/B Ratio: 1
GS Fundamentals via Yahoo Finance
The stock trades at $174.5, which when compared to the Peter Lynch the stock is relatively underpriced in respect to its earnings multiple. The graph below demonstrates how the earnings multiple of Goldman Sachs dipped under the price early in the first quarter of 2016.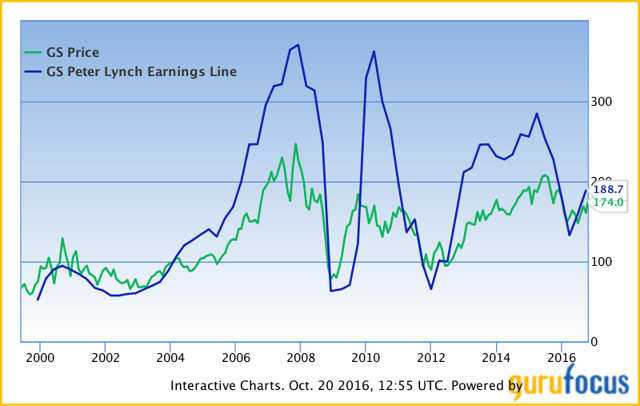 Goldman Sachs Peter Lynch Chart via GuruFocus
Historically, the graph indicates that each dip dating back to late 2003, have always turned into a "V" dip, resulting with more popularly known as the "buy the dip" situation. And reciprocally its evident that after the spread of between price and the earnings multiple widens, there is always a very steep consolidation.
Examples for the spread drastically tightening consist of the 08' subprime mortgage crisis, which was caused by defaults in mortgage backed securities, and also in 2H2010.
Of course, historical trends are never a clear indicates for future price actions but based purely of the past movements in the Peter Lynch graph, we can assume that the dip in the earnings multiple in early 2016 which is currently over the price of Goldman Sachs, and is slowly moving upward, resulting with a increase in the P/E - Price spread.
The EV/EBITDA is used to value companies in conjunction with the P/E ratio, but like indicated earlier, we prefer alternative valuation measures to the earnings multiple for financials. Also, EV/EBITDA takes variables like debt and net cash.
Goldman Sachs under a EV/EBITDA valuation is overvalued compared to the industry average of 12.3.
Return on equity is a common measurement used to measure the rate of return for shareholders equity for common stock holders. It measures the firm's ability in retrospect to efficiency and its ability to generate profit for equity holders.
In an industry that has a low ROE, Goldman Sachs is at a better position. While the industry has been demonstrating low figures in the same category. The industry average is 3.85%.
Similar to a P/E ratio, the Shiller P/E ratio takes is adjusted for inflation and is a cyclical adjusted value of the P/E ratio. It takes into account of the last ten years earnings, to come to a more accurate value for instead of the earnings multiple.
Due to consistent business performance by the company, the Shiller P/E ratio gives a similar value to our earnings multiple. P/E for Goldman Sachs is at 16.5 while the Shiller value is at 11.2.
The ratio is a representation of accrual anomaly, thus companies that have non-cash earnings are identified efficiently with the Sloan ratio. It identifies whether a firms earning dynamics are coming from non-cash or accrual-derived earnings in retrospect to their cash flows. Pertaining to the ratio, GS is at safe territory. The ratio stands at -1.59%; meaning that there isn't anything risky going on in regards to accruals.
Financial Metrics via GuruFocus
Valuation
Considering the strong last quarter for Goldman, I believe it is safe to use a Discounted Cash Flow "DCF" Model, which will be based on Future Cash Flow "FCF" projections for the foreseeable future. Hence; the model is based upon normalized Future Cash Flows and book value of the company. Book value of Goldman Sachs will give us a more representative instinctive value compared to DCF model based on past earnings.
Definition: Value = ((Growth Multiple) * FCF (6 Year Avg.) + 0.8* Total Equity(Most Recent)/Shares Outstanding
Hence instinctive value of Goldman Sachs is:
Intrinsic Value = (9.71809505475* 4920 + 0/0.08) / 430.200 = 111.14
Price of intrinsic value "Projected FCF":
Price to Intrinsic Value: Projected FCF = Share Price / Instinctive Value: Projected FCF
$174.51 / 111.14 = 1.57
Resulting with our "Projected FCF" based DCF model to indicate a value of $265.06 for Goldman Sachs.
Instinctive Value "Projected FCF": $265.06
Risk
Projected future cash flow assumptions made for the sake of the DCF model might not be representative if financials enter a bearish market or the interest rate hike in December does not happen and the federal funds rate stays at current low levels.
ROE is lower than what we like to see from banks, over 10%. Revenue figures are still up for debate and capital returns are still speculative.
The election process could result with a highly volatile environment for U.S equities. Whether or not Donald Trump is elected or not, there is a climate of uncertainty, however, after the 3rd debate it is pretty statistically probable the Hillary Clinton will win the election.
Conclusion
Concluding, GS is a sizable and old investment management firm that is undervalued under a DCF model based on projected future cash flows. The Shiller ratio also backed up the findings of the DCF model by portraying the dip that has bounced back in the P/E over the price of the stock.
The company looks visibly undervalued under the assumptions made, book value was considered more critically for balance sheet reflection purposes. While earnings multiple was not considered for evaluation strongly.
The election process should bring volatility to financial markets however, a bullish scenario is plausible going into December for the rate hike from the Fed.
Disclosure: I/we have no positions in any stocks mentioned, and no plans to initiate any positions within the next 72 hours.
I wrote this article myself, and it expresses my own opinions. I am not receiving compensation for it (other than from Seeking Alpha). I have no business relationship with any company whose stock is mentioned in this article.