The U.S. Treasury just announced that its reopening auction of CUSIP 912810RR1 - a 29-year, 4-month TIPS - resulted in a real yield (after inflation) of 0.666%. It was the lowest yield for any 29- to 30-year TIPS at auction since February 2013.
Because this Treasury Inflation-Protected Security already carries a coupon rate of 1.00% - set in a February 2016 auction - buyers at today's auction had a pay a big premium. The adjusted cost was about $110.67 for $101.65 of value, after accrued inflation is added in. This TIPS originally auctioned with a price of $96.79, so it has gone up in value about 14% in 8 months. That's an indicator of how volatile a 30-year TIPS can be.
Here are results for 29- to 30-year TIPS auctions over the last three years. Today's yield was about half that of a similar auction last October:

Inflation breakeven rate. With a nominal 30-Treasury trading right now at 2.50%, this TIPS gets an inflation breakeven rate of 1.83%, meaning it will outperform a nominal Treasury if inflation averages higher than 1.83% over the next 29 years. That's 31 basis points higher than the 1.52% generated at the originating auction in February.
But today's breakeven rate is still low by historical standards, and probably explains the apparent demand for this TIPS. The 30-year breakeven rate hit an all-time low on February 11, 2016, and has been climbing ever since, meaning that TIPS are getting less cheap when measured against nominal Treasuries. It also indicates rising inflation expectations.

Reaction to the auction.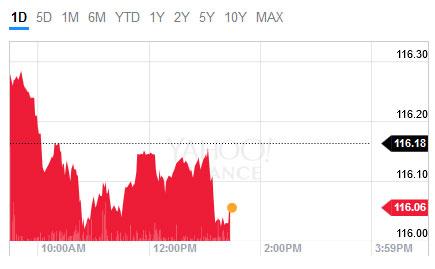 It looks like the auction went exactly as expected. This TIPS, which trades on the secondary market, was yielding around 0.66% in the hour before the auction result. So no surprise there. But the chart at right, which shows one-day trading in the TIP ETF, shows a slight decline in price after the auction announcement. That means yields were rising slightly in reaction.
Disclosure: I/we have no positions in any stocks mentioned, and no plans to initiate any positions within the next 72 hours.
I wrote this article myself, and it expresses my own opinions. I am not receiving compensation for it (other than from Seeking Alpha). I have no business relationship with any company whose stock is mentioned in this article.