In late August, CompleteBankData created a basket of the cheapest banks we know of - constructing them into a theoretical portfolio. Our hypothesis was simple. Given the absolute 'cheapness' of the portfolio, the aggregate basket should outperform the broad stock market with minimal downside. To test the hypothesis, we theoretically invested $100,000 into 32 different banks - equally weighted.
Since inception, the portfolio consisting of CIT Group (CIT), Bancorp Inc. (TBBK), Century Bancorp (CNBKA), MidSouth Bancorp (MSL), MVB Financial Corp (OTCQB:MVBF), First National Community Bancorp (OTCQX:FNCB), Kentucky Bancshares (OTCQX:KTYB), Chesapeake Financial Shares (OTCQB:CPKF), Royal Bancshares of Pennsylvania (RBPAA), BNCCORP (OTCQX:BNCC), First United (FUNC), AmeriServ Financial (ASRV), Kish Bancorp (OTCPK:KISB), Eagle Bancorp Montana (EBMT), Broadway Financial (BYFC), Blackhawk Bancorp (OTCQX:BHWB), Reliance Bancshares (OTCPK:RLBS), First Federal of Northern Michigan (FFNM), Central Federal Corporation (CFBK), Jefferson Security (OTCPK:JFWV), CIB Marine Bancshares (OTCQB:CIBH), ASB Financial (OTCPK:ASBN), DAMASCUS CMNTY BK (DMAS), County First Bank (OTCQB:CUMD), Community Investors Bancorp (OTCPK:CIBN), Peoples BK Commerce (OTCPK:PBCO), Crazy Woman Creek Bancorp (OTCQB:CRZY), Sound Banking (OTCPK:SNBN), CNB Bancorp (OTCPK:CNBV), Pacific West Bank (OTCPK:PWBO) and SouthFirst Bancshares (OTCQB:SZBI) - has returned 6.07%.
In this same time period SPDR S&P 500 ETF Trust (NYSEARCA:SPY), Dow Jones Industrial Average (Private:DJI), iShares Russell Microcap Index (NYSEARCA:IWC) and ABA Community Bank Index (ABAQ) returned -1.87%, -2.00%, 1.22% and 3.03%, respectively. Thus far, our hypothesis is proving true.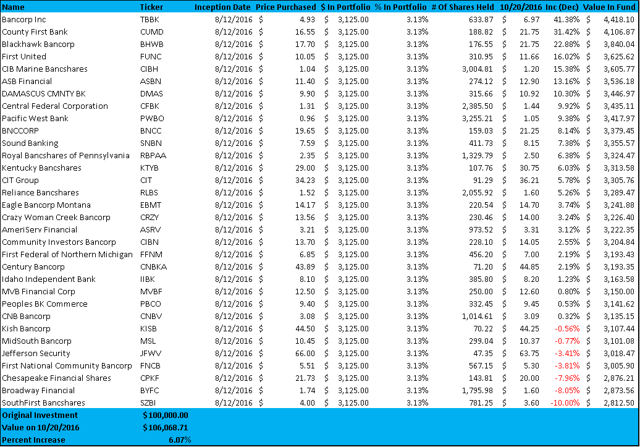 As with the last update Bancorp (NASDAQ:TBBK) is in the lead with a 41% gain. Although, at the last update TBBK was only up 23%. Larry Abrams recently wrote two excellent articles on TBBK found here and here; explaining the recent news of the bank. What is interesting, Larry uncovered that Richard Thaler has acquired a 5.80% position in the company. Larry Abrams sums of Thaler's investment strategy as follows:
"Thaler's investment strategy said that investing in companies with bad management accompanied by negative sentiment actually led to above average returns. The Bancorp would seem to be a perfect test for Thaler's theories."
The biggest loser this time is SouthFirst Bancshares (OTCQB:SZBI), with a negative ten percent return. The company is highly illiquid, has a very tiny market cap and appears to be trading off of zero news. It would be interesting to do some due diligence on this company to see the investment prospects on a first hand basis.
Out of the thirty-two positions in the portfolio, only seven are in the red. This is an improvement from the ten that were in the red in the last update. Hopefully we will see this metric continue to improve as time progresses.
Overall, the portfolio is performing well. It's hard to expect less given the absolute valuation of the companies within the portfolio. And hopefully, the portfolio will continue to outperform, not only for the sake of community banks, but for our readers.
Other Readings
Citigroup And The Mexican Stand-Off
BANC: Extensive Ties To Notorious Fraudster Jason Galanis Make Shares Un-Investible
An (Almost) Free Asset Management Business
Value Line: Come For The Debt-Free Strong Brand And Healthy Dividend, Stay For The Special Situation
Deutsche Bank: A Hubris-Driven Perfect Storm
Disclosure: I/we have no positions in any stocks mentioned, and no plans to initiate any positions within the next 72 hours.
I wrote this article myself, and it expresses my own opinions. I am not receiving compensation for it (other than from Seeking Alpha). I have no business relationship with any company whose stock is mentioned in this article.
Editor's Note: This article discusses one or more securities that do not trade on a major U.S. exchange. Please be aware of the risks associated with these stocks.