The EIA reported an injection figure of +77 Bcf, bringing the total storage number to 3.836 Tcf. This compares to the +87 Bcf build last year and the +84 Bcf build for the five-year average.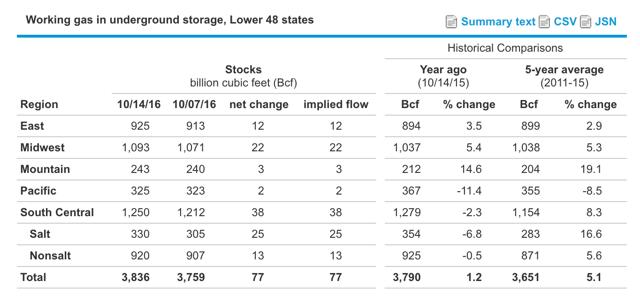 Source: EIA
Going into this report, a Reuters poll of 21 traders and analysts showed an average of +73 Bcf build with a range of +70 to +77 Bcf. We expected a +77 Bcf build and that it would be toward the higher end of the range.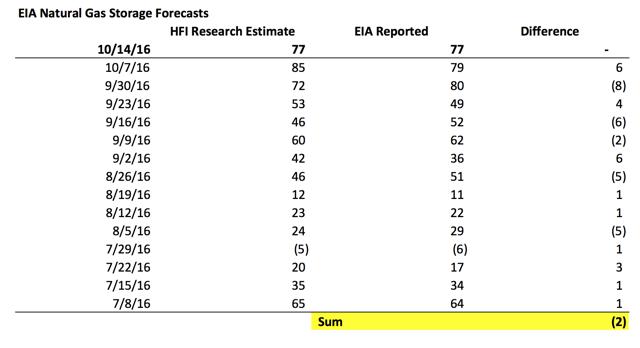 Source: HFI Research Estimates Track Record
Our estimate heading into the report was on the higher end. We said in our Natural Gas Daily yesterday that if EIA reported an injection figure around our estimate of +77 Bcf, we could see a drop in natural gas prices.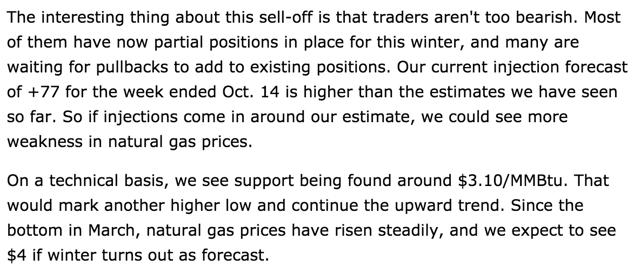 Source: Balancing the Short-term and Long-term Outlooks
Interestingly, looking at the natural gas price action today, it bounced exactly off of the $3.10/MMBtu number.

Source: Finviz
Looking at our current updated injection forecasts, we continue to expect year-over-year storage to be in deficit by Nov. 11. But we think the market is largely ignoring where storage ends by EOS and paying much more attention to storage forecasts for April 2017. From what we know talking to traders, most of them have been waiting for a selloff to load up on positions, and that's exactly what you are seeing today.
We will be publishing our injection forecast for next week tomorrow. Premium subscribers get injection forecasts for the next four weeks. If you are interested, please consider signing up here. Thank you for reading our Weekly Natural Gas Storage Report.
Disclosure: I/we have no positions in any stocks mentioned, and no plans to initiate any positions within the next 72 hours.
I wrote this article myself, and it expresses my own opinions. I am not receiving compensation for it (other than from Seeking Alpha). I have no business relationship with any company whose stock is mentioned in this article.