Braskem S.A. (NYSE:BAK) looks to be an international, emerging market opportunity for growth and dividend investors. The Brazilian company has worked its way through recent difficult conditions to experience growth in market capitalization, profitability, revenue, net income, operating margin and the dividend amount issued, leading to an increasing stock price and favorable technical indicators for investors, as we will look at here.
Braskem Overview
Braskem's share price has skyrocketed 60% in the past three months, according to Investopedia, surging from a low of $10.91 in July to October 19th's closing price of $17.53, once again reaching a new 52-week high for the fourth market session in a row. (The 52-week high event is an important milestone for every stock, indicating very positive momentum and is a time when buyers come in. During the related technical setup, fundamental investors tend to stay away and are busy shorting or selling the stock.)
The specialty chemicals company produces thermoplastic resins. The company's operating segments are basic petrochemicals, polyolefins, vinyls and chemical distribution. According to Zacks Investment Research, "Braskem SA figures as the largest petrochemical operation in Latin America and among the five largest private companies in Brazil." BAK is a part of the Basic Industries sector. Braskem's market cap has grown almost a billion in the past three months, now standing at $6.43 billion.
Driving the share price, aside from consistent growth on both the top and bottom lines, is the company's announcement last month of an extraordinary dividend payment of $1 billion reais ($311 million). The confidence in its capital position, along with a stellar growth outlook, have attracted a growing inflow of income-hungry investors.
As this previous Seeking Alpha article discusses, strong demand in the international markets and healthy spreads would likely help BAK maintain and increase profitability in the coming quarters.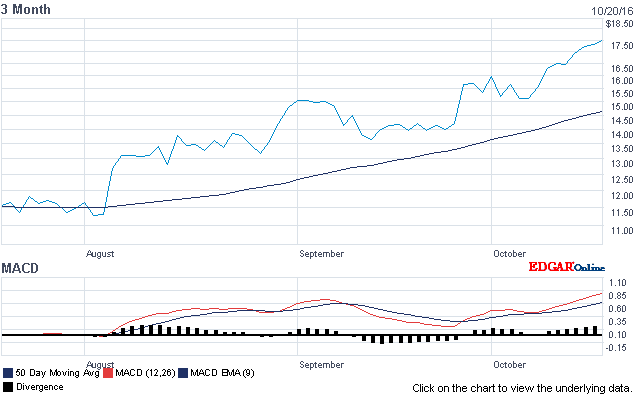 (Source: Nasdaq)
The stock of Braskem SA has a $20.88 target or about 19% above today's share price, as set by the Press Telegraph. The bullish chart shown above seems to show relatively low risk for the company. If the $20.88 price target is reached, BAK will be worth over a billion more.
Braskem's regular quarterly payment of 77 cents per share was paid yesterday (October 18th). Its dividend currently yields around 9% annually, which is more than four times the 2.00% average yield paid out by stocks in the S&P 500 index. This represents a 12.92% increase over the prior dividend payment. Braskem's dividend payout ratio is presently 69.23%.
Beyond the dividend, Braskem has been a strong performer. In the most recent quarter, revenue grew 3% to $3.39 billion, driven by the strong demand in international markets. The company's resins market share expanded 3% with total resin sales increasing 8%, surpassing the domestic market growth during the quarter.
Strategically Investing in BAK as an Emerging Market, International Stock
American investors looking to add international stocks to their portfolios can do so by buying shares of American Depository Receipts (ADR). These shares trade on U.S. stock exchanges priced in dollars, yet they represent shares of the foreign company. ADR prices tend to move in tandem with their foreign counterparts.
While adding exposure to international equities can reap the benefits of diversification and the potential for higher portfolio returns, each individual company and the country within which it operates carries unique risks and circumstances that must be carefully considered.
Of particular interest are companies in Brazil. The Brazilian economy has been growing rapidly and diversifying - however, it still depends heavily on its natural resources and therefore, could be impacted by sharp moves in commodity prices.
According to Investopedia, allocating a portion of international stocks to a portfolio can help augment return while reducing overall risk in a portfolio if the correlation between the two markets is less than one. Modern portfolio theory teaches that diversification benefits a portfolio as the correlations of the assets held in it diverge, meaning the less that asset prices move in tandem, the greater the benefit. Correlations close to 1.0 would indicate that the prices of those assets move largely in the same direction by the same magnitude at the same time, while correlations closer to 0.0 would show that there is no statistical relationship between the price movements of the assets. Since 2009, the correlation between the broader U.S. and Brazilian stock markets has been +0.70, meaning that some investment diversification potential is offered, but generally these two markets move in line with each other.
Over the past decade, emerging markets have pushed the demand and production for oil and natural gas to new heights. Rising middle classes and their consumption are being met with new exploration and drilling techniques, creating a new paradigm along the way. Investors should be on the lookout for companies and countries that have access to so-called mega-projects: multi-billion dollar exploration and production sites that have just started extraction.
Braskem, which has heavy ties to the non-Venezuelan oil production opportunities in South America, grew earnings by more than 100% in 2013 and 2014, performing extraordinarily well during a time of changing energy dynamics.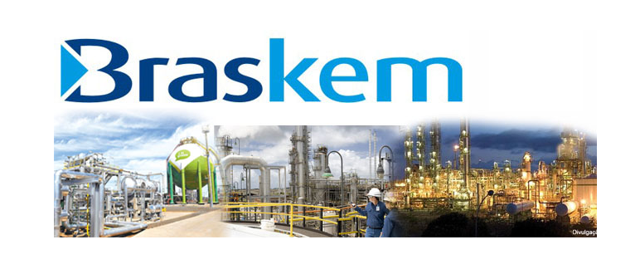 (Image source: Global Rubber Markets News)
Factors Favoring Braskem for Growth and Yield
Do investors have to make a choice between growth and high-yield dividend stocks? For now anyway, you can find both with Braskem.
Make no mistake, Braskem faces challenges. Brazil is currently going through a major recession. Also, one of BAK's major suppliers (Petrobras) was at the center of the nationwide scandal that led to the impeachment of the country's president.
It hasn't been easy to be Braskem in the last several years. The company's total revenue dropped 37% last year compared to 2014 levels, but the upside for Brazil's leading chemical manufacturer is that its net income managed to grow 182%.
Several trends support Braskem's continued profitable growth. The world leader in renewable chemical production is investing in biomanufacturing systems to enable even higher complexity and profits when optimized. In addition, BAK has been working to decrease the debt on its balance sheet - and now has a better debt rating than its home country. Long term, Braskem could be a buy-and-hold kind of stock.
Braskem hasn't exactly been spared by Brazil's ongoing recession nor the collapse in crude oil prices that started in late 2014, but its global presence and customer diversification allowed the company to weather the storm quite well.
While the top line got decimated in 2015, Braskem managed to cut costs and report a record operating profit for the year. Prioritizing a strong balance sheet quickly produced results. At the end of the first quarter 2016, Braskem had $2.1 billion in cash and a net debt-to-EBITDA ratio of 1.72, marking an increase of 37% and a decrease of 33%, respectively, compared to the year-ago period.
Don't let an increase in its cash balance make you think the company isn't investing in the future, either. Braskem will still manage to invest over $1 billion in growth projects this year. There are multiple opportunities to extract more value from existing projects and reap rewards from projects already in the works. For example, Braskem is commencing operations at a world-class petrochemical complex in Mexico, taking advantage of cheaper natural gas inputs from the U.S. market and access to global markets for selling products. Another facility in Texas intends to begin production in the second half of 2016, which benefits from even cheaper inputs from its proximity to American shale.
In this year's second quarter, BAK posted EBITDA of just over R$3 billion in the period, which was 15% higher than in the same quarter last year and in line with the prior quarter. This performance was supported by sales volume growth in all markets, better spreads and the continued good performance of the industrial units in the United States and Europe, combined with a higher supply of gas at the Rio de Janeiro cracker and the local-currency depreciation of 14% in the period. EBITDA advanced 1% to $858 million.
In addition, Braskem is the world's leading producer of biopolymers and has invested in engineered biology R&D projects that could one day allow the company to manufacture rubber from yeast. Today, the bulk of the company's biopolymer production comes from a facility in Brazil that converts ethanol, instead of petrochemicals, into polyethylene.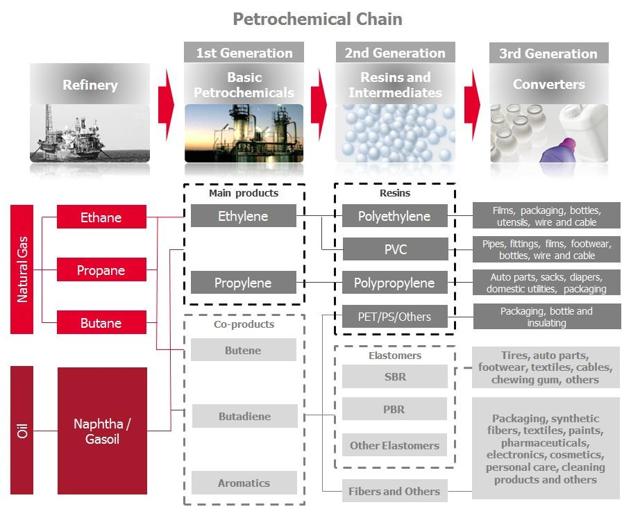 (Source: Braskem Investor Relations)
Technical Analysis for the Evening of October 19th, 2016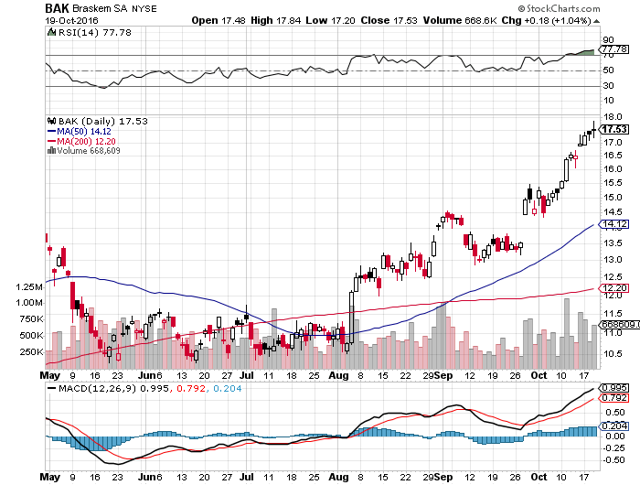 (Source: StockCharts)
For the day: 1.04%, for the week: 6.05%, for the month: 23.02%, for the year: 70.86%, year to date: 29.47%.
According to Market Trend Signal, the long-term trend of Braskem S.A. is up, indicating that BAK has experienced an uptrend for at least the past 180 trading days. The short-term trend of Braskem S.A. is up - BAK has been undergoing a short-term trend up over the past 7-10 days.
The current signal for Braskem is buy, indicating that the stock could be advancing in its trend. The current strength rank for Braskem S.A. is 96, which means that BAK is outperforming 96% of its peers.
BAK gets a rating of A from Swing Trade Bot. Due to the stock's strong uptrend, its overbought condition may remain that way and should be discounted. 50 DMA, 200 DMA, ADX Trend, Relative Strength are all positive indicators of an uptrend. Long-term, mid-term, and short-term trends are all up.
BAK gets a technical rating of 9 out of 10, says ChartMill. BAK is showing a nice and steady performance. The long- and short-term trends are both positive. This is looking good. Looking at the yearly performance, BAK did better than 95% of all other stocks.
BAK is currently making a new 52-week high. This is a strong signal. The S&P 500 Index is trading in the upper part of its 52-week range, but not near new highs, so BAK is leading the market. Short-term trend, long-term trend, SMA(20), SMA(50), SMA(100), SMA(200) technical indicators are all pointing to an uptrend, according to ChartMill.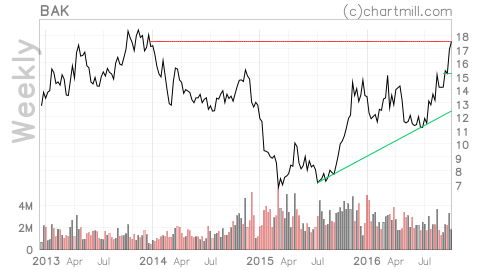 (Source: ChartMill)
Support/Resistance Analysis
3 important support areas can be observed:
A support zone ranging from 15.73 to 15.96. This zone is formed by a combination of multiple trend lines and important moving averages in the daily time frame.
A support zone ranging from 15.14 to 15.17. This zone is formed by a combination of multiple trend lines in multiple time frames.
Support @12.39 from a trend line in the weekly time frame
Seasonality
Over the next 13 weeks, Braskem has on average historically risen by 13.5% based on the past 17 years of stock performance.
Braskem has risen higher by an average 13.5% in 8 of those 17 years over the subsequent 13 week period, corresponding to a historical probability of 47%.
The holding period that leads to the greatest annualized return for Braskem SA, based on historical prices, is 3 weeks. Should Braskem stock move in the future similarly to its average historical movement over this duration, an annualized return of 138% could result.
TrendSpotter: Buy.
Short Term Indicators: 7 Day Average Directional Indicator: Buy, 10 - 8 Day Moving Average Hilo Channel: Buy, 20 Day Moving Average vs. Price: Buy, 20 - 50 Day MACD Oscillator: Buy.
Medium Term Indicators: 40 Day Commodity Channel Index: Buy, 50 Day Moving Average vs. Price: Buy, 20 - 100 Day MACD Oscillator: Buy, 50 Day Parabolic Time/Price: Buy.
Long Term Indicators: 60 Day Commodity Channel Index: Buy, 100 Day Moving Average vs. Price: Buy, 50 - 100 Day MACD Oscillator: Buy.
Price: 17.53, Support: 16.88, Pivot Point: 17.52, Resistance: 18.16.
Studying the Fundamentals
The current return on equity for Braskem is 91.73%, indicating BAK is currently functioning with high financial efficiency.
The company pays a high-yield dividend, but it could still be trading at a low value, as suggested by a P/E ratio of 7.48. BAK's profits have increased more quickly than its share price. BAK's current earnings per share, an indicator of a company's profitability, is $2.08.
According to Investor Place's Portfolio Grader, BAK's fundamental strengths are its sales growth, operating margin growth, cash flow, and return on equity.
Key statistics and ratios for BAK Q2 taken from Google Finance: Net profit margin 2.36%, operating margin 19.94%, return on average assets 2.06%, return on average equity 32.86%.
(For a detailed breakdown for further fundamental analysis, please see BAK's 2Q16 Earnings Release.)
Analysts' Reports and Institutional Buying
Analysts at HSBC began coverage on shares of Braskem SA in a research report issued to clients and investors on October 11th. The firm set a "buy" rating on the stock. Analysts await Braskem to report earnings on November 10th.
Hedge funds and other institutional investors have recently made changes to their positions in the stock. Eqis Capital Management Inc. purchased a new position in shares of Braskem SA during the third quarter valued at approximately $236,000. Highbridge Capital Management LLC bought a new position in shares of Braskem SA during the second quarter valued at approximately $2,576,000. Jane Street Group LLC increased its position in shares of Braskem SA by 5.2% in the second quarter. Jane Street Group LLC currently owns 31,960 shares of the company's stock valued at $379,000 after buying an additional 1,579 shares during the last quarter. Panagora Asset Management Inc. increased its position in shares of Braskem SA by 220.3% in the second quarter. Panagora Asset Management Inc. now owns 687,549 shares of the company's stock valued at $8,147,000 after buying an additional 472,880 shares during the last quarter. Finally, A.R.T. Advisors LLC increased its position in shares of Braskem SA by 209.6% in the second quarter. A.R.T. Advisors LLC currently owns 164,687 shares of the company's stock valued at $1,951,000 after buying an additional 111,500 shares during the last quarter. 1.16% of the stock is owned by hedge funds and other institutional investors.
ETFs with exposure to Braskem SA: First Trust Latin America AlphaDEX Fund (NYSEARCA:FLN), First Trust Brazil AlphaDEX Fund (NASDAQ:FBZ), Guggenheim International Multi-Asset Income ETF (NYSEARCA:HGI), Global X Brazil Mid Cap ETF (NYSEARCA:BRAZ), First Trust Emerging Markets AlphaDEX Fund (NASDAQ:FEM).
Conclusion: Based on how Braskem has developed its business with projects and managed its finances in a demanding environment (recession and scandal) to produce favorable fundamentals (return on equity, growth in sales and operating margin, good cash flow) and accrue strong technicals (50 DMA, 200 DMA, ADX Trend, Relative Strength, SMA(20), SMA(50), SMA(100), SMA(200), as well as all the indicators in the Barchart opinion), BAK could be a good play for a swing trade (after waiting for a consolidation or pullback), or an investment for the medium term or long term, with hefty accompanying dividend payments.
Disclosure: I/we have no positions in any stocks mentioned, and no plans to initiate any positions within the next 72 hours.
I wrote this article myself, and it expresses my own opinions. I am not receiving compensation for it (other than from Seeking Alpha). I have no business relationship with any company whose stock is mentioned in this article.