The market has weighed in on the Samsung (OTC:SSNLF) note 7 debacle and it is now obvious that Apple (NASDAQ:AAPL) is the clear winner. Just a few short months ago, Warren Buffett disclosed his company had taken a large position in Apple under the $100 level. As investors we all know that Mr Buffett likes to buy and hold some stocks forever.
In August I wrote an article stating that Apple was going to $150 in the next year. I now believe the stock will hit my price target in the next 90 days.
The stock is slowly climbing back to last years highs, take a look at this chart.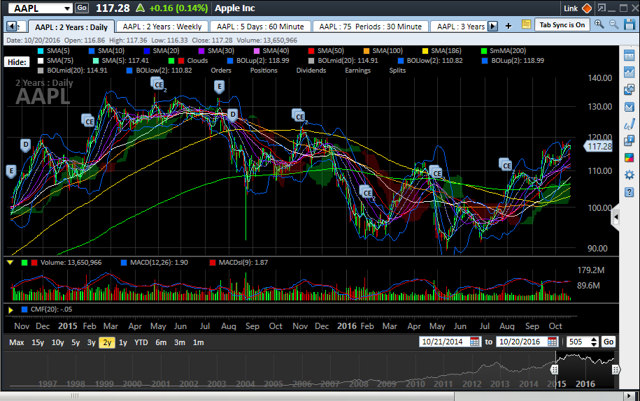 Above is a two year chart showing a wild ride for the worlds richest company. One can see a consolidation of the moving averages in a nice 18 month shakeout with four major emotional bottoms.
The stock is now above the 50 and 200 day moving averages in a strong uptrend that in my view will continue for the next several quarters.
Earnings will be the next catalyst for a break out to new highs.
On October 25th Apple will release earnings. I believe they will blow out numbers with earnings of $2 a share; I see a breakout through the $134 level reached in July of last year. From there the stock should rip to the $150 level on strong iPhone sales and the fallout from the Galaxy notebook 7.
Comparison Chart showing Apple is not expensive.

As you can see from the metrics above, Apple is not even close to others in the Nasdaq and S&P 500. In my view the stock has plenty of room to run to the upside.
Dividend
With over $200B in cash, Apple has some work to do with investors on how the company will distribute some of that money back to shareholders.
Conclusion
Warren Buffett is once again looking pretty smart in his Apple position and will likely be buying any weakness before earnings. The company is trading below others in the metrics shown above.
I see a new all time high by the end of the year.
Under the Radar Pick I believe Warren Buffett May Be Buying
We all know Warren Buffett likes to drink coke, I'm sure he loves a good burger as well. Imagine having an opportunity to buy a wildly popular award winning healthy fast food burger and sandwich chain that is in the early stages of a nationwide expansion.
The Habit Burger Grille (NASDAQ:HABT) is in my view the best healthy fast food chain to buy and hold for the next decade. They have 149 stores in California and just starting to open a few in Florida and the New York area.
I do not eat fast food, and haven't been to any fast food chains except for In/out in years. I have two kids and a couple years ago my town got a Habit Burger franchise and since then have opened two more in the area.
We absolutely love the food; they serve great burgers, fries, salads and other sandwiches along with delicious shakes. Californians love the food and there is always a line. Investors understand that a successful business model in California will be a popular across the nation.
Warren Buffett likes long term growth stories with a great product and that is exactly what the Habit is creating. Wells Fargo (NYSE:WFC) agrees; according to the SEC, they recently revealed a 3M share 16.96% stake in the Company. They are not alone as Blackrock (NYSE:BLK) disclosed in September a 9.7% stake in the burger chain, along with Passport Capital which recently purchased one million shares. Important note: there is only 16M shares outstanding.
The Good news is the stock is a BARGAIN!
A look at the charts.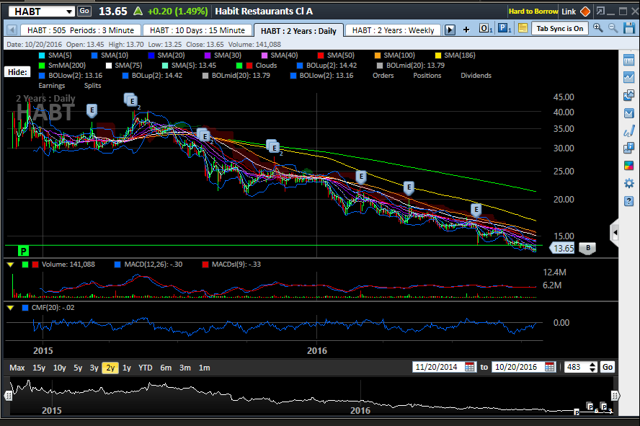 As you can see the stock is at an all time low on what I believe is fears of the minimum wage increase. It is very thinly traded and the sell-off on very low volume is in my opinion overdone.
In my view this is the ideal BUY zone as the growth story is about to explode. My one year price target is $35.
I am heavily invested in this one along with Wells Fargo and believe it will be a 5 to 20 bagger over the next decade. This company could grow from 150 restaurants to 1,000 over the next several years and investors should take notice.
AS always do your own research and know your exit point before making any trades.
Disclosure: I am/we are long HABT.
I wrote this article myself, and it expresses my own opinions. I am not receiving compensation for it (other than from Seeking Alpha). I have no business relationship with any company whose stock is mentioned in this article.