Bank of America (NYSE:BAC) reported Q3 net income of $5 billion, increasing 3.6% q/q and 7.3% y/y, and coming ahead of the market consensus as a quarterly EPS of $0.41 was posted which was 8 cents higher than expected. It was a strong set of results with faster than expected volume growth, strong fee generation, solid cost control and benign asset quality metrics. Following the results and the management guidance, we remain bullish on Bank of America as we raise our price target for the stock.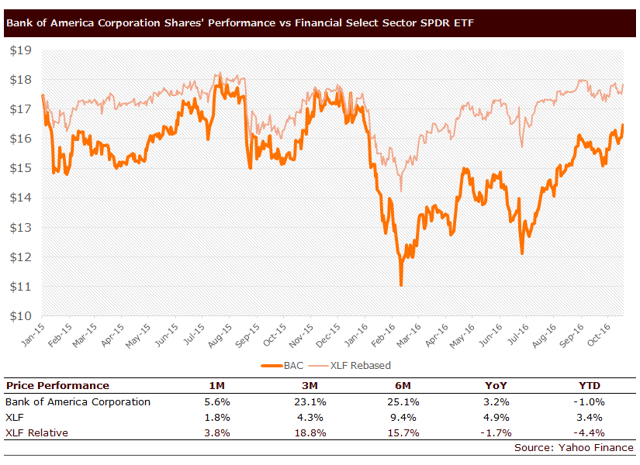 We now think that the outlook has become clearer as the bank reported +10% ROATCE over the past two quarters, and the bank is able to maintain its ROATCE above its cost of capital. This should lead to higher valuations in the upcoming period as we believe that upward trend has not ended in the share prices. Before we present our investment thesis, we see fit to share performance metrics of the bank on a year-to-date basis which provide good summary.
Bank of America - Financial Highlights

9M 2016

9M 2015

Change

Balances:

Loans and Leases

893,316

869,419

2.7%

Deposits

1,232,895

1,162,009

6.1%

Total shareholders' equity

270,083

255,861

5.6%

Total Assets

2,195,314

2,152,962

2.0%

Income statement:

Net interest income

30,804

29,272

5.2%

Noninterest income

32,907

34,111

-3.5%

Provision for credit losses

2,823

2,351

20.1%

Noninterest expense

41,790

43,724

-4.4%

Net income

13,210

12,552

5.2%

Per common share information:

Diluted EPS

$1.10

$1.03

6.8%

BVPS

$24.19

$22.40

8.0%

TBVPS

$17.14

$15.50

10.6%

Performance ratios (percentage points):

ROAA

0.81

0.78

+3 bps

ROAE

6.66

6.71

-5 bps

ROATCE

9.40

9.74

-34 bps

NIM

2.26

2.20

+6 bps

ALLL Rate

1.30

1.45

-15 bps

NCO Rate

0.44

0.49

-5 bps

Source: SEC
We believe that the case for a NIM acceleration has strengthened on an imminent rate hike in December. Bank of America's interest rate sensitivity is highest among its peers as the bank reported a +100 bps parallel shift in both short and long rates would translate to $7.5 billion in interest income in 2Q (versus a $4.3 billion in 4Q 2015). We believe that's the underlying reason for the recent outperformance. That said, the bank has done quite well at growing its loan book as it has more than offset the impact of this year's low rate environment. Going forward, we feel increasingly optimistic about loan growth owing to a fairly benign macroeconomic path. Specifically, on the consumer lending front, a greater retail baking competition has been generated which has caused some pressure on fee income, but we see this as positive development for the longer-term outlook as it will lead an increase in short-term high-interest loans and a stronger deposit base.
The revenue beat this quarter came mostly on the trading side, which was nearly $1 billion better than expected. As we mentioned in our article about JPMorgan Chase (NYSE:JPM), it has been easier for American banks to gain share in European markets while Europe-based banks like were losing out on business as they battle to retain confidence - consider Deutsche Bank (NYSE:DB) -. Bond-trading revenue surged 39% y/y in Q3 (versus consensus estimates of 11%), driven by rates trading and benefits from the bank's debt-underwriting strength. While accepting that FICC trading is volatile business for making future projections, it will be supportive regarding the top line growth in our view.
Expense management is the main component of our bullish thesis in Bank of America. The bank has operated with a higher (worse) core efficiency ratio for years when compared to the peers. The management made it clear that it targets lowering total non-interest expenses to $53 billion by 2018 with continued progress on delinquent loan servicing and different initiatives across the company. The bank has reduced quarterly expenses (excluding litigation) by 4.8 billion from Q3 2011, making a 19 billion run rate, also the branch count was down to 4,600 from pre-recession level of 6,000. Given the current management's track record of solid control and increasing mobile penetration, it is very likely that the bank will overshoot its expense target.
Bank of America's CET1 capital improved $4 billion to $166 billion, taking up CET1 ratio by 40 bps to 10.9% while risk-weighted asset decreased approximately by $20 billion driven by reductions in global markets exposures and improvements in credit quality. We consider these developments as encouraging signs for the approval of a more investor-friendly capital plan. Considering the current extremely low dividend payments in Bank of America, we remain optimistic for 2017 CCAR results even though the Federal Reserve will toughen stress tests for big the U.S. banks.
Bank of America offers the highest potential for cost savings amongst mega-cap banks and is transitioning towards a higher margin business mix which should help its margins. The stock trades at 11.9x P/E, 0.68x P/BV for 8.6% ROATCE (12-month trailing). We maintain the Bank of America as relative overweight as we attractive upside in comparison to other financials. We revise 12-month horizon price target to $21.5 from the previous $19.8 which is based on the Gordon growth model that incorporates a 3% long-term growth rate, 10 % normalized ROATCE and 9% cost of equity. We maintain our buy rating as we see more upside risk than downside right now.
Disclosure: I/we have no positions in any stocks mentioned, and no plans to initiate any positions within the next 72 hours.
I wrote this article myself, and it expresses my own opinions. I am not receiving compensation for it (other than from Seeking Alpha). I have no business relationship with any company whose stock is mentioned in this article.