Let's get up to date on Philip Morris (NYSE:PM). The tobacco giant reported diluted EPS of $1.25, beating estimates by $.01. The negative impact of currency headwinds lowered diluted EPS by $.04 (from $1.29). The company missed on gross revenues by a rounding error. $30 million in revenues is a rounding error for Philip Morris. Great, you are up to date on most of the official numbers. Since those numbers were all close to estimates, we should move straight to things that matter.
Big Story
By far the biggest story moving forward for Philip Morris is the rollout of its iQOS product line. If you're not familiar with it, check out research on Philip Morris and iQOS. It appears from the research Philip Morris has completed so far, there may be an enormous decline in the risk to smokers using the iQOS line as opposed to traditional cigarettes. Making that claim fly with the regulatory bodies will take substantial work, but Philip Morris has technology that smokers enjoy and it dramatically reduces the amount of harmful contents sent into the smoker's body. The challenge is proving beyond doubt that the decline in harmful chemicals creates a decline in health problems. Seems stupid? Remember the "light" cigarettes? Tobacco companies are still paying for past sins. The burden of proof will always be on them.
The Manufacturing Problem
The iQOS product line ran into huge manufacturing problems. This isn't a manufacturing problem like the Samsung Note 7. The product functioned incredibly well, but PM simply didn't have sufficient capacity. It simply couldn't keep up with demand.
Philip Morris could have created a much higher price point for the stick, but that would have created a negative environment for new customers. Philip Morris is a tobacco company; it is not a "stick manufacturing company". Its profits are designed to come on the back-end, not the front-end. Rather than making money off of the stick, Philip Morris wants to make money off of the tobacco product that is sold as the filling for the stick. This is akin to companies manufacturing printers so it can make money off the ink sales.
Extremely Successful
Despite these problems, the iQOS product line has been extremely successful in Japan. Philip Morris decided to use Japan as the primary test market for its product. Over the course of the quarter, the average market share was running around 3.5%, but by the end of the quarter, it was already over 4% of the weekly volume of tobacco products sold in the market. See management's slide: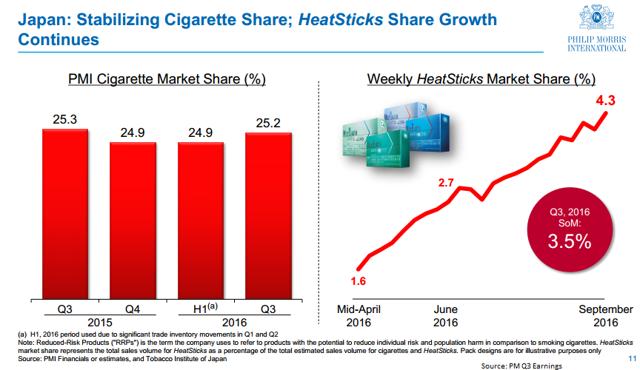 That is remarkable given the shortage on sticks was so substantial that limited edition models were selling online for 80,000 yen. Want a conversion? That is roughly $770 at current exchange rates. This is a product Philip Morris designed for selling at much lower prices as a way to get smokers to switch over to the new product line.
The problem with E-vapor technology (competing with iQOS) is that the experience sucks. The experience with the iQOS product line is so excellent that consumers were willing to pay a huge premium to get the device that would allow them to use the product. There is a very clear message here. Consumers are willing to pay a premium to have their tobacco experience and their health. They can improve their health with E-vapor alternatives, but that ruins the experience. If they wanted to get rid of the experience, they would just quit smoking.
Shrinking Market
The biggest challenge to tobacco products is the year-over-year decline in total tobacco volume. Total sales prices are moving higher, but the volume is declining. Increases in revenue have been primarily driven by growth in pricing per unit, with small gains in market share. The new technology should enable them to grow market share much faster. It may also reverse the long decline in shipment volume.
The incentive for smokers to quit smoking involves both the monetary cost and the health costs. If the health issues are marginalized, the incentive for quitting is much smaller. Some governments may choose to tax iQOS at the same rate as traditional tobacco products, but Philip Morris will have a much stronger lobbying position if its product is rapidly displacing sales of real cigarettes. If they can get favorable treatment as an alternative, it would give smokers a financial incentive to make the switch. Sure, the E-vapor products might receive similar regulation in the future, but a favorable reception from customers is critical. Would you rather own the company selling the product consumers want or the company that can meet demand because consumers are not demanding their product?
Conclusion
Philip Morris continues to shine through rapid expansion of the iQOS product line. It is continuing to grow earnings on pace with forecasts from both management and analysts. It is also developing an addictive product that is getting an overwhelmingly positive reception from smokers. How often do you see solid growth in earnings (granted, adjusted for exchange rates), products so popular they can't stock them fast enough, and a 4.3% dividend yield from the same company?
Is it any wonder Philip Morris is one of my largest holdings?
Disclosure: I am/we are long PM.
I wrote this article myself, and it expresses my own opinions. I am not receiving compensation for it (other than from Seeking Alpha). I have no business relationship with any company whose stock is mentioned in this article.
Additional disclosure: Information in this article represents the opinion of the analyst. All statements are represented as opinions, rather than facts, and should not be construed as advice to buy or sell a security. This article is prepared solely for publication on Seeking Alpha and any reproduction of it on other sites is unauthorized. Ratings of "outperform" and "underperform" reflect the analyst's estimation of a divergence between the market value for a security and the price that would be appropriate given the potential for risks and returns relative to other securities. The analyst does not know your particular objectives for returns or constraints upon investing. All investors are encouraged to do their own research before making any investment decision. Information is regularly obtained from Yahoo Finance, Google Finance, and SEC Database. If Yahoo, Google, or the SEC database contained faulty or old information it could be incorporated into my analysis.