Introduction
This article will be focused on Ralph Lauren (NYSE:RL) and its attractiveness as an investment. I will start with a brief company description and history that will talk about how it has got to this point. Then, I will get into what is behind the recent struggles of the underlying business and stock price.
I will look at both quantitative and qualitative factors to determine if RL represents a good value.
Company Description and History
Per Wikipedia, "For almost 50 years, Ralph Lauren's reputation and distinctive image have been consistently developed across an expanding number of products, brands, and international markets." What began with men's ties quickly expanded into other products such as a line of suits for women and a collection of women's apparel. The Polo Sport Line was introduced in 1993, and shortly after the company went public in 1997, its name was changed from Polo Ralph Lauren to just Ralph Lauren in order to better reflect its other brands.
In the last 10 years, the company has been the sponsor of major sports organizations, events, and players. Furthermore, it has outfitted the U.S. Olympic team since 2008.
A Company In Transition
Today though, Ralph Lauren is a company grappling with stagnant to declining revenues and depressed margins in what management calls a highly promotional retail environment. After earning $776M, or $8.43 per share, in FY 2014, RL saw its net income decline to $702M ($7.88 per share) in FY 2015 and $396M ($4.62 per share) in FY 2016. Revenue has essentially stagnated since FY 2014, as it has fluctuated between $7.4 and $7.6B. As a result, it has announced two separate restructuring plans, the "Global Reorganization Plan" approved in May of 2015 and the "Way Forward Plan" approved in June 2016. I will discuss these in a little bit with regards to its impact on recent operating performance.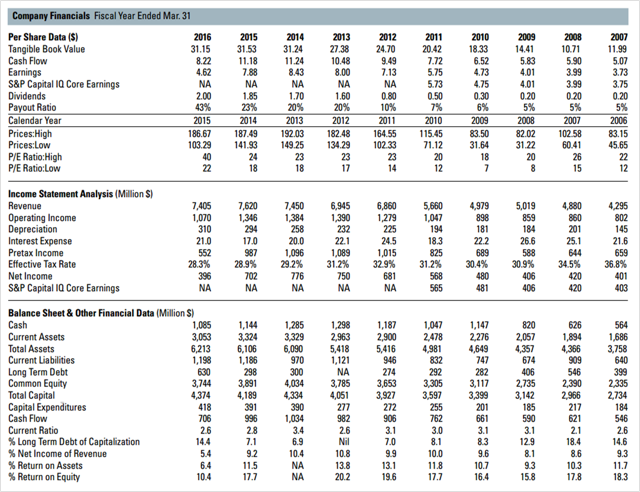 Source: S&P Capital IQ
This is a S&P Capital IQ report on Ralph Lauren obtained through my Fidelity account. It shows the last 10 fiscal years of financial data for RL. There a few things that stick out to me.
First, looking at the top three lines, we can see that tangible book value, cash flow, and earnings per share have grown nicely over time (until recently). That brings me to my next point: FY 2016 sticks out like a sore thumb in terms of operating performance. The picture this data represents is a company growing at a healthy yet consistent clip, with a slowdown in 2015 followed by a disappointing 2016.
There are a few other takeaways. RL has a conservative capital structure (Long-term Debt as a % of Capitalization hasn't risen above 20% in the past 10 years) as evidenced by its A2 credit rating from Moody's. Also, by looking at the bottom two lines we can see that RL earns a solid return on its capital. Over the nine years of data given, its ROA averaged a touch under 11%. Its ROE averaged about 17%. I'm pretty confident these returns exceed its cost of debt and cost of equity, respectively.
Coming back to 2016, revenue has not moved much in the past three years but the net profit margin has been the key source of struggle, and that can explain the large reduction in earnings. With that in mind, let's look at Ralph Lauren's valuation.
Valuation and Operating Metrics
I am going to use two different ways to judge the value of Ralph Lauren's stock. First off, I will use my personally preferred method and look at TTM earnings, three-year average, five-year average, and 10-year average earnings relative to today's price. By comparing this to the S&P 500 over the same intervals, as well as some competitors, we can get a good idea of RL's relative valuation. This can reduce the impact of a single year's earnings, whether extremely good or bad, and perhaps give a better idea of true valuation, in my opinion.
The other method I will use is to simply look at some normalized earnings for the most recent fiscal year and use that to get an idea for its relative valuation. These are two different ways (i.e. an "average" EPS and a "normalized" EPS) to get at the same desired result.
1. Here is a table that shows RL compared to the S&P 500 and two competitors:
| | | | | |
| --- | --- | --- | --- | --- |
| | TTM P/E | 3-yr Avg. EPS P/E | 5-yr Avg. EPS P/E | 10-yr Avg. EPS P/E |
| RL | 21.6 | 14.3 | 13.9 | 17.2 |
| S&P 500 | 24.3 | 21.2 | 21.9 | 25.9 |
| VFC | 19.6 | 20.7 | 22.0 | 29.6 |
| PVH | 13.4 | 23.6 | 22.7 | 30.8 |
For TTM EPS, YCharts was my source. I obtained annual EPS for Ralph Lauren, VF Corp. (NYSE:VFC), and PVH Corp. (NYSE:PVH) through S&P Capital IQ. For the S&P 500, I obtained annual EPS from multpl.com. The three, five, and 10-year average EPS used fiscal year data from the applicable time period. For stock prices, I used $2,100 for the S&P, $100 for RL, $55 for VFC, and $110 for PVH.
The point of the chart is not to say VFC or PVH are overpriced. After all, this is what a company with growing earnings will look like in when considering average earnings. The point of the chart is to highlight that the TTM P/E ratio quoted on most financial sites may not be indicative of RL's true valuation. Yes, current year earnings are depressed and this leads to a TTM P/E close to the S&P. But if we look at the average of RL's earnings over the last three, five, and 10 years, it looks significantly cheaper than the broader market.
The other way to go about this is to come up with a "normalized" EPS number for the most recent fiscal year. As I mentioned, RL has two restructuring plans in place. S&P Capital IQ pegs FY 16 normalized EPS at $6.36. If we now compare that to the approximate $100 per share RL trades at, now the P/E is 15.7. That looks cheap relative to its past 10 years and the S&P.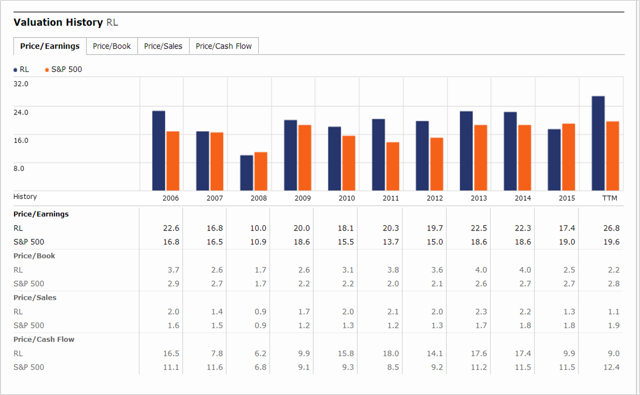 Source: Morningstar
As we can see, if we use this adjusted P/E of 15.7, it looks quite cheap. It was only lower on average during 2008. This is more consistent with the P/B, P/S, and P/CF as well. RL's price multiples are as low across the board as they have been since 2008. If we simply rely on the TTM P/E though (and note Morningstar has calculated a higher P/E than what I calculated using diluted EPS from YCharts) then it looks like RL is quite expensive.
Now to be sure, the negative trend in earnings has continued into FY 17 and management expects it to continue for the rest of the fiscal year. Per the most recent 10-Q, RL reported a net loss of $22M compared to net income of $64M in the year-ago comparable period. However, management notes that the combined restructuring charges had an after-tax impact on net income of $112M in 1Q-FY17 and $31M in 1Q-FY16. Adjusting for that impact, the most recent quarter would have seen an net income of $90M vs. $95M for the year-ago period. This is still a decrease, but this is more in line with the decrease in revenue and not what it appears on the surface.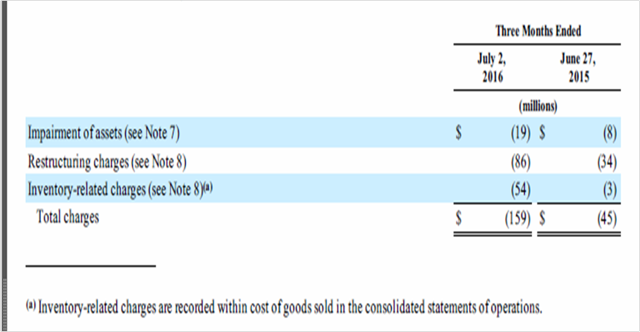 Source: Ralph Lauren 10-Q
Looking Ahead
So we know the business is transitioning. But what about the brand? Is the Ralph Lauren brand still strong? Consider this from Wikipedia:
"According to a study conducted in January 2016 by Millward Brown, their [Ralph Lauren] men's luxury is perceived as number one in power by the consumer and number three in premium, women's luxury is number one in power and number seven in premium, right behind Louis Vuitton, Polo is perceived as number one in power and number one in premium, and women's Lauren is number one in power and number one in premium."
See Millward Brown Wikipedia page also. Millward Brown is a market research firm, and part of its focus is brand equity research. It is wholly owned by WPP plc (NASDAQ:WPPGY) and is part of the world's second largest market research organization after Nielsen.
This is just one study, so you always need to be aware of that. But I think the main takeaway from this is that while the business is trying to adjust in today's retail environment, the brand remains strong. What steps is the company taking to bring the business to its full potential, though?
Recently, former CEO and founder Ralph Lauren hired Stefan Larsson to run the company. Stefan had previous stints at H&M and Old Navy, and his achievements at both companies have been well-recognized. RL stock saw a positive reaction upon the announcement of the hire, perhaps showing the respect investors have for Mr. Larsson. Note too that Gap (NYSE:GPS), where Mr. Larsson was leaving, saw its stock price drop by 6% (RL gained 12%). Now this is hardly what's important. What matters is how he runs the company in the long run. Nonetheless, it does show the value investors place on his capabilities as a leader.
The new CEO perhaps says it best in a New York Times article on July 8:
"I realized quite soon the brand is much stronger than the business,'' Mr. Larsson said. "That excites me. The brand is one of the few global iconic brands. We're going to build the business by going back to the core of what made the brand unique and original."
To me, this is encouraging. As I showed in my valuation analysis, expectations for the future are relatively low, whether you use the adjusted P/E I calculated, P/B, P/S, or P/CF. Looking at the Morningstar graph from earlier, if you average out the last 10 years you get an average P/E of about 19. S&P Capital IQ marks RL's average 10-year P/E at 20.4. That gives an investor not only the potential to participate in any increase in earnings per share over time, but also the tailwind of valuation.
Look for the new CEO, Stefan Larsson, to help lead RL to close the gap between the current business and the brand. Read more about him, along with the rest of management, discussing the specifics of the new restructuring plan on the most recent conference call. The goal for them is to be able to grow both revenues and profits sustainably over time, even if that means sacrificing both the top and bottom lines today. When that happens, the valuation gap between today and where RL has historically been should close as well.
Conclusion
A disconnect between the strength of the brand and the current business performance can be a good or a bad thing. It can be the sign of inept management that destroys shareholder value. But if you put a capable manager in the equation like Mr. Larsson, and you combine that with a company whose expectations for the future are quite low, then you have the potential for a great investment.
Looking forward, expect the restructuring charges to continue to weigh on results. Management stated that the Way Forward plan would expect to add $300M in cash charges and $100M in non-cash charges, with an additional $150M non-cash charge related to a reduction in inventory. Only about $150M in total has been recognized as of the most recent earnings report. Remember though to pay attention to the core results, because that's what matters in the long run.
Disclosure: I am/we are long RL.
I wrote this article myself, and it expresses my own opinions. I am not receiving compensation for it (other than from Seeking Alpha). I have no business relationship with any company whose stock is mentioned in this article.