Review
Earlier this week, I wrote an article published in SA that focused on the economic slowdown in world markets and growing global debt. At the conclusion, I suggested that investors should review important economic reports scheduled for later this week. I included the information from one of those reports, Economic Data From China, in an SA article yesterday.
Introduction
This article concerns a second report this week about policy decisions issued today by the European Central Bank.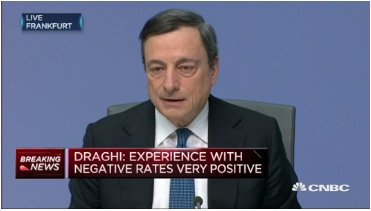 ECB: Pulling Out the Stops
Today, October 20, the ECB reported that it will not cut interest rates "holding them deep in negative territory while continuing bond purchases at 80 billion euros per month to take effect in April." The ECB has pulled out all the stops by cutting rates and expanding QE. Corporate bond buying will also be added to the bank's assets.
Draghi kept the deposit rate at minus 0.4 percent and maintained the ECB's guidance for rates to stay at their current negative level.
Going the Stimulus Route
If you fail to succeed, just keep doing the same thing again and again.
The ECB has provided unprecedented stimulus for years with sub-zero rates, free loans to banks and over a trillion euros in bond purchases, all in the hope of reviving growth and lifting inflation back to its target of just below 2 percent after more than three years of misses.
This signals a double-down approach where a QE extension rate may be coming as soon as December because this approach is predicated on "very substantial" money support. ECB economist Peter Praet has warned that, "a premature withdrawal of stimulus would stall and reverse the upswing, a further sign any tampering is well into the future."
Diminished Eurozone Growth
The 19 members of the Eurozone now average 2016 growth levels of 1.4 percent compared to 1.7 percent last December. This represents a 17.6 percent decline in growth over the last 10 months. It is difficult to anticipate further growth in the future with the path taken by the ECB today. Near-term forecasts support this contention.
Eurozone Growth Forecasts
This forecast is for average EU growth to increase by 0.1 percent between last December and 2018 in the face of continued massive monetary stimulus and negative interest rates in a climate of exceedingly low inflation.
Inflation Outlook
This may be optimistic since we are starting from 0.1 percent in 2016. It also does not meet the ECB target of near 2 percent inflation.
Opinion
I am not heartened by the ECB policies stated today. They have not worked before and smack of continued desperation trying to dig out of a hole that only gets deeper. This approach to the EU's economic woes is, in my opinion, a continued process of racing to the bottom in terms of currency manipulation and negative interest rates that can damage the eurozone's currently fragile banking system, which I have discussed in previous articles.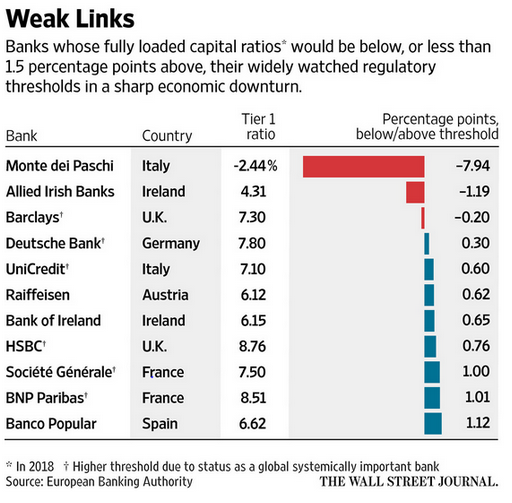 Takeaway
This article and yesterday's article are macroeconomic data I suggested readers review in terms of the first article in this series that was devoted to slowing world markets. As can be seen from the two follow-up articles, China's and the ECB's latest policies are to stimulate, stimulate, and stimulate. Stay tuned for this week's next economic response to slowing global growth.
Note: Thank you for reading and commenting. You can follow my articles on SA by clicking the circle button after my name at the top of the page.
The information and data that comprise this article came from external sources that I consider reliable, but they have not been independently verified for accuracy. The points of view expressed are my reasoned opinions, and not investment advice. I am not responsible for any investment decisions you make.
Disclosure: I/we have no positions in any stocks mentioned, and no plans to initiate any positions within the next 72 hours.
I wrote this article myself, and it expresses my own opinions. I am not receiving compensation for it (other than from Seeking Alpha). I have no business relationship with any company whose stock is mentioned in this article.