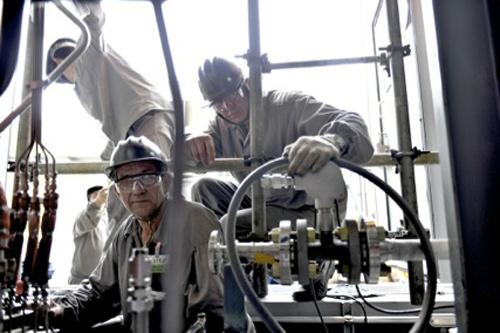 General Electric (NYSE:GE) reports Q3 earnings Friday morning. Analysts expect revenue of $29.6 billion and EPS of $0.32. The revenue estimate implies a 12% decline sequentially. The company is currently going through a period of transition. Management is in the process of divesting its financing arm (GE Capital). The following analysis will focus on GE's core industrial segment. Investors should focus on the following key items:
Energy Could Experience An Uptick
GE has gotten a lot of criticism for its foray into oil & gas. It was buying energy names when oil prices were $100 or higher. Now that oil is more than half off its Q2 2014 peak, the segment has been a laggard. The exposure added more cyclicality to the company's earnings stream, just as it was looking to shed GE Capital, which previously served as a hedge against cyclical downturns.
The company has an extensive presence in selling equipment and services to the subsea segment. However, its presence in North America land drilling could pay off in spades. Halliburton's (NYSE:HAL) North American operations grew 9% sequentially in Q3; I expect a robust performance from GE in this segment as well.
Industrials Could Weigh
Despite trillions in quantitative easing, central bankers have not been able to jumpstart the global economy. GE's core industrial businesses have underperformed as of late, and I anticipate anemic growth again in Q3. Core industrial revenue was up 7% Y/Y last quarter, but how much of that was actually organic?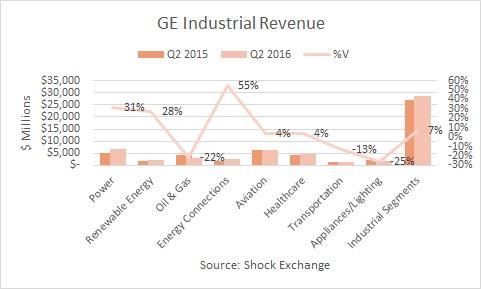 Management intimated that [i] orders for equipment and services fell 2% Y/Y and [ii] excluding the Alstom (OTCPK:ALSMY) acquisition orders were actually down 16%. Equipment orders were down 30% organically due to market pressure in oil & gas, power (27%) and aviation (37%).
In my opinion, investors might not be able to rely on growth through acquisition. Secondly, the industrial production index recently fell 1% Y/Y - the 13th consecutive month the industrial segment has contracted. That does not bode well for GE this quarter.
Conclusion
Avoid GE until it demonstrates sustainable organic growth.
Disclosure: I am/we are short HAL.
I wrote this article myself, and it expresses my own opinions. I am not receiving compensation for it. I have no business relationship with any company whose stock is mentioned in this article.