The irony in Wall Street is that rumors push stocks up, while facts push them down. That happened before Q3 earnings of Netflix (NASDAQ:NFLX) were released. It had been under rumors of an acquisition lately, based on nothing beyond the importance of Netflix to cable TV companies.
Disney, one the biggest among cable TV providers, is being rumored to have the biggest incentive to acquire Netflix. In the first part of this article, I will show why it's not possible for Disney (NYSE:DIS) to acquire Netflix. In the second part, I will show why Facebook (NASDAQ:FB) offering a deal will be the most probable.
Part 1: Why Disney won't/can't acquire Netflix
Most investors gave a high probability for this deal, based on the fact that Disney's ESPN is witnessing a worrying decline in subscribers and a move of ESPN sport games to Netflix will save the former and increase user growth for the later.
My view is different; Disney doesn't need Netflix to save ESPN. Disney has been focused on getting its network into more "skinny bundles" since its earnings report in Q4 2015. And these bundles will include ESPN, which means customers who are only interested in sports can subscribe to ESPN through "skinny bundles" at a lower price. In addition, it's not in Disney's interest to let ESPN be part of Netflix. Have you ever asked why Disney is tying WatchESPN to cable subscribers only? Because if it doesn't, a lot of subscribers will switch from the higher margin MVPD subscription to lower margin skinny bundles, which will kill the former.
In addition, Netflix isn't a threat to ESPN. It doesn't have the revenue stream to cover the expenses of buying sports rights (NFL, NBA, College Football, Soccer…), producing original content, and paying for content licensing all at once. ESPN and TNT are each paying $2.66 billion per year to have the rights to cover all NBA games till 2025. ESPN is also paying $1.9 billion per year for NFL rights for a contract that ends in 2021. Netflix, which is currently burning money at a rate of $1 billion per year, won't be able to cover such hefty payouts for many years to come.
Another reason used by investors to back the Disney acquisition theory is, synergies. They believe that by Disney providing content labeled as "original content" on Netflix (after the deal), it will reduce content production and licensing expenses of Netflix. Well, they miss the fact that at least $600 million of Disney's annual revenue which comes from licensing its products to Netflix will disappear, since that will be labeled as "intracompany sales". Of course that will be matched by lower expenses in Netflix, but taking 45% as gross margin for Disney, then gross profit will decrease by $270 million. Thus I don't see any kind of synergies between the two companies; instead I see a negative one for Disney. That's because a huge portion of Disney's content is being licensed to Netflix under the current deal.
Even if I'm wrong, and Disney's management finds that it's better off acquiring Netflix, can it buy Netflix at its current market cap? Let's do the math.
Disney can't use any of its current funds to buy Netflix, its current ratio is less than 1 and its total assets are $90 billion, with $35 billion of these assets are intangibles. So Disney needs to access the capital markets for funding the deal. Below, in the first table, I will show the effect of debt portion on Disney's cash balance. In the second table, I will show the effect of the deal on share dilution. I will assume that Disney needs to pay $50 billion for Netflix to accept the deal (assuming a 25% correction in NFLX stock price).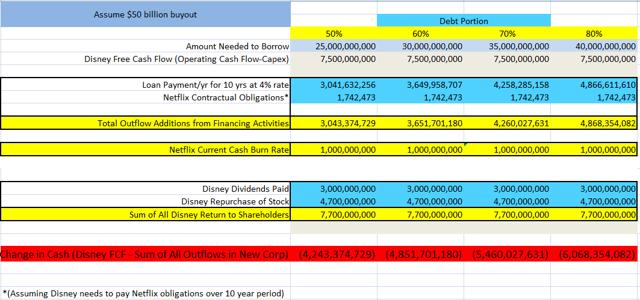 Buying Netflix for $50 billion would require Disney to burn between $4.2 billion and $6 billion, as a minimum, annually for the next 10 years. That will also include equity dilution between 6.76% and 16.9%.
This will have a big load on Disney on both basis, and I doubt Disney shareholders will let a deal pass through, if offered, at this price tag.
Part 2: Why Facebook is the best suited acquirer
Those who read my article: Why Facebook Is Ridiculously Overvalued, knew that the only thing, in my view, that justifies current Facebook valuation is its ability to acquire fast growing companies. I also talked about how I see Mark Zuckerberg as a visionary, who can expect the future in tech. And Netflix, without doubt, will change how we watch TV. It is currently having 86.74 million subscribers, with 5% expected increase in next quarter. Not to forget, how it showed its ability to know how to attract subscribers all over the world and choosing content that fit every country's culture.
In addition, Facebook has the ability to acquire such company; the market cap of Netflix is less than 14% of that of Facebook.
Moreover, Facebook has a history of acquiring companies with heft price tags. It acquired Whatsapp for $22 billion in 2014 when Facebook's market cap was just $160 billion. Also it made offers to Twitter (twice, before its IPO), and Snapchat. It is clear that Zuckerberg loves tech brand names, and is willing to pay huge premiums to put them under Facebook's umbrella. And it seems this strategy is working for Facebook, till this time.
There is also a catalyst which can push this deal, its Netflix CEO Reed Hastings. Hastings also serves on Facebook's board since 2011. This close relation with the company, can push a deal whenever Netflix is in need to (if its financials continue that way, it will need help soon). Tesla (NASDAQ:TSLA) and SolarCity (SCTY) are an example of how personal relations can affect M&A.
Conclusion
I think a near term offer for Netflix, while trading at these high multiples, won't happen. If Microsoft latest acquisition taught any M&A actors a lesson, it was to let price drop before making any offer. And that's what will happen with Netflix, companies which are hoping to acquire Netflix will wait for a surprising quarter accompanied with a severe decrease in stock price, to offer Netflix a deal. But even at these high multiples, I don't remove the possibility of Facebook trying to acquire Netflix. Since, like I stated in my previous article about FB, the company needs to diversify its source of revenue and Netflix will do this job perfectly.
Disclosure: I/we have no positions in any stocks mentioned, and no plans to initiate any positions within the next 72 hours.
I wrote this article myself, and it expresses my own opinions. I am not receiving compensation for it (other than from Seeking Alpha). I have no business relationship with any company whose stock is mentioned in this article.