Insider Buying Reported at Pure Gold Mining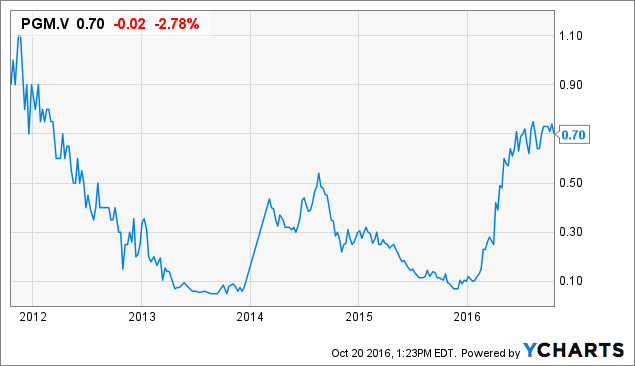 Insider buying activity has picked up a bit at junior gold company Pure Gold Mining (OTC:LRTNF), which I think is a really good sign for shares.
Previously, I listed Pure Gold Mining as one of five gold exploration stocks I felt investors should put on their radar. I said I felt Pure Gold's high-grade Madsen gold project was much larger than the current resource base, and also pointed towards Pure Gold's strong management team as a reason to own the stock. I also thought heavy insider ownership was a good sign, as well as a 10.7% ownership position by major gold miner AngloGold Ashanti (NYSE:AU).
Here, I'll break down the recent insider trading activity at Pure Gold, and give my current thoughts on the stock.
Insider Buying Activity
As a reminder, insider trading activity is public information which you can find through searching SEDI filings (the system used for stocks listed on the Toronto Stock Exchange, where many gold and silver miners are listed). Investors can also use CanadianInsider.com to search for recent insider trading activity. For U.S. companies, insider trading activity can be found in an SEC Form 4.
Here's a summary of recent filings at True Gold:
- On Oct. 17, Mark Gerard O'Dea purchased 200,000 shares at $.72 per share in the public market. O'Dea is a director at Pure Gold and is most well known for being a cofounder and CEO of Fronteer Gold, a company that was sold in a deal to Newmont Mining (NYSE:NEM) in 2011 in a $2.3 billion deal, which included the spin-out of a new company called Pilot Gold (OTCPK:PLGTF).
Most recently, O'Dea served as executive chairman of True Gold Mining (OTCQX:RVREF), which was sold in a deal to Endeavor Mining (OTCQX:EDVMF). I think it's very important to note that O'Dea was buying shares of True Gold hand-over-fist at prices between $.165 and $.167 before that company was later taken over by Endeavor at a price of $.57 per share.
- On Sept. 7, Robert R. McEwen exercised 6 million warrants to acquire common stock at a price of $.50 per share, but there are no records of McEwen selling any of that exercised stock.
McEwen is a major shareholder of Pure Gold through his fund Evanachan Limited. He is the chairman, CEO and 25% owner of his company McEwen Mining (NYSE:MUX), a $1 billion gold miner.
Heavy insider ownership from McEwen is a good sign in my opinion, as he is well respected and has a ton of experience in the gold mining sector.
- On Sept. 6, Sean Allan Tetzlaff purchased 120,000 shares at $.50 per share, an acquisition that was carried out privately. Tetzlaff is the CFO and corporate secretary at Pure Gold Mining.
Is Pure Gold a Buy?
Pure Gold's 100% owned Madsen gold project in Red Lake, Ontario, Canada is one of the highest grade undeveloped gold deposits in the world. The resource currently carries indicated resource of 928,000 ounces of gold at 8.93 g/t and an inferred resource of 297,000 ounces of gold at 11.74 g/t. The mine historically produced 2.5 million ounces of gold at average head grades close to 10 g/t.
Besides the location and the high-grade resource, another benefit is the fact that Madsen is a historically producing gold mine with permitted mine infrastructure. This $200 million worth of infrastructure (according to the company) includes an existing mill, shaft and a permitted tailings facility, which is expected to save the company on upfront capital costs.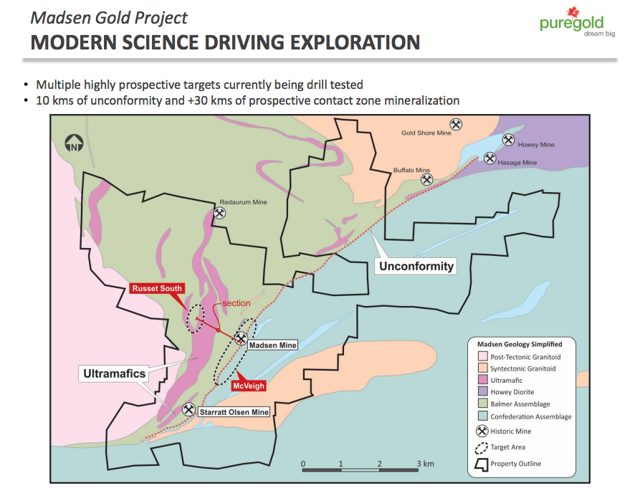 (Credit: Pure Gold corporate presentation)
But, I think it's clear based on drilling that there's a ton of exploration upside here as multiple gold targets are open for expansion. Recently, the company announced it would substantially increase its 2016 exploration work at Madsen with the addition of 26,000 meters of diamond drilling, which looks like a smart move.
Then just a few days following that announcement, Pure Gold said it intersected some pretty high-grade gold mineralization at the Starratt target (see map above), which is a Madsen-style exploration target associated with the historic Starratt Olsen Mine (this target is located 2.2 kilometres south of the Madsen No. 2 Shaft). Drill results included 34 g/t gold over 11 meters, 104.1 g/t gold over 3 meters, and 69.2 g/t gold over 1 meter. Other high-priority targets include Russet South and McVeigh (50.2 g/t gold over 4 meters reported on Sept. 6). I expect the Madsen resource base to expand based on these drill results.
According to a preliminary economic assessment, using existing infrastructure and a portion of the mineral resource, the project carries a pre-tax net present value (5% discount) of $104 million, with an internal rate of return of 74%. With initial capital requirements of just $20 million. But it's important to note that this PEA only shows total gold production of ~260,000 ounces over a 6.5 year mine life at an average diluted head grade of 8.3 g/t gold, when in fact we know that Madsen actually contains much more gold than that (and possibly much more if drilling continues to be successful).
Pure Gold certainly has had a nice run this year, as the stock is up 508% year-to-date (yes, you read that correctly), compared to a 79.4% gain in the benchmark gold miners index (NYSEARCA:GDX).
However, the stock could have much more room to run if Pure Gold continues to intersect new high-grade gold mineralization at Madsen. If the company is eventually able to deliver a multi-million ounce high-grade resource at Madsen, and then show stronger economics in an updated preliminary economic assessment or a pre-feasibility study, the company will likely be worth well more than its current $120 million market cap on the TSX.
The bottom line: The heavy insider buying at Pure Gold gives me more confidence in the company and the potential for a takeover at some point in the future. This is one gold explorer that investors need to add to their portfolios. However, I would recommend exercising some patience here, only adding shares on future pullbacks.
Disclosure: I am/we are long PLGTF, EDVMF.
I wrote this article myself, and it expresses my own opinions. I am not receiving compensation for it (other than from Seeking Alpha). I have no business relationship with any company whose stock is mentioned in this article.
Editor's Note: This article covers one or more stocks trading at less than $1 per share and/or with less than a $100 million market cap. Please be aware of the risks associated with these stocks.