Things have been going pretty well for Oasis Petroleum (NYSE:OAS) lately. On October 18th, the management team at the company announced a few different measures that they believe will help the business perform better in the long run and add shareholder value, as well as a piece of news that, while wouldn't have been material if matters had worsened, was a sign that the oil market's turnaround this time is probably real. In what follows, I will dig into the data and give my thoughts on what it means for the firm moving forward.
An acquisition!!!
On October 18th, Oasis announced that it would be buying up some assets in the Williston Basin from a company called SM Energy Company (NYSE:SM) in a deal valued at $785 million. If management is correct about the deal, the properties involved are estimated to have 50.2 million boe (barrels of oil equivalent) of proved reserves, with 63% of those (or 31.6 million boe) being proved developed. Of this property, it's estimated that 77% of the reserves are oil.
These properties, which represent 55,000 net acres and have 226 gross drilling locations, are slated to produce a great deal of energy for the company moving forward. Based on management's forecasts, it should be producing around 12,400 boe per day in the fourth quarter this year. To put this in perspective regarding how significant this is for the firm, we need only look at the image below:

*Taken from Oasis Petroleum's Website
Bring on the shares!
In order to afford this acquisition, management decided, at first, to issue 40 million shares plus another 6 million should underwriters choose to buy them. However, on the same day this news broke, the firm increased the size of the offering to 48 million shares plus an underwriter's option of 7.2 million. Without factoring in underwriter discounts, fees, commissions, etc. ..., the company should see net proceeds of around $596.16 million, valuing the shares at $10.80 per share.
While this will help to alleviate concerns regarding increased debt for the company, there are some problems. First, if the underwriters exercise their shares, then shareholders of Oasis stock prior to the issuance will be diluted by about 23.4%, meaning that if the firm recovers moving forward, the ultimate price of the acquisition may not have been worth it. Second, some debt will still be required for the deal and, as we saw in their press release, Oasis did increase its debt outstanding recently. As of the end of September, the company had $2.248 billion in long-term debt, up $121 million from the $2.127 billion seen at the end of its second quarter. An area where Oasis saw the increase was under its credit facility, the company raising its borrowings from $35 million in the second quarter to $195 million now.
Revised guidance
The last key issue touched upon involves Oasis's guidance for 2016. I had previously written an article about the firm's projected cash flow for this year, as well as every year through 2019, but I got busy and never submitted it. I do plan on incorporating these new pieces of data into my model and submitting another article on the topic in the foreseeable future but I need to spend some extra time looking over a couple of things first.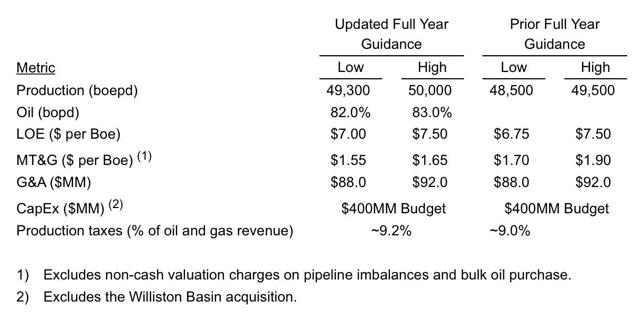 *Taken from Oasis Petroleum's Website
In the image above, you can see Oasis's updated guidance for this year. While management intends to see production average 49,650 boe per day this year, up from 49,000 boe previously, some costs items changed. For instance, lease operating expenses this year should average $7.25 per boe, an increase from the prior estimate of $7.125 per boe. Though this is negative, this should be more than offset by a reduction in MT&G expenses, which should now come in around $1.60 per boe, a drop of $0.20 per boe from the last forecast of $1.80 per boe. Also, in the image below, you can see an updated hedge picture for the company.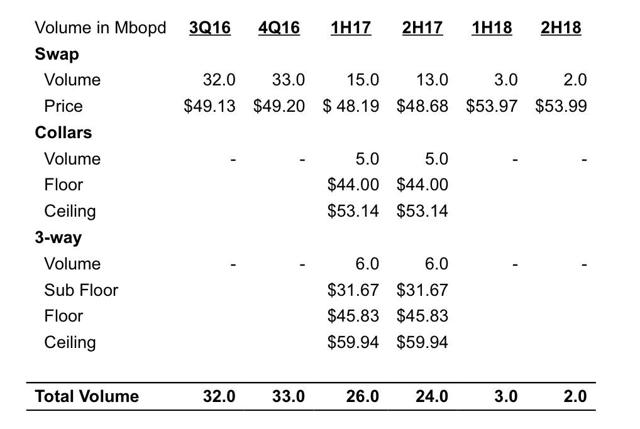 *Taken from Oasis Petroleum's Website
Takeaway
Based on the data provided, it looks as though management is being pretty innovative right now. It will take some time (probably until early next year) until we know the full impact of its acquisition but since management was able to acquire the properties largely with a share issuance, there will be limited (but not zero) impact on the company's interest expense and leverage. Of course, if shares end up surging in the long run, this could come back to bite the firm but the fact that such a large acquisition took place is a sign, to me at least, that management is planning to keep operations running in the long run, not expecting a worst case scenario.
Disclosure: I/we have no positions in any stocks mentioned, but may initiate a long position in OAS over the next 72 hours.
I wrote this article myself, and it expresses my own opinions. I am not receiving compensation for it (other than from Seeking Alpha). I have no business relationship with any company whose stock is mentioned in this article.