The tobacco industry grabbed the headlines in early trade on Friday as it emerged that British American Tobacco (NYSEMKT:BTI) had proposed to acquire the 58% it doesn't already own in Reynolds American (NYSE:RAI).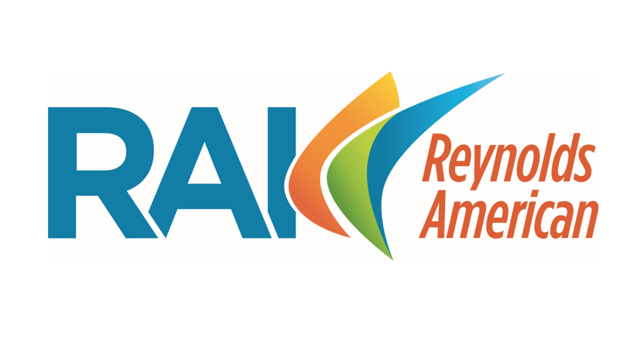 Proposal
Reynolds has not received a formal offer as yet, and the suitor "has been unable to have prior negotiations with Reynolds regarding the proposal."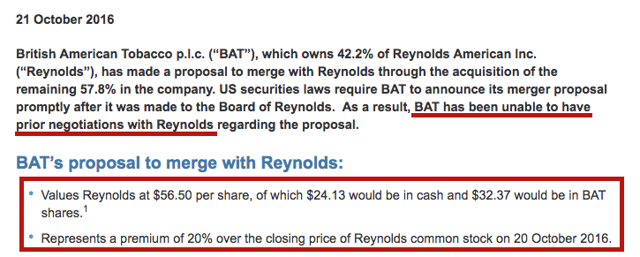 (www: bat.com)
British American said that the proposed transaction would be "effected through a US statutory merger in which Reynolds shareholders, other than BAT, would receive $24.13 in cash and 0.5502 BAT shares for each of their Reynolds shares."
In pre-market trade, RAI surged close to the proposed price of $56.50, which includes a cash component as well as a stock element. The funding mix is properly balanced, in my view, given the relative valuation of British American stock against Reynolds'.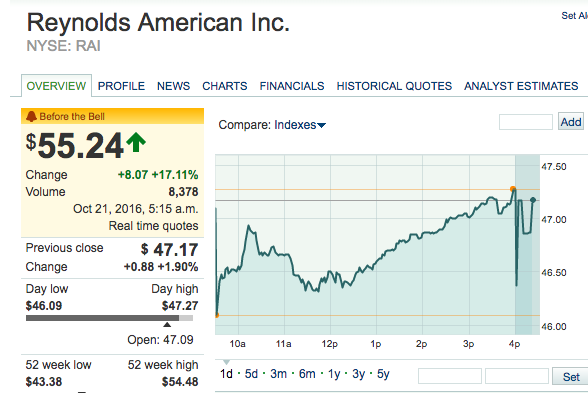 Nonetheless, RAI shareholders run the risk of being short-changed, although the cash/stock mix of the deal is appealing, and British American should be a core holding in any income growth portfolio.
Premium
The proposal values Reynolds' equity at $80.5bn, and its enterprise, which includes net debt, at $93bn.
The implied pre-synergy EV/EBITDA take-out multiple is 16x on a trailing basis ("LTM EBITDA to 30 September 2016"), which might be enough to carry the deal over the finishing line.
However, British American's move is clearly opportunistic, given that it comes just over three months after RAI hit a 52-week high of $54.48, but has since fallen to $47. Its third-quarter results contributed to that drop as management lowered guidance for volumes, which have been under pressure for a few years.
Comparisons on a trailing basis are difficult because Reynolds has changed a lot in recent times. For example, The Wall Street Journal noted earlier this year "that it reported a 42% increase in first-quarter sales, driven by last year's $25bn acquisition of Lorillard Inc. and its Newport cigarette brand."
Nonetheless, any premium for Reynolds should buy enough earnings growth to reach agreement on a final offer where $56.5 a share should be only the starting point of any negotiation, given the organic growth rate of Reynolds over the past few years, how it is faring in a difficult market and considering its growth prospects, as well as assuming constant trading multiples over the medium term.
Equally important, there is a paucity of sizable tobacco assets around the globe, so the premium must be at least 30% on Reynolds' closing price on Thursday, in my view. That would imply a fair price, especially based on cash flow multiples.
Of course, if the deal goes through assets disposals might be in order to satisfy regulators, but they'll be easy to execute. The tobacco industry is one of the most consolidated sectors worldwide and commands an M&A premium against other consumer-related sectors, although the beer industry has caught up in recent times.
Size
In the wake of the announcement, Alliance News pointed out that:
If Reynolds accepts the offer, the combined business would create the world's largest listed tobacco company by net revenue and operating profit. BAT is currently the world's second largest quoted tobacco group by market share, and combined with Reynolds would have a market capitalisation of just over $160bn, overtaking US tobacco rival Philip Morris International which has a market cap of $147bn."
When it comes to growth, or lack thereof, British American's financials show the extent of the problem.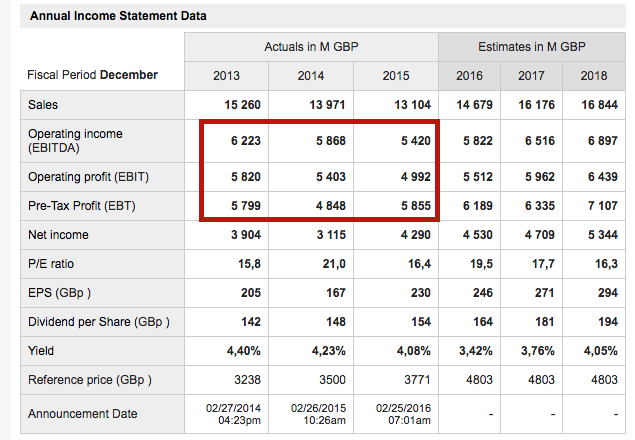 (Source: 4-traders.com)
British American has found it difficult to grow in a market where regulatory risk is harder to model than in the past while innovative products continue to jeopardize tobacco makers' core business lines.
Although Reynolds might need British American more than British American needs Reynolds, the UK-based suitor doesn't have many other options than chasing inorganic growth and precious cost synergies.
So, size matters and the price must be right -- inevitably, the same applies to Imperial Tobacco (OTCQX:ITYBY), the other tobacco maker that could be on the auction block as soon as this year.
Disclosure: I/we have no positions in any stocks mentioned, and no plans to initiate any positions within the next 72 hours.
I wrote this article myself, and it expresses my own opinions. I am not receiving compensation for it (other than from Seeking Alpha). I have no business relationship with any company whose stock is mentioned in this article.