In my previous article on Microsoft (NASDAQ: MSFT) titled Intel, Microsoft and Cisco Are Poised To Jump Higher, I had said the following for Microsoft:
The stock has a target price of $65 in a time period of 9-12 months. It is only a matter of time before we see fresh all-time highs.
As we can see from the extremely positive post-market response (shares are up more than 5 percent to $60.27) to the company's Q1'17 earnings, I believe that Microsoft will achieve the expected price target sooner.
Q1 2017 is Microsoft's big quarter. The software giant reported Q1'17 EPS of $0.76 (beating by $0.08) and revenue of $22.3 billion (beating by $590M). But, apart from this, there are several positives as well, which the market seems to be cherishing.
Microsoft has returned $6.6 billion to shareholders in share buybacks and dividends in the first quarter of 2017. The company has also reported that it is right on track to complete its $40 billion share repurchase plan by December 31, 2016.
Microsoft's big bet on Azure is paying off well. On a GAAP Y/Y basis, Azure recorded an increase of 116% in revenues, which on a constant currency basis improves to 121% (non-GAAP).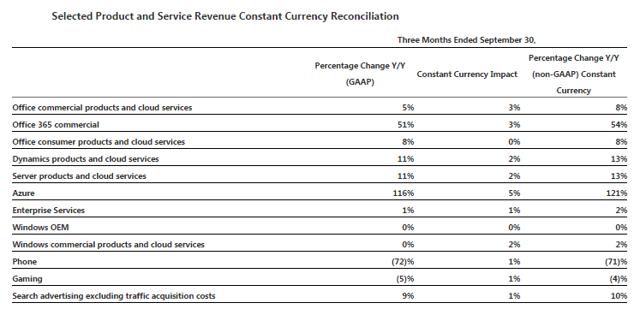 The company has been investing heavily in cloud infrastructure, and that seems to be working in favor. Microsoft had on October 3 made an aggressive move to capitalize on the growing demand by cutting down Azure prices.
Microsoft CEO Satya Nadella had then said,
We continue to invest heavily in cloud infrastructure to meet the growing demand from European customers and partners. Building a global, trusted, intelligent cloud platform is core to our mission to empower every person and organization on the planet to achieve more. There's never been a better time for organizations across Europe to seize new growth and opportunity with the Microsoft Cloud.
The prices were made effective from October 1, and therefore, we may see huge demand for Microsoft's cloud service in the coming quarters as well.
Now, I would like to draw your attention towards a key fundamental metric - Cash Flow From Operations. As can be seen from the information below, Microsoft has reported a hefty 30 percent rise in the CFFO in this quarter. The company has reported an operational cash flow of $11,549M in Q1'17, compared to $8,876M a year ago.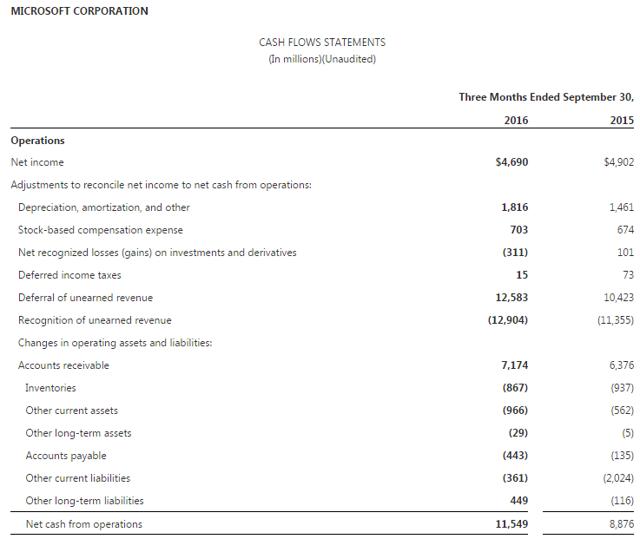 But, this is not all. The massive jump in CFFO has taken the value to a high not seen since 2008. YCharts has not been updated to include the latest data, but the chart below serves the purpose.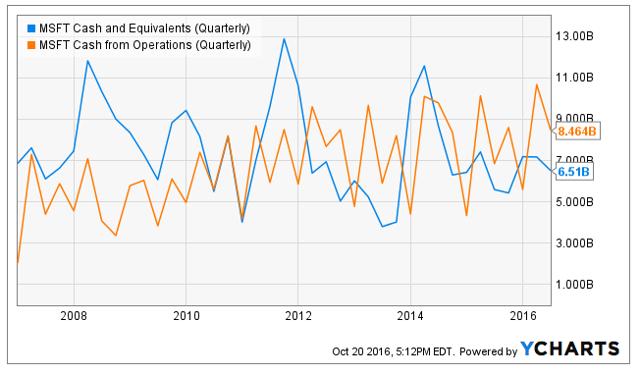 At the end of Q4'16, MSFT's cash and equivalents totaled $6.51 billion, as is evident from the data above. At the end of Q1'17, the company's cash reserve has swollen by 114 percent to $13,928M. On a YoY basis, the growth is a staggering 156 percent.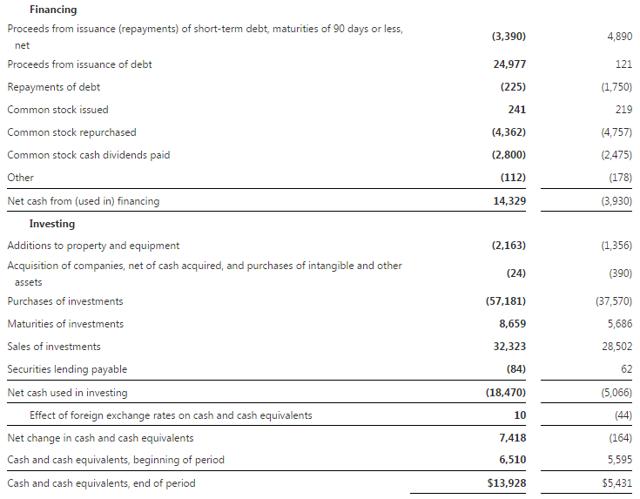 Conclusion
The management is doing everything correct. It is being aggressive in the face of fierce competition, it is building its cash reserve, and it is being shareholder-friendly, all at the same time.
The company's strategy on cloud is working nicely in its favor. With Azure prices slashed in October and demand robust, Microsoft should find it easier to bring in more cloud revenues.
I reiterate my bullish view on the stock with a target price of $65 per share.
Next - Intel: Absolutely Nothing To Worry About
Disclosure: I am/we are long MSFT.
I wrote this article myself, and it expresses my own opinions. I am not receiving compensation for it (other than from Seeking Alpha). I have no business relationship with any company whose stock is mentioned in this article.