Halliburton Company (NYSE:HAL) has surprised the market with strong Q3 performance and offered a multifaceted discussion of the state of oilfield services. The main themes are the difference in speed of recovery depending on geography and the variation in anticipated rates of investment in different oil production styles.
Being overweight North American business expected to be beneficial
While exploration and production (E&P) in North America is already experiencing a recovery, a decline is still ongoing internationally. In the US, pressure pumping fleet utilization at 70% in Q3 was a major step-up from Q2, even as the equipment market remains oversupplied. Contributing to both Q3 results and to continuing optimism, small pricing increases were seen "not in the Permian but maybe some of the basins where equipment has migrated out of".
In contrast, the international market continues to experience both pricing pressure and declining activity outside of the Middle East. This is why the Q3 earnings release showed an improvement domestically and a continued deterioration internationally. The historical tendency has been for the international market to lag six to nine months behind the domestic market. Looking ahead, still lower margins are expected internationally in the next two to three quarters, with the international rig count anticipated to bottom in H1 2017.
A focus on domestic onshore unconventional E&P likely to pay off
Halliburton's business covers all production styles: conventional and unconventional, onshore and offshore, shallow water and deepwater. Based on the discussion during the conference call, much attention is now devoted to the domestic onshore unconventional market. It is the first to see recovery, judging by the increased rig count. In contrast, "deepwater remains structurally challenged with higher costs and long duration project characteristics", leading to worse economics via the time value of money. The firm claims to "now have the highest market share we've ever had" in the US.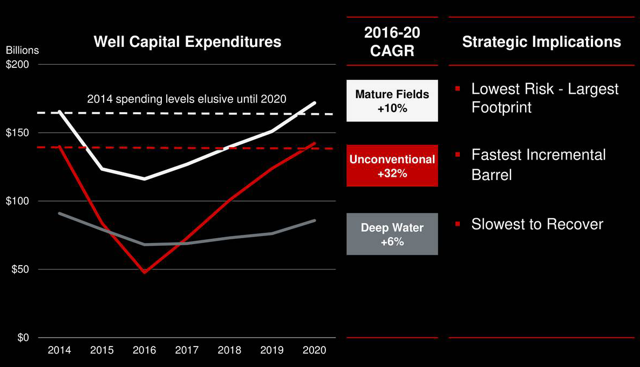 (Source: Halliburton's presentation at Barclays CEO Energy-Power Conference September 2016)
"Drilling and Evaluation" versus "Completion and Production": remember the DUCs
Besides the difference in the geographic spread of business, oilfield services firms also differ in proportions of revenue they derive from the two stages of building a well: the first including reservoir characterization [to use Schlumberger Limited (NYSE:SLB) terminology] and drilling, and the second including completion (including hydraulic fracturing) and production.
Pertaining to the second stage, there is a massive overhang of drilled but uncompleted (DUC) wells in every major basin in North America.



(Source: EIA)
It is cheaper to frack and complete a DUC as the expense of drilling a well, roughly a quarter of a completed well's price, is a sunk cost that has already been incurred. Depending on the pace of recovery and especially if oil remains range-bound, the DUC inventory will be worked through first. It is the completion and production segment that works with E&P companies as they go through their DUC inventory.
In the Q3 earnings announcement, revenue-wise, completion and production performed better than drilling and evaluation, the revenue of the former increasing 3% and the latter declining 4%. The interpretation is that drilling is down, but more wells are being completed as oil and gas producers are working through their DUC backlogs. This is illustrated by the following exhibit, showing the 2015 to early 2016 build-up of DUCs compared to the number of wells being completed turning recently into a decline.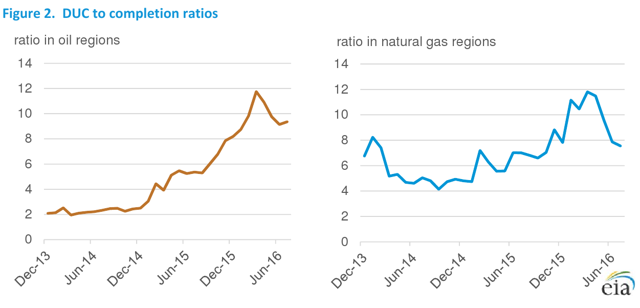 (Source: EIA)
Halliburton, Baker Hughes or Schlumberger?
The takeaways from the above are that to benefit first from recovering oil prices, an oilfield services company would be most heavily weighed towards North America. As to the functional segment, it would be best to over-weigh completion and production.
Geographically, Halliburton's revenue is heavier-weighted towards North America (43%) than that of either Schlumberger or Baker Hughes Inc. (BHI) which derive domestically 25% and 28%, respectively, of their worldwide revenue. Halliburton's North American overweight was the stated reason for the bullish call made by Evercore ISI on August 31. However, there are more reasons to be bullish.
Halliburton is heavier-weighted towards completion and production than Schlumberger, deriving 57% of revenue from this segment compared to 34%. This will incrementally benefit Halliburton in the initial stages of recovery, as companies work through DUC inventory in relative preference to drilling new wells. It also offers Halliburton relative safety compared to Schlumberger in the event of another slump in oil prices.
At 56% of revenue, Baker Hughes is also more heavily weighted towards completion and production than Schlumberger. However, Baker Hughes does not project the image of company positioned optimally. According to its Q2 2016 Form 10-Q:
In an effort to improve our return on invested capital, ... we have begun the process of reducing certain product offerings in specific markets ... we have decided to retain a selective footprint in our U.S. onshore pressure pumping business centered in two basins.
A concern about badly squeezed margins
One point of note is that buying Halliburton today probably means expressing a view on the reversion of profitability towards its historical norm. In this article, I highlighted North America versus other areas, and completion and production versus drilling and evaluation. It is exactly North America and the completion and production segment where margins and consequently, operating profits have suffered horribly so far this year.
North America, while seen as being the first to recover, is nonetheless the only geographical segment that reported operating losses in the past three quarters, compared to a drastic reduction of profit in Latin America and a reduction in half (which looks very good in comparison) of operating profits in Europe/Africa/CIS and Middle East / Asia. The following exhibit shows operating income in recent quarters in North America and the rest of the world.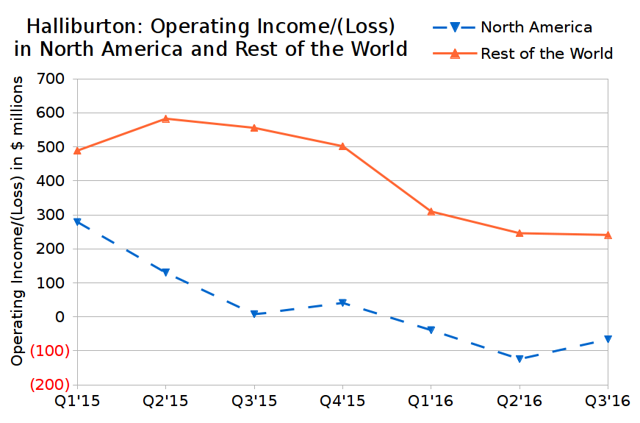 (Source: data from Halliburton's Q3 2016 update of Quarterly Geographic Results)
Between the functional segments, while profit from drilling and evaluation has shrunk in half compared to Q3 2015, the average profit of completion and production in the first three quarters this year has only been 5% and in Q3, one seventh, of profit earned in Q3 2015. The dismal performance of completion and production as compared to drilling and evaluation is illustrated by the following chart.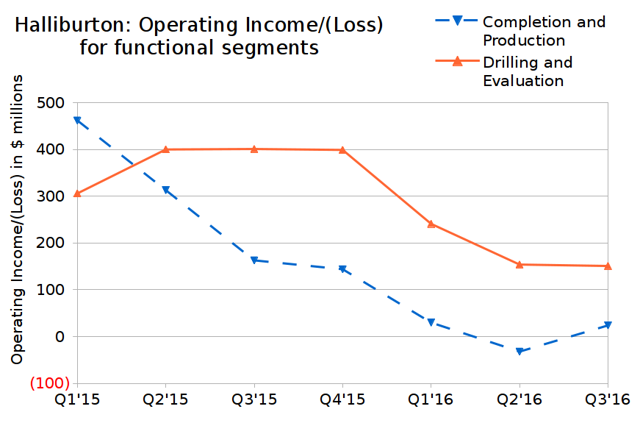 (Source: data from Halliburton's Q3 2016 update of Quarterly Segment Results)
Being bullish on the company and not just its share price does mean believing in the future reversal of badly squeezed margins in North America geographically and Completion and Production, functionally.
Conclusion
The greater relative weight of North America in the geographic mix of business, and the larger proportion of revenue derived from the completion and production segment give Halliburton a better chance to be the first to benefit from recovering oil and gas markets, ahead of Schlumberger and Baker Hughes.
Note from author: Thank you for reading. If you like this article, please follow me by clicking the "Follow" link at the top of this page and choosing "Real-time alerts on this author" to be informed of my latest ideas.
Disclaimer: Opinions expressed herein by the author are not an investment recommendation and are not meant to be relied upon in investment decisions. The author is not acting in an investment, tax, legal or any other advisory capacity. This is not an investment research report. The author's opinions expressed herein address only select aspects of potential investment in securities of the companies mentioned and cannot be a substitute for comprehensive investment analysis. Any analysis presented herein is illustrative in nature, limited in scope, based on an incomplete set of information, and has limitations to its accuracy. The author recommends that potential and existing investors conduct thorough investment research of their own, including detailed review of the companies' SEC filings and consult a qualified investment advisor. The information upon which this material is based was obtained from sources believed to be reliable, but has not been independently verified. Therefore, the author cannot guarantee its accuracy. Any opinions or estimates constitute the author's best judgment as of the date of publication and are subject to change without notice. The author explicitly disclaims any liability that may arise from the use of this material.
Disclosure: I/we have no positions in any stocks mentioned, and no plans to initiate any positions within the next 72 hours.
I wrote this article myself, and it expresses my own opinions. I am not receiving compensation for it (other than from Seeking Alpha). I have no business relationship with any company whose stock is mentioned in this article.