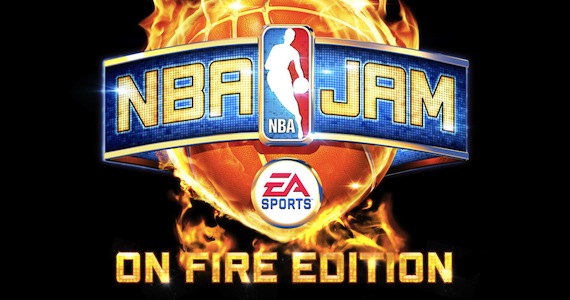 Source: EA Sports
Millennial readers might recognize the above reference to the video game "NBA Jam," wherein a player makes three consecutive shots and is then "on fire'" -- meaning he can't miss. Pipestone is a Montney-focused area of development where things are really heating up for producers, and the risk/reward balance is tilting in investors' favor. Producers are starting to develop a "hot hand" with more well control and upward-moving natural gas prices -- this means good things for investors. I see three distinct ways to play the area:
Blackbird Energy (OTCPK:BKBEF) -- this company is a small-cap in pre-production, but is very land rich (86.75 sections). It has $31M in positive working capital and several key catalysts around the corner.
NuVista Energy (OTCPK:NUVSF) -- this is a mid-cap producer at ~25,000 boepd. It recently highlighted its 12.5-section land block as one capable of producing 10,000 boepd for 10 years.
EnCana Corp. (NYSE:ECA) -- this is, by far, the largest market cap among the three, but also the furthest along in its development with >50 wells drilled, many of them off of pads. With the most data, we look to EnCana as being the most knowledgeable on the play -- and when they say "volatile oil" window and more than 250 bbl/mcf with a resource of 45mbbls/section of just oil, we listen.
By way of background, the greater Pipestone spans about six to seven townships in Alberta, Canada. The play generally runs NW-SE and the western flank is showing to be particularly liquids-rich at upward of 250 bbl/mcf. Relative to greater Kakwa (the south) and Kaybob (further south), Pipestone is unique because it has not been heavily developed by producers. In fact, producers are only now delineating the corners of the play, with increasing results at each iteration. Because of its early development history, this makes Pipestone a key area of growth in the WCSB and one that investors should keep an eye on.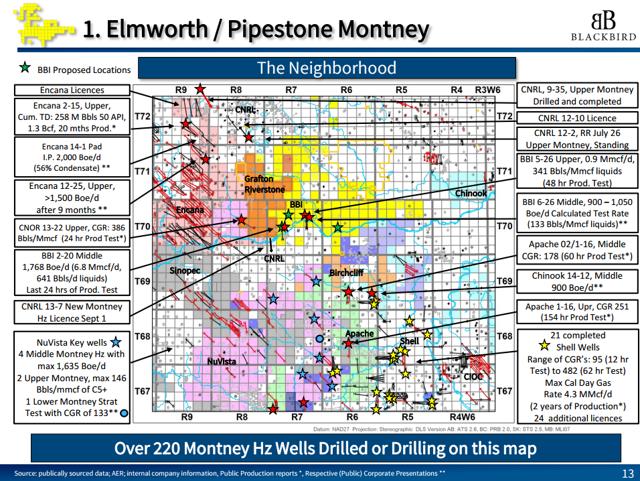 There are a couple key leading indicators of prospective resources-in-place when looking at oil and gas assets/companies. Smart investors and keen landmen's proclivity will be to look for rising land prices on account of geologists prodding their upper-management teams about potential play horizons and gas/oil/liquids resources-in-place. I would tend to call this the first and second innings of the figurative Montney baseball game. The land rush in the greater Pipestone area started in 2012-13, and has tapered off somewhat as producers have bought most of the prospective rights and done some form of delineation to get comfortable with the asset.
The other big tip-off for the size and scale of a prospective resource are the facilities that producers/mid-streamers plan to build to service said lands. While land prices can, and have, run $0.5-3.0m/section, the cost of facilities often runs 10x-100x that cost, depending, of course, on the desired throughput and liquids handling capability (i.e., turbo expander, etc.). If a producer -- either on its own or with a mid-streamer -- decides to deploy significant non E&D capital to an infrastructure project, then we as investors know they are holding a hot hand. This, in our baseball analogy, might be considered innings three through five, and preempts a development-growth mode where tremendous value appreciation can occur.
In the greater Elmworth/Wapiti/Pipestone area, we have hints of massive capital outlays that would not be undertaken if the size of the prize wasn't very significant. Specifically, EnCana and Enbridge are rumored to be constructing a 600 mcf/d facility south of the Wapiti river, but also possibly with a Wapiti river-crossing (recall that ECA's Sexsmith plant is full). CNRL purchased some EOG assets in Pipestone awhile ago, and is now accepting nominations for a 120 mcf/d facility -- Blackbird would be a huge beneficiary there. Further south into the greater Gold Creek/Elmworth area, Keyera and Apache have earmarked a 300 mcf/d gas plant that could go into service as soon as 2018. Finally, and most recently, NuVista just announced a partnership with SemCAMS for a 200 mcf/d for a gas-processing facility, of which NVA is the anchor producer, committing to 120 mcf/d of the total throughput.
In aggregate, we are looking at upward of 1.2 Bcf/d of liquids-rich gas handling capacity in a relatively small region of the WCSB. Put another way, Pipestone proper and its neighbors could soon be contributing 10% of the basin's total natural gas output. Analyst estimates have been as high as 150 Bcf per section, so it's no wonder producers are aggressively moving to development mode to optimally exploit the resource. With a lot of the exploration risk removed from Pipestone (read: innings one through two), the notional "risk" has been lowered while the "reward" has become more clear (don't leave your seat for innings three through five).
Blackbird Energy
As I alluded to above, BBI has several catalysts on the horizon that make it an appealing investment opportunity. I would regard it as the "highest torque" way for investors to gain leverage to Pipestone, as the company is wholly focused on one play and owns one of the largest contiguous land blocks.
Blackbird's natural gas gathering facility has recently been approved, and the key parts are being constructed off-site with the intention of bringing on its three wells at or around year-end. Going from pre-production to a potential 1,500-2,000 boepd base production will be huge for the company's self-financing capability moving forward. Analyst estimates vary, but between $10M and $15M in run-rate 2017 cash flow could provide two to three internally financed wells.
BBI has just started drilling its fourth Montney well, and early indications are that it will be the least expensive yet, while also having the most fracs/frac-intensity. BBI was a pioneer using monobore drilling on its prior wells, and the implementation of the Stage frac system could be another inflection point in economics.
With BBI being land-rich, but relatively capital-poor, we could also speculate that a joint venture/farm-out arrangement isn't impossible -- or even an outright sale if natural gas prices continue to cooperate. The facilities approval from the AER was a huge milestone, as it obviates concerns for land owners in Grand Prairie, as well gives a takeover candidate line-of-sight to six to 12 multi-well pad locations.
Like a miniature Paramount Resources, Blackbird retains a 10% minority interest in a services company, Stage Completions, which has the potential to not only help Blackbird achieve superior economics, but also massively disrupt the completions market by displacing current NCS/ball-drop systems. I think the revenue potential of Stage is one of the most undervalued aspects of this story. It could add $0.20/share within the next 12-24 months based on revenue projections of Stage/BBI.
Below, I note relative economics for each Montney area in the WCSB. Blackbird's efforts on cost control have a massive impact to IRR and payout, but this applies to other Pipestone producers as well.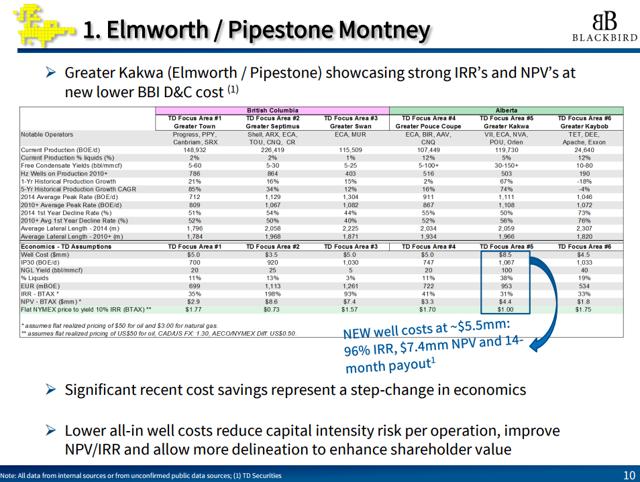 NuVista Energy
NuVista recently released a five-year growth plan to 60,000 boepd, which is a very explicit indication of our thesis on Pipestone. The company went as far as to call Pipestone a "development block" (think innings three through five now), which means we can expect rapid drilling in order to reach, and maintain, 10,000 boepd (see below). The other important takeaway is that NuVista notes Pipestone to be 150+ bbl/mcf, which is significantly more liquids rich than its other core areas. Why is this noteworthy? As the company ramps up in Pipestone, expect revenue per Boe to increase; meanwhile, NVA also highlights a $1.50-2.50/boe operating cost savings going through the new SemCAMS plant. This improvement in margins is significant and should not be lost on the investment community -- a double compounding effect for the income statement.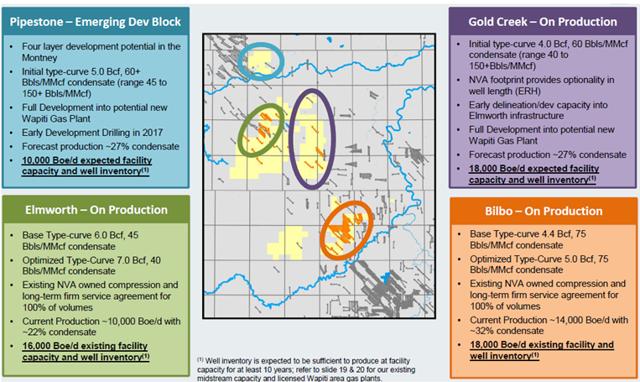 In terms of gradations of Montney leverage, NuVista has a broader footprint than Blackbird (with Bilbo, Gold Creek and Elmworth well into development mode). But it is less expansive than EnCana, which has its own portfolio of Montney assets in BC/Alberta, in addition to other basins in the U.S. I only mention this because the investor has less "torque" to Pipestone, but NuVista is unquestionably better capitalized than Blackbird (but lessor so than EnCana).
In terms of market activity, there was a brief overhang on the stock on account of rumors of a financing, but now with a $90m equity deal in the market, I would expect it to close and the notional ceiling on the stock to be removed. In fact, market conjecture has suggested that NuVista's equity deal was 4x over-subscribed -- and the greenshoe likely to be exercised -- which, again, is a great leading indicator of smart institutional investors waking up to the play. Going into the winter drilling season well-financed, and with the benefit of cost improvements on recent wells, positions NuVista very well into 2016-17.
EnCana Corporation
EnCana has upward of five townships (more than 180 sections) of land at Pipestone, and as mentioned above, has the most wells drilled into the play. With the most well control, investors and producers alike pay close attention when EnCana suggests CGRs of >250 bbl/mcf are possible in the area. In fact, at its investor day, EnCana pointed to early flow rates on new wells of 2,800 boepd, of which 1,900 boepd is condensate.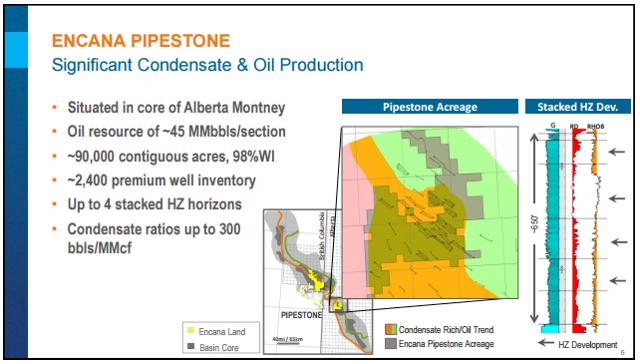 EnCana also provides a leading indicator in terms of requisite drainage patterns per section. As displayed above, the company highlights four wells into the Upper/Middle Montney horizons. This drilling density is key, especially for smaller producers like Blackbird, as a very small footprint can provide dozens of locations. In prior presentations, EnCana has suggested up to 12 wells per interval within its "super condensate" window (for each of Upper, Middle and Lower Montney) per section. This implies 36 locations per section; entire companies can be created within a very small geographic area.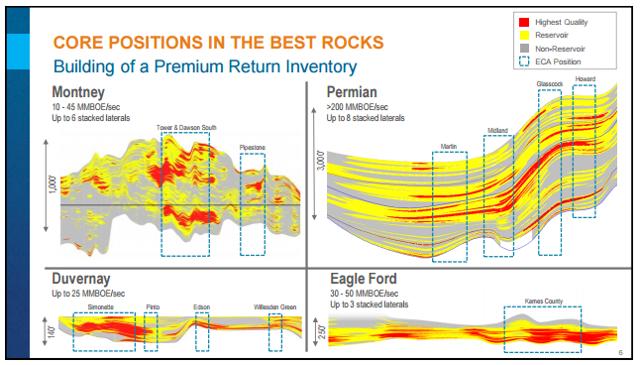 EnCana is further along the figurative Pipestone-Montney continuum as the company has vast areas of development in other basins. But as unquestionably the most liquids-rich area in its portfolio, don't be surprised to see Pipestone capitalization increase if natural gas prices wane.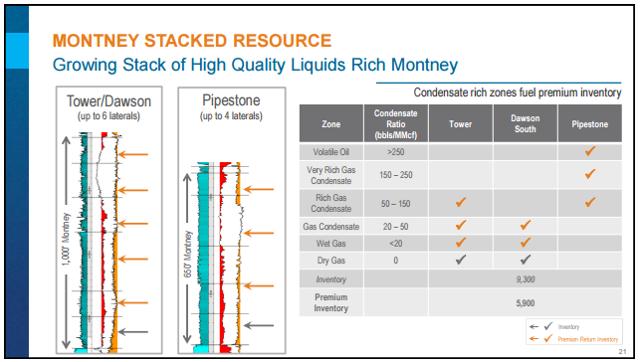 Conclusion
Pipestone is unique relative to other areas of Montney development in that it is several innings behind other plays, but as investors and producers are discovering, the liquids-rich component (+250 bbl/mcf) has surprised to the upside and the things learned from other areas (i.e., open-hole completion vs. cemented liner, slick-water frac vs. foam/gas frac, and extended reach wells) mean Pipestone can rapidly accelerate up the value curve.
In an equity market that is increasingly bifurcated, I would highlight BBI, NVA, and ECA as names that are executing operationally and the stock market is starting to reflect as much, with all three at, or near, 52-week highs. The mosaic of data starting to accumulate provides key leading indicators for massive value accretion in the coming months, wherein retail and institutional investors alike needn't acquiesce, but ought to look open-armed at long positions.
I've outlined three distinct ways for investors to play the area, each with varying strengths. If my analysis is correct on the leading indicators of success, then Pipestone is about to go "on fire" over the next winter drilling season.
Disclosure: I/we have no positions in any stocks mentioned, and no plans to initiate any positions within the next 72 hours.
I wrote this article myself, and it expresses my own opinions. I am not receiving compensation for it (other than from Seeking Alpha). I have no business relationship with any company whose stock is mentioned in this article.
Editor's Note: This article discusses one or more securities that do not trade on a major U.S. exchange. Please be aware of the risks associated with these stocks.