Donnelly Financial Solutions (NYSE:DFIN) is an opportunity to buy a high-margin, capital-light business with a dominant market position at just over 7x EV/EBITDA, compared to comparable companies trading at 11-13x EV/EBITDA. DFIN was spun off from RR Donnelley (NASDAQ:RRD) and began regular way trading at the beginning of October. Its market cap is around $750 million, and the float is about $600 million. It started trading at $29, dropped as low as $20.26 and has been trading around $23 recently. There is strong evidence that index/ETF selling has driven the recent drop in price, rather than the fundamentals of the business.
Business
RRD split into three businesses, giving shareholders one share of DFIN and one share of LSC Communications (NYSE:LKSD) for each eight shares of RRD they held. RRD will focus on commercial printing and logistics, LSKD will focus on publishing in the retail and office space, and DFIN will focus on regulatory filings in the financial sector.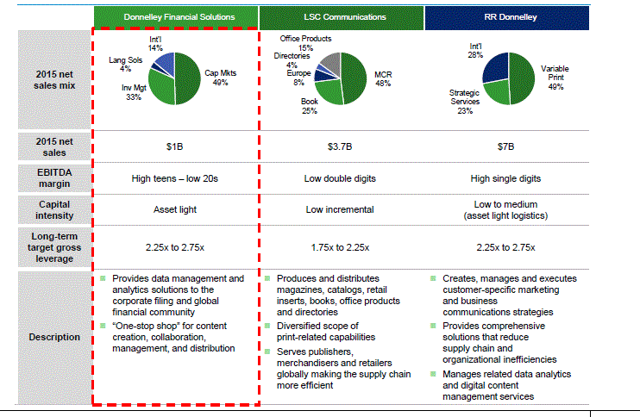 DFIN offers software-as-a-service and full-service solutions to assist companies in drafting, and disseminating regulatory filings (especially SEC filings). The Global Capital Markets segment accounts for about 50% of DFIN's revenue. DFIN has a strong position in the compliance (i.e. regular filings such as 10-Qs and 10-Ks) and transaction (IPO, M&A, private equity and debt financing) spaces. In 2015, DFIN provided services to 745 of Fortune 1000 companies, and 422 companies in the S&P 500. It provided services in 15/20 of the largest mergers based on value. Additionally, DFIN provided services in 56% of 2015 IPOs compared to 25% for the second competitor.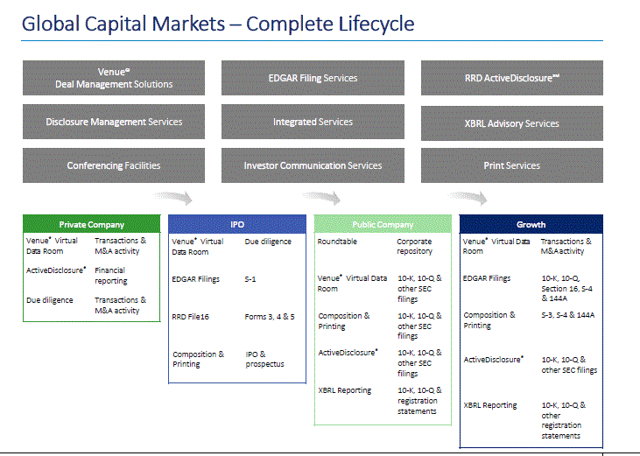 The Investment Markets Segment accounts for about 33% of revenue. DFIN serves a large number of fund sponsor, insurance companies, and broker dealers, and is especially strong in the 1940 Act fund space. DFIN had a 41% share of all mutual fund Edgar filings in 2015, while the second largest competitor had a 6% market share, and 22% use in house functions.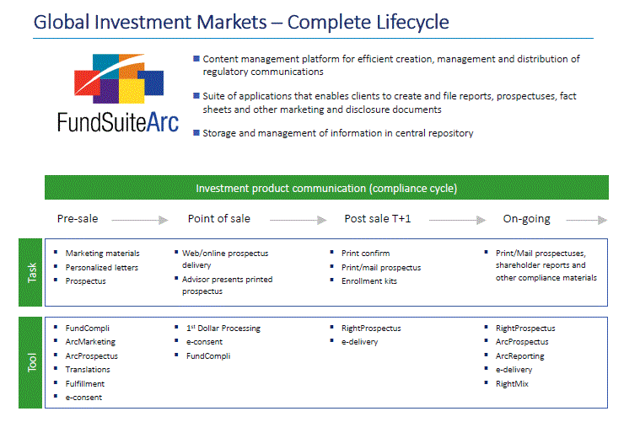 The average customer relationship with investment market clients is 12 years, and the average contract length is three years. Notably, DFIN has a 30-year working relationship with Fidelity (NYSE:FNF), an 18-year relationship with BlackRock (NYSE:BLK), and a 12-year relationship with State Street (NYSE:STT). Over the past five years, revenue from Fidelity has grown at a 7% CAGR, revenue from BlackRock has grown a 6% CAGR, and revenue from State Street has grown at an 11% CAGR.
DFIN also has a small segment focused on providing translation and localization services. This segment has expanded to serve legal, life sciences, and other corporate communications functions in addition to the traditional financial services, which now account for 54% of sales in the language segment. These translation services can be cross sold with the regulatory filing services provided to both US and foreign clients. Compared to the capital markets and investment markets business, the language services market is much more fragmented. If DFIN pursues M&A opportunities in the near future, it has a high probability of being in this segment.
Across all businesses, 60% of DFIN is revenue, and 40% is transactional. The former CFO RRD will serve as the CEO of DFIN, and has intimate knowledge of the needs of DFIN's customers for both ongoing regulatory filings and transactional filings.
Staff at companies involved in the decision to use DFIN or competitors are usually legal, or compliance functions, which are unlikely to make flippant changes to their processes for making periodic filings. There is also some risk that advances in technology will make it easier for companies to take more of the functions in-house. However, given the large volume of disclosures that public companies need to make on a regular basis, with a tight schedule, and a large consequence for error, switching from DFIN would has a relatively high cost. The SEC does plan to simplify filing requirements by eliminating duplicative requirements, but there will still be a massive amount of information required. Additionally, the SEC's recent push to require structured data and XBRL in more filings also should increase public companies' need for specialized technology services.
The transactional part of the business fluctuates with deal flow M&A and IPO volume. Revenue declined slightly in early 2016 due to slightly lower deal volume in Asia. Between 2007 and 2009, Bowne & Co., which DFIN later acquired, reported a 20% decline in revenue.
With the spinoff RRD put $650 million in debt on DFIN, about 3.25x EBITDA. The long-run target for leverage is 2.25x-2.75x EBITDA, which is reasonable given the high proportion of recurring revenue. Further, the majority of DFIN's costs are variable, so even a steep downturn in transaction volume should not be an existential threat.
Approximately 60% of DFIN's revenue comes from cloud/electronic-based services and software. The other 40% is paper-based. The paper-based part of DFIN's business has been declining at about 4.2% per year. EBITDA margins have held steady at around 20% as the electronic business takes the place of the paper business, implying margins for the electronic part of the business are at least as good as the paper part of the business. Although the overall business growth has been flat to slightly down, the consistently high margins and low capex needs (roughly 2% of sales) translate into high returns on invested capital.
| | | | | |
| --- | --- | --- | --- | --- |
| | 2016 TTM | 2015 | 2014 | 2013 |
| Revenue | $1,008 | $1,049 | $1,080 | $1,085 |
| EBITDA | $193 | $219 | $226 | $211 |
| Net earnings | $90 | $104 | $57 | $96 |
| EBITDA Margin | 19.10% | 20.90% | 20.90% | 19.50% |
| Profit Margin | 8.90% | 9.90% | 5.30% | 8.90% |
Return on Capital
DFIN is able to earn an exceptionally high return on tangible capital. In 2015, return on tangible capital was 85%, and for 2016 TTM, it has been 75%. Prudent M&A has been an important part of the businesses growth (key examples include 2009 purchase of Prospectus Central, and the 2010 purchase of XBRL filing specialist Bowne &Co.) Therefore, I also include a calculation of return on capital ((EBITDA-capex)/Invested Capital) that counts goodwill and intangibles as part of invested capital. Even then, DFIN is able to earn a mid-20s return on invested capital before taxes (25% in 2015, and 22% 2016 TTM). DFIN's ability to earn a high return on invested capital, while maintaining long business relationships with so many large corporations and mutual fund shops, indicates that it is a high-quality business.
| | | | |
| --- | --- | --- | --- |
| | 2016 TTM | 2015 | 2014 |
| Invested capital including goodwill/intangibles | $784 | $679 | $824 |
| Tangible invested capital | $274 | $163 | $290 |
| EBITDA | $193 | $219 | $226 |
| CAPEX | $29 | $27 | $29 |
| EBITDA-CAPEX | $164 | $192 | $197 |
| Return on invested capital (including goodwill) | 22.43% | 25.52% | |
| Return on tangible capital | 75.06% | 84.83% | |
DFIN probably has more of "legacy" moat than a "reinvestment" moat, since DFIN already has such a large market share in its core business. However, the international and language segments also offer some growth potential.
Valuation
DFIN has a market cap of about $750 million, debt of $650 million, and cash of $34 million, compared to TTM EBITDA of $193 million. This implies an EV/TTM EBITDA multiple of about 7.1, which seems like a reasonable price to pay for a business with the market dominance, high returns on capital, and high proportion of recurring income.
| | |
| --- | --- |
| Share Price | $23.00 |
| Shares outstanding | 32,428,630 |
| Market cap | $ 745,858,490 |
| Debt | $650,000,000 |
| Cash | $33,900,000 |
| EV | $1,361,958,490 |
| TTM EBITDA | $193,000,000 |
| Implied Multiple | 7.1 |
| | |
Notably, it is also discounted relative to peers that offer similar regulatory/compliance solutions. Each one of these companies offers regulatory solutions for public companies, and has EBITDA margins in the low-20s, although there isn't a strict comparable with the exact mix of businesses as DFIN.
| | | |
| --- | --- | --- |
| | EBITDA Margin | EV/EBITDA |
| DFIN | 20.9% | 7.1 |
| Broadridge (NYSE:BR) | 21.3% | 12.8 |
| Computershare (OTCPK:CMSQY) | 27.5% | 11 |
| DST Systems (NYSE:DST) | 22% | 12.7 |
Why is it cheap?
The typical spinoff dynamic where institutional investors sell indiscriminately has been heightened by index-deletion issues. Prior to the spinoffs, RRD had a market cap of around $3.4 billion, close to the median market cap of $3.5 billion and mean market cap of $3.9 billion in the float-adjusted market cap weighted S&P Mid Cap 400 market index, of which it was part. A wide variety of ETFs tracking this index had RRD as a top 10 holding and would have needed to sell DFIN when they received it. DFIN has been added to the S&P Small Cap 600 Index. However, its current float of around $600 million is just over half the median market cap of $1.0 billion and mean market cap of $1.2 billion in of this index. Due to the float-adjusted market cap weighting of the index, small cap themed ETFs that are adding DFIN will give it a smaller weighting.
Additionally, RRD paid a steady dividend, and was a common holding in several dividend-themed ETFs. DFIN left its dividend policy open-ended, and has not yet started paying a dividend. Consequently, dividend-themed ETFs or mutual funds would have been selling DFIN into a market with few natural buyers. Also notable, RRD's other business included physical printing and publishing segments that would have a different industry classification than DFIN's technology-driven business.
Based on BlackRock and Vanguard's 13F holdings of RRD, they would have been entitled to receive 1.6 million and 2.4 million shares of DFIN, respectively. These holdings are large relative to DFIN's average daily trading volume of 800,000 shares during its first two weeks on the market. Other ETF sponsors also had large holdings. Although they likely sold some RRD shares by the end of September, this data point hints at how large the indexation and ETF driven supply/demand imbalance would have been at the start for DFIN. This provides some comfort that the typical seller of DFIN has been selling for reasons not related to the fundamentals of the business. The overhang of shares may take a while to clear up, but the forced selling presents an opportunity for investors to acquire a great business at a good price.
Disclosure: I am/we are long DFIN.
I wrote this article myself, and it expresses my own opinions. I am not receiving compensation for it (other than from Seeking Alpha). I have no business relationship with any company whose stock is mentioned in this article.