2016 remains less than kind for healthcare investors with notable underperformance by the biotech sector. The plight of Gilead Sciences (NASDAQ:GILD) serves as an interesting proxy for the entire sector as the stock continues to plunge. The fall is attributed to the drop in Hepatitis C revenue as GILD is now reporting the dreaded drop in earnings and revenue, which leads to massive multiple contraction. The article below will discuss the most relevant way in which this former high-flier can arrest its decline and power higher.
Overview
GILD remains locked in a tailspin as the once-vaunted HCV franchise continues to report lower year-over-year sales. Part of the issue is intense payer pressure for lower prices in exchange for increased access to the affected patient pool. The pharmaceutical benefit managers (PBMS) in addition to the VA have dropped the going rate for treatment from a list price of $94k for 12 weeks of Harvoni to well under $60k. Even with the increase in patient access, GILD is unable to offset the drop in revenues, hence the massive multiple contractions. In addition, the sector remains under siege due to political fears, namely an increase in price controls.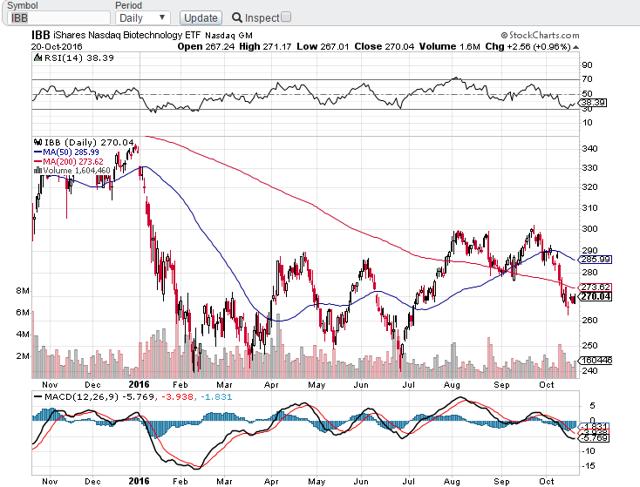 The affected can clearly be seen in the chart of the I-Shares Biotech Holders ETF (NASDAQ:IBB) an excellent proxy for the group. The index is down in excess of 18% year to date with the broader healthcare index remaining the worst performing of the 11 major sectors registering a negative 2.87% YTD return as shown below.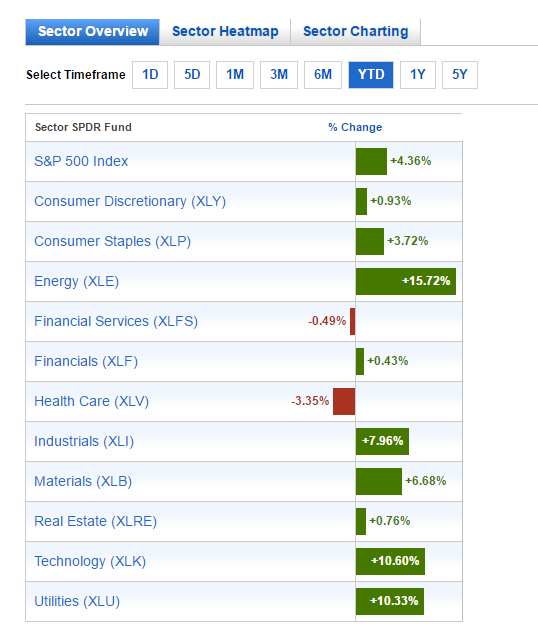 Newsworthy Events
The biotech sector moves not only on traditional metrics such as revenue and earnings growth; clinical trial results have an outsized impact on the equity price. For example, this summer, we witnessed the highs and lows of clinical data in the share price action of Biogen (NASDAQ:BIIB) one of the largest entities in the field.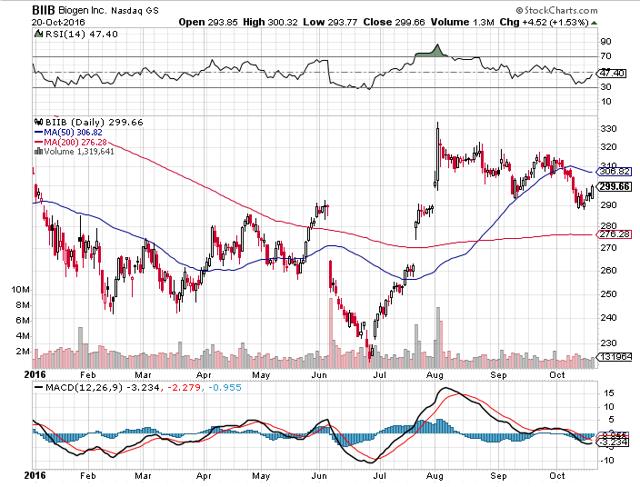 BIIB suffered a notable clinical failure in early June that crushed the share price as evidenced by the huge gap down from the $290 per share mark. The share price rocketed higher on August 1st blasting through the $290 mark on impressive clinical data for Nusinersen in Spinal Muscular Atrophy. Thus, over the span of the summer months an investor in BIIB suffered through the anguish of a high-profile clinical failure and the sweet joy of success in the span of fewer than 90 days.
Gilead Sciences
For GILD share price to meaningfully recover to its former heights, the clinical labs will need to bring forth a new generation of viable clinical products. As mentioned in a previous post, the later portion of 2016 remains vibrant with significant clinical data. We are finally starting to receive some initial data worthy of further discussion.
Filgotinib
Filgotinib is an exciting molecule in co-development with Galapagos (NASDAQ:GLPG) for the treatment of multiple inflammatory diseases. In my view, GILD very astutely opens the pocketbook to gain access to this molecule once AbbVie (NYSE:ABBV) decided to pass on it in favor of its own in-house molecule as detailed in a previous post.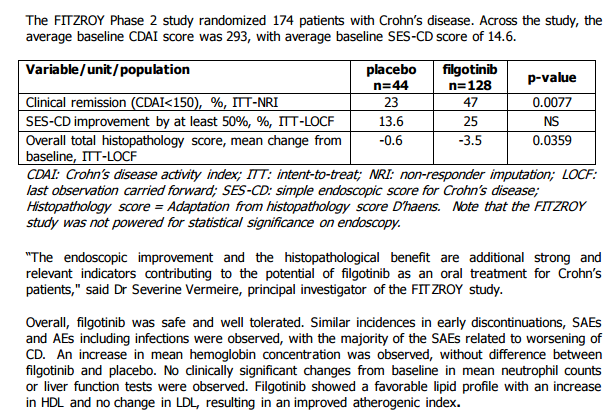 Filgotinib continues to post excellent results for the treatment of Crohn's Disease as evidenced by the results of the FITZROY phase 2 study. The results shown above were determined based on endoscopic measures in addition to the CDAI index shown below. In essence, the endoscopic results offer visual confirmation in addition to the progress shown in the CDAI index, which in my view strengthens the case for Filgotinib. GILD/GLPG are advancing the molecule into phase 3 trials for Crohn's Disease with an expected completion date of late 2019. Also, a data read for Ulcerative Colitis is due by year end. Filgotinib was also progressed into phase 3 for the very lucrative yet crowded Rheumatoid Arthritis market as well.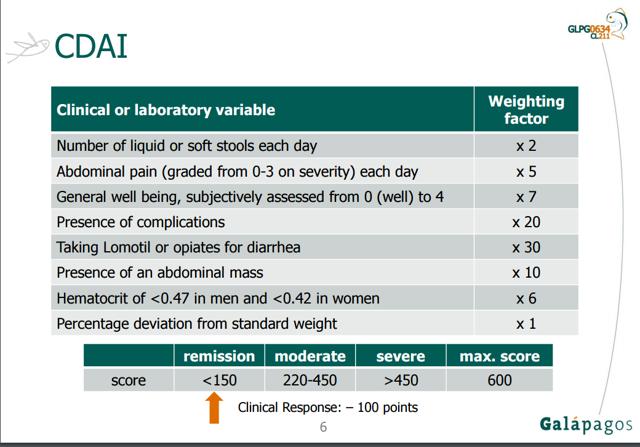 Side Effect Profile
Thus far, the side effect profile for Filgotinib remains mild a key point as potential therapy tends to be chronic in nature. The inflammatory disease market, as a whole, remains the most lucrative with multiple competitors vying for a piece of the action. I suspect Filgotinib will enter the marketplace as a strong competitor in inflammatory bowel disease thus validating GILD's decision to co-promote with GLPG. Filgotinib, in my view, should be looked upon to fill some of the revenue void from the rapidly declining HCV market in 2020.
NASH
The marketplace for the treatment of Non-alcoholic SteatoHepatitis or NASH for short just becomes more attractive with Allergan's (NYSE:AGN) audacious bid for two novel compounds in an attempt to gain a foothold in this untapped market. As detailed in a previous post, I suspect AGN vastly overpaid in a desperate attempt to catch up to GILD multi-angle approach for treating NASH. By purchasing multiple assets in the NASH space, AGN has validated GILD multi-prong approach as it seems likely combination therapy is essential in combating the disease.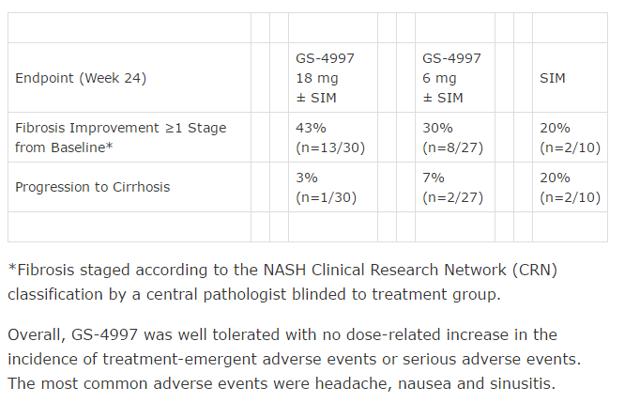 We have finally received some interesting preliminary data for one of GILD core NASH components, namely GS-4997. Thus far, the data indicates significant dose-related efficacy, i.e., the higher the dose, the greater the response. As is often the case with medicinal compounds, the higher dose may lead to unwanted side effects. Thus far, the side effect profile remains relatively benign with a headache and sinusitis, the most notable adverse effect. I suspect GILD will move the compound known by its chemical name of Selonsertib into phase 3 trials. I suspect the ultimate path for the treatment of NASH will entail a multiple compound cocktail with Selonsertib serving as a portion of the cocktail. As for the ill-fated Simtuzumab, I suspect GILD will discontinue study of the compound as it has yet to show meaningful clinical activity above what is observable via placebo.
Additional HCV Data
Gilead Sciences (GILD +1.2%) announces positive results from four international phase 3 clinical trials (POLARIS-1, -2, -3, -4) assessing its investigational once-daily, fixed-dose combination of sofosbuvir, velpatasvir and voxilaprevir (SOF/VEL/VOX) for the treatment of genotypes 1-6 chronic hepatitis C virus (HCV) infection. Complete results will be presented next month at The Liver Meeting in Boston.
POLARIS-1, which enrolled 263 genotype 1-6 patients who had received prior treatment with an NS5A inhibitor, showed a cure rate (SVR12) of 96% (n=253/263) after 12 weeks of treatment with SOF/VEL/VOX.
POLARIS-2, in direct-acting antiviral (DAA)-naive genotype 1-6 patients, including some with cirrhosis, showed a cure rate of 95% (n=476/501) after eight weeks of treatment.
POLARIS-3, in DAA-naive cirrhotic genotype 3 patients, showed a cure rate of 96% (n=106/110) after eight weeks of treatment.
POLARIS-4, in DAA-experienced, NS5A-naive genotypes 1-4 patients, 46% with cirrhosis, showed a cure rate of 97% (n=177/182) after 12 weeks of treatment.
Sofosbuvir is a nucleotide analog NS5B polymerase inhibitor, velpatasvir is a pan-genotypic NS5A inhibitor and voxilaprevir is a pan-genotypic NS3/4A protease inhibitor.
The company plans to file a New Drug Application (NDA) for Breakthrough Therapy-tagged SOF/VEL/VOX this quarter followed quickly by a marketing application in Europe.
In addition to the clinical data released on NASH, GILD aims to expand their dominance in the HCV market with a triple therapy for HCV. I do believe the cocktail is GILD trojan horse that will allow them access onto all formularies yet the HCV market remains in terminal decline. I am far more interested in new novel treatments such as Filgotinib and Selonsertib versus additional incremental gains in the HCV space. GILD multiple will remain subdued until it begins to exhibit year-over-year revenue growth.
Valuation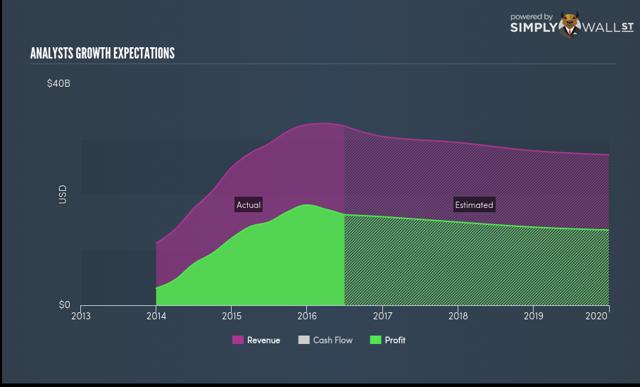 Source: Simply Wall Street a great site for extensive equity research.
As we can see from the graph above, GILD revenue is expected to decline well into 2020 as the HCV market continues to evaporate while the recently released HIV products gain traction. The key for GILD DCF shown below is how rapidly it is able to arrest the revenue decline. If successful with novel agents such as Filgotinib and other agents for NASH then GILD is an easy double from here. If not, the share price heads lower; in essence, GILD is now a slave to its clinical pipeline.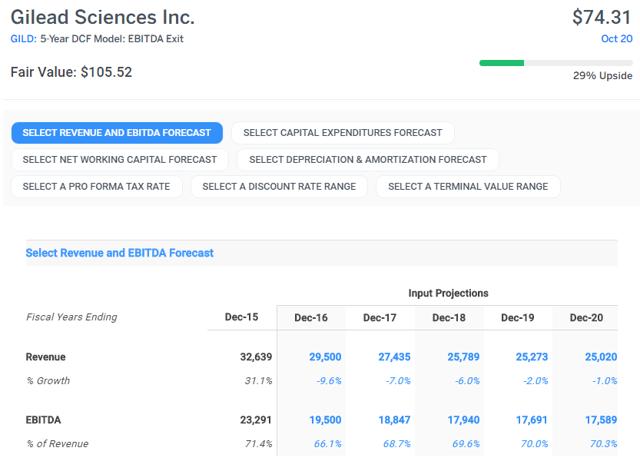 Chart courtesy of Finbox.io.
My fair value remains unchanged at $105.52 utilizing a discount rate of 11% with an exit EBITDA multiple of 8. As shown in the table below, I have incorporated a decline in GILD revenue out through 2020 yet the rate of decline should abate as growth in the HIV franchise should offset some of the declines in HCV. The major unknown is the path of the clinical pipeline and any opportunistic M&A that may emerge from now through 2020. I will update my fair value once GILD reports earnings. I would like to thank you for reading; I look forward to your comments.
Investors are always reminded that before making any investment, you should do your own proper due diligence on any name directly or indirectly mentioned in this article. Investors should also consider seeking advice from a broker or financial adviser before making any investment decisions. Any material in this article should be considered general information, and not relied on as a formal investment recommendation.
Disclosure: I am/we are long GILD, IBB.
I wrote this article myself, and it expresses my own opinions. I am not receiving compensation for it (other than from Seeking Alpha). I have no business relationship with any company whose stock is mentioned in this article.