Last Friday Wells Fargo (NYSE:WFC) released its third quarter results, beating estimates slightly. Due to the company's sales scandal the valuation has come down a lot, and I believe Wells Fargo could be interesting for income investors right here.
With $22.3 billion in revenues Wells Fargo managed to grow its revenues by 2% year on year, as well as 0.5% quarter to quarter. This was based on higher loans and deposits, which reached $958 billion and $1.3 trillion, respectively (up 7% yoy and 5% yoy, respectively). Loans as well as deposits were up $63 billion yoy, but due to the lower base number loans growth outpaced deposits growth on a relative level. Growing loans, deposits and revenues are a huge positive for the company and investors should be happy about those numbers.
The picture is less rosy when we look at Wells Fargo's net interest margin, which was 2.82% during the third quarter. This is a strong result relative to the net interest margins of many other banks, but shows a substantial decline versus the net interest margins Wells Fargo generated in the past: In the second quarter of the current year the NIM had been higher by 4 base points, in the previous year's third quarter the NIM had been higher by 16 base points. The net interest margin decline unfortunately offsets the net interest income growth we could have seen based on Wells Fargo's loans portfolio growth.
On the bright side we can note that the company's net interest margin could start rising soon, if the FED does increase rates in December (the likelyhood of a raise seems to be high, although nothing is guaranteed).
When we look at Wells Fargo's credit quality, we see that the net charge-off rate is slightly higher than it was last year (0.33% versus 0.31%), but substantially lower than during the second quarter (0.39%, down 6 base points sequentially). According to Chief Risk Officer Mike Loughlin this is due to a better performance of the company's oil and gas portfolio (among others).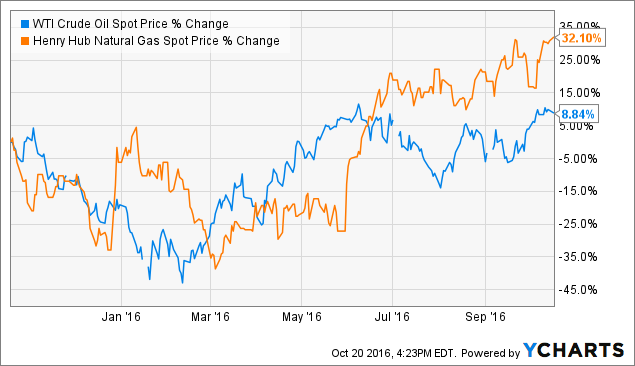 The better performance of Wells Fargo's oil and gas loans is not surprising, as the price for oil [WTI] as well as for natural gas [henry hub] has risen sharply over the second quarter's level during the third quarter. With oil and gas prices heading higher during October as well (and possibly beyond as the heating season is starting and with OPEC members possibly lowering output) Wells Fargo's oil and gas portfolio could improve further, which would result in a further decline of the company's net charge-off rate in the coming quarters.
Looking at Wells Fargo's balance sheet, we see that the bank remains very well capitalized: The company's Common Equity Tier 1 ratio was 10.7% during the third quarter, an improvement of 10 base points in comparison to the prior quarter. With its strong capital position Wells Fargo would be able to weather any storm in the financial sector, aided by the high quality of the loans Wells Fargo has in its books (e.g. low net charge-off rate) as well as the company's low exposure to investment banking, trading, etc. Wells Fargo can thus be viewed as a safe investment.
Due to Wells Fargo's recent dividend increase (to $0.38 per share) as well as due to the company's sell-off over the last weeks the company's dividend yield is unusually high right now: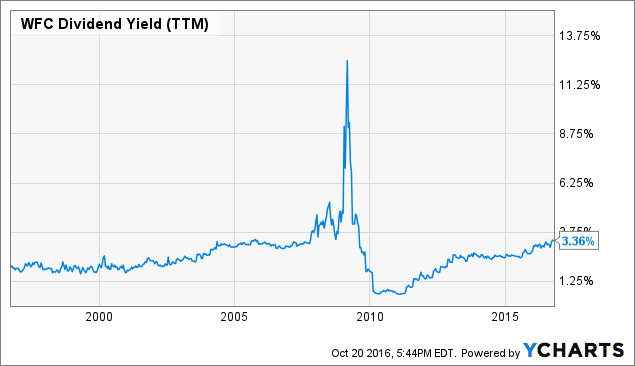 With the exception of a short time during the financial crisis (right before Wells Fargo had to cut its dividend), the company's dividend yield hasn't been this high over the last twenty years. Especially in comparison to the income yields one can get from fixed income investments and the broad market, Wells Fargo's dividend looks attractive for income seekers right now. With a dividend yield of 3.4%, a low payout ratio, reliable dividend increases over the last years and a safe financial position Wells Fargo is probably the best bank for income investors.
Those aiming for a higher yield on cost can try to enter a position in Wells Fargo via put options: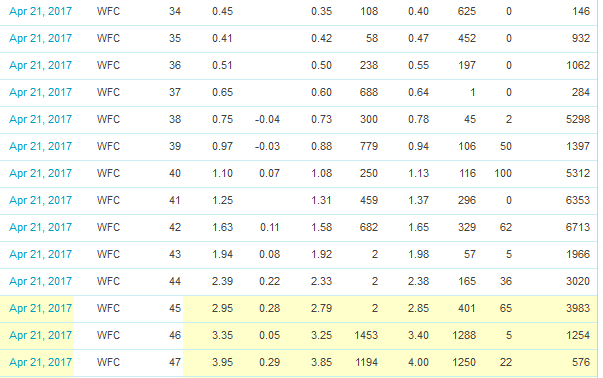 When we take a look at Wells Fargo's option chain, we see that the April 2017 put options with a strike price of $39 are trading for $0.97 right now.
An investor who wants to buy 200 Wells Fargo shares could sell two of these option contracts (each covers 100 shares) for total proceeds of $194.
If Wells Fargo's shares drop to $39 over the next six months, the investor gets 200 shares and has to pay $7,800, which means the net price would be $7,600 (adjusted for the $200 in premiums). With annual dividend proceeds of $304 for the 200 shares he owns, the investor would thus own Wells Fargo's shares at an initial dividend yield of 4.00%.
If Wells Fargo's shares do not drop to $39 over the next six months, the shares will not get assigned and the investor gets to keep the premium he received for selling the two option contracts. If he held the $7,600 in cash over the six month period, he would have gotten an annualized return of 6.5%, which would be a good result as well in today's low rate environment.
Put options like the one from the above example can thus help investors at entering stocks they would like to own at lower prices. It is, however, possible that an investor could have bought Wells Fargo's shares at even lower prices as long as the company's shares drop far enough.
Takeaway
Wells Fargo's third quarter results were good, strong loans and deposits growth offset a NIM decline and the net charge-off rate as well as the balance sheet long very strong.
Due to continuous dividend increases and a dropping share price Wells Fargo's dividend yield has increased to well above three percent, and by utilizing options investors could buy Wells Fargo's shares at even better initial dividend yields.
Author's note: If you enjoyed this article and would like to read more from me, you can hit the "Follow" button at the top of the page, right next to my name and icon, to get informed about new articles.
Disclosure: I/we have no positions in any stocks mentioned, but may initiate a long position in WFC over the next 72 hours.
I wrote this article myself, and it expresses my own opinions. I am not receiving compensation for it (other than from Seeking Alpha). I have no business relationship with any company whose stock is mentioned in this article.