What Would an IPO Investment in Main Street Capital Corp Look Like Today?
Goal of the Article
Just like my previous article on Starwood Property Trust (NYSE:STWD), this article is meant to look at the dividend growth story of Main Street Capital Corp (NYSE:MAIN) to see what an original investment from IPO would look like today if all dividends were reinvested. While I believe that articles that outline current financials are the most important, it's important to also look into a company's past to see where they have been (especially since history tends to repeat itself).
MAIN's Business Model
According to the company's website, MAIN identifies itself as a Business Development Company that " provides long-term debt and equity capital to lower middle market companies and debt capital to middle market companies. Main Street's portfolio investments are typically made to support management buyouts, recapitalizations, growth financings, refinancings and acquisitions of companies that operate in diverse industry sectors throughout the United States" (mainstcapital.com).
MAIN's current investments exceed $3 Billion, and is spread across 199 companies. MAIN targets " companies with revenues between $10 million and $150 million and EBITDA between $3 million and $20 million" (mainstcapital.com).
MAIN's business model is attractive for several reasons:
They target underserved companies and MAIN has more options than the average bank to achieve this (debt and equity issuances). Internally-managed, meaning that they have eliminated external management fees and expenses. This allows them to keep their cost of capital low. (Separates MAIN from other BDC's like PSEC).
Dividend Reinvestment Model
Here is a breakdown of the last 9 years of MAIN's Dividend Payments if the dividends were reinvested. Please note that MAIN did not pay a dividend from IPO until 11/30/2007 and when MAIN began paying dividends they were all made as quarterly installments (for the first year). This dividend reinvestment table is using 100 shares as the original amount purchased.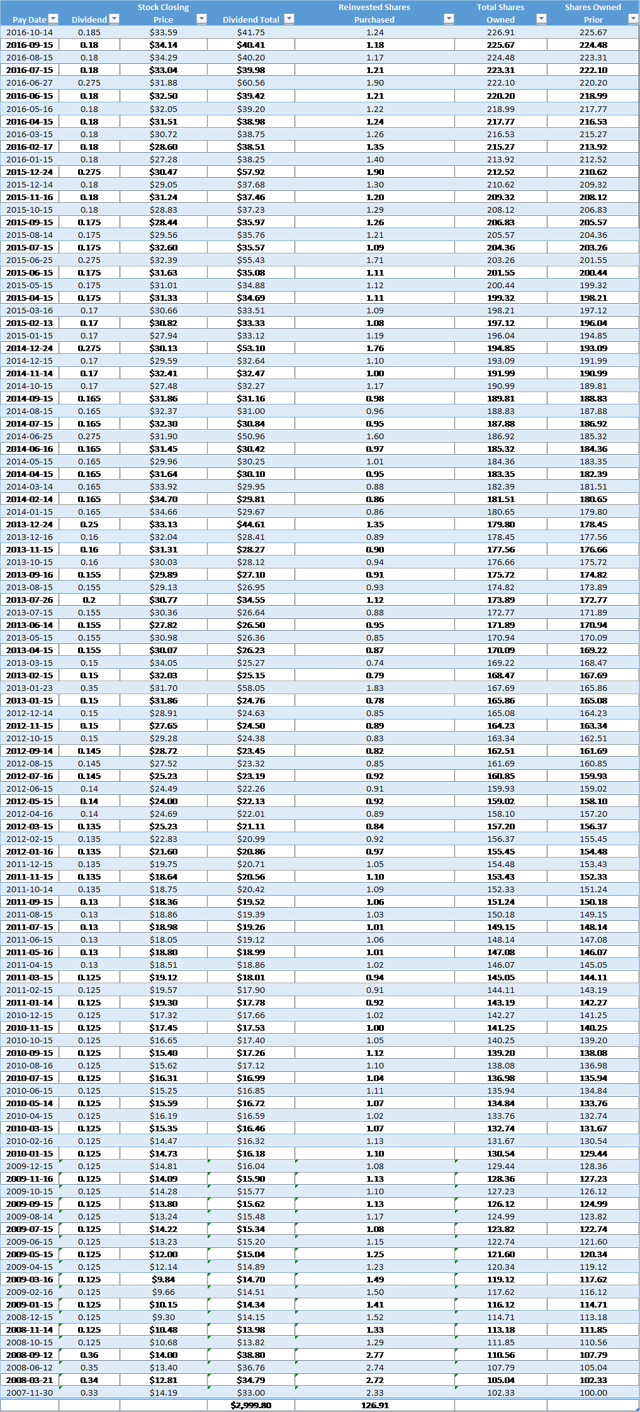 For anyone who is familiar with MAIN's dividend history, the previous chart should not come as a surprise. Any reasonable investor would view MAIN as a solid dividend and capital growth investment that has demonstrated long-term performance over its nine year history. The stock originally IPO'd at $15.00/share, so here is how we would quantify MAIN's capital appreciation.
Original Purchase Price
$15.00 * 100 Shares = $1500 initial investment.
Reinvested Dividends = $2999.80 Value of Dividend Received
Total Investment Involved = $1500 + $2999.80 = $3499.80 Investment
Current Valuation
$33.78 * 226.91 = $7665.02 Total Value
Average Cost Per Share
100 / 226.91 = 44.07% Weight (Initial Purchase)
126.91 / 226.91 = 55.93% Weight (Reinvested Dividends)
$15.00 (.4407) + $23.64 (.5593) = $6.61 + $13.22 = $19.83 Per Share
Conclusion
I owned MAIN a while back and sold at about this level. While I love the dividends and the reputation MAIN carries, I do not plan on initiating another position until I see the price drop, because the NAV is close to about $22/share). Although MAIN has performed extremely well, I was always taught that it's not enough to buy a great stock, because you need to buy great stocks when they are undervalued to maximize your return and create a margin of safety. As it stands, I see MAIN as a strong hold, with strong potential to move into a strong buy if we see the price drip closer to $28/share. I believe MAIN is a very attractive medium/long term investment when the price resets closer to the $28 level.
Disclosure: I am/we are long STWD.
I wrote this article myself, and it expresses my own opinions. I am not receiving compensation for it (other than from Seeking Alpha). I have no business relationship with any company whose stock is mentioned in this article.
Additional disclosure: This article reflects my own personal views and is not meant to be taken as investment advice. It is recommended that you do your own research. This article was written on my own and does not reflect the views or opinion of my employer.